Shining Girls Trailer: Elisabeth Moss Attempts To Catch A Killer In A Reality-Shifting Mystery Series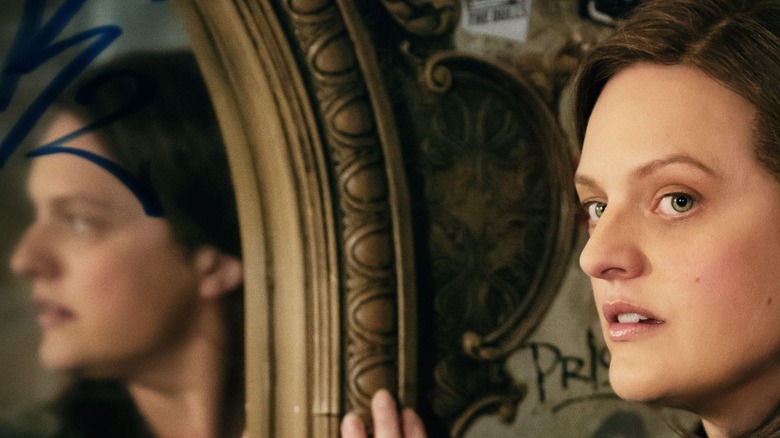 Apple TV+
At this point, if anyone in Hollywood is selling a story that happens to center on a haunted, damaged, and obsessively driven woman, they sure as hell better be giving Elisabeth Moss a call. The supremely talented star of "Mad Men," "The Handmaid's Tale," "Her Smell," "The Invisible Man," and "Shirley" (among many, many other notable projects, of course) has all but cornered the market in playing these specific types of leads, going above and beyond to embody such rich characters with a fierce and unwavering sense of commitment. It's not really overselling things to state that the results, thus far, have been consistently spectacular.
So wouldn't you know it, Elisabeth Moss is back once more and lending her intensely watchable appeal to yet another dark and surreal thriller. "Shining Girls" is Apple TV+'s latest series, telling the story of a woman left for dead by an assailant years ago ... one who seems to be back and setting his sights on several other woman, as well. With the cast involved, this straightforward premise would already be interesting enough, but there's inevitably a twist at work here. Nothing, as it turns out, is as it seems. That's the overriding atmosphere and tone set by the new trailer for the upcoming series, informing potential audiences to expect the unexpected. Check it out below!
Shining Girls Trailer
If the first trailer for this latest Apple TV+ series came across as impenetrable to those unfamiliar with the book that this story is based on, then this newest one only marginally clears things up. The frequent and all-too-perfect crosscut editing tricks sure point to the idea that something is terribly "off" here, whether in the actual world of this story or simply in our protagonist's head. Or both! Readers of Lauren Beukes' original novel, "The Shining Girls," clearly have a leg up here on the rest of us when it comes to discerning what exactly is going on. In fact, /Film's Chris Evangelista recently reviewed the series, echoing many of the same sentiments:
...those who have no clue regarding the contents of the novel should expect to be almost completely lost during the show's initial episodes... "Shining Girls" plays things extremely close to the vest, so much so that it might grow frustrating.

And yet, the swirling mystery and ever-shifting narrative also have a way of hooking you. You get so caught up in the strange uncertainty of it all that you find yourself eager to continue onward; to get to the next episode so you can get some sort of answer, damn it! With that in mind, "Shining Girls" might end up being a show that requires a binge-watch rather than in installments.
The series comes from creator, writer, showrunner, and executive producer Silka Luisa and stars Moss as Kirby Mazrachi. She's joined by Amy Brenneman, Wagner Moura, Phillipa Soo, and Jamie Bell. "Shining Girls" begins streaming on Apple TV+ on April 29, 2022.
Based on Lauren Beukes' best-selling novel, Shining Girls follows Kirby Mazrachi (Moss) as a Chicago newspaper archivist whose journalistic ambitions were put on hold after enduring a traumatic assault. Years after a brutal attack left her in a constantly shifting reality, Kirby Mazrachi learns that a recent murder is linked to her assault. She teams with veteran reporter Dan Velazquez (played by Wagner Moura) to understand her ever-changing present—and confront her past.