Ghostbusters Left Bill Murray Feeling 'Radioactive'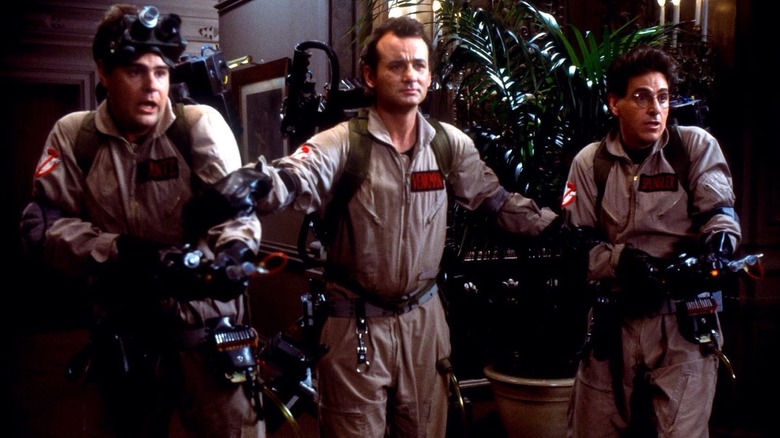 Columbia Pictures
One would think an actor would want to capitalize on the most popular role of his career. Of course, when you're talking about Bill Murray, you're dealing with someone playing by a different set of rules. The quirky actor got his start in television as one of the early players on "Saturday Night Live." He found moderate success in the early 1980s with roles in "Caddyshack" and "Stripes." Then Murray became a real household name in 1984 when "Ghostbusters" spent nearly two months atop the box office charts and grossed nearly $300 million worldwide according to Box Office Mojo.
But after the film turned Murray into one of Hollywood's hottest commodities, he all but disappeared. Ironically, Murray took the "Ghostbusters" role as a means to branch out from comedy. After the immense popularity of the film, the role of Peter Venkman left Murray feeling "radioactive" and even led to a brief hiatus from Hollywood.
Murray left the country after 'Ghostbusters'
Columbia Pictures
As only Bill Murray could do, he chose a long, winding road after the immense success of "Ghostbusters." Rather than cram his schedule with as many films as possible, Murray has a mere two films on his resume in the four years following "Ghostbusters." He was in "Little Shop of Horrors" in 1986 and "Scrooged" in 1988.
He was asked by Roger Ebert why he didn't make more movies immediately following "Ghostbusters." Murray responded:
"Well, basically I thought that 'Ghostbusters' was the biggest thing that would ever happen to me. It was such a big phenomenon that I felt slightly radioactive. So, I just moved away for a while. I lived in Europe for six months or so, and I was supposed to do a movie when I came back, and when I came back, and I saw the script that I was supposed to do, I didn't want to do it."
Murray also cited the seasons of the movie business and how his disappearance screwed up his schedule. The seasons he refers to are the summer "blockbuster season," the fall "Oscar season," and the remaining months that aren't expected to be big box office draws, commonly called "dump months."
"Ghostbusters II" marked Murray's return to a regular Hollywood schedule in 1989, but even that was a challenge. He explained, "...it's really hard to make a sequel, no matter how sincere you are, how much you want to try. Somehow the directors take over from the writers and the comedians, and the thing ends up being a lot more action than comedy."
Even before "Ghostbusters" there were signs that Murray was starting to sour on the Hollywood rat race.
He desperately wanted out of comedy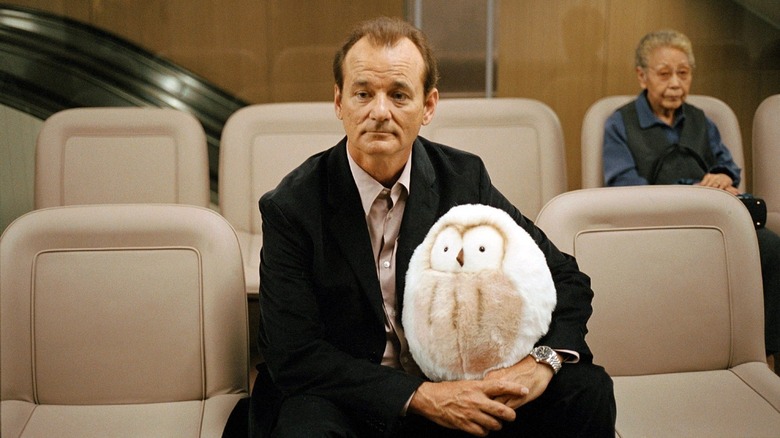 Focus Features
When Bill Murray rejected the movie "Splash" by tossing the script across a restaurant, he was sending a message to Hollywood casting directors. He wanted freedom and didn't want to get typecast as a comedic actor. His first attempt to break from comedy, the 1984 drama "The Razor's Edge," bombed at the box office. It makes sense that the colossal success of "Ghostbusters" practically sent him into hiding. The big twist in Murray's narrative is that "Ghostbusters" is what ultimately set him free. He told Ebert:
"One of my gripes about movies is that people take them so seriously, and the money-making aspects are so brutal. I've been lucky, I've had movies that made a lot of money, so I don't feel like I have to kill every time out. I don't want that pressure."
As a Hollywood A-lister, Murray was able to become the actor he always wanted to be. He eventually found a tremendous blend of comedy and drama in films such as "Groundhog Day" and "Lost In Translation." The latter resulted in Murray's only Best Actor Oscar nomination. Forget being slimed, Murray needed to feel "radioactive" after a global phenomenon and a hiatus from the industry before becoming the best version of Bill Murray he could be, which gave us an eclectic range of fantastic films.