The 20 Best Bill Murray Movies Ranked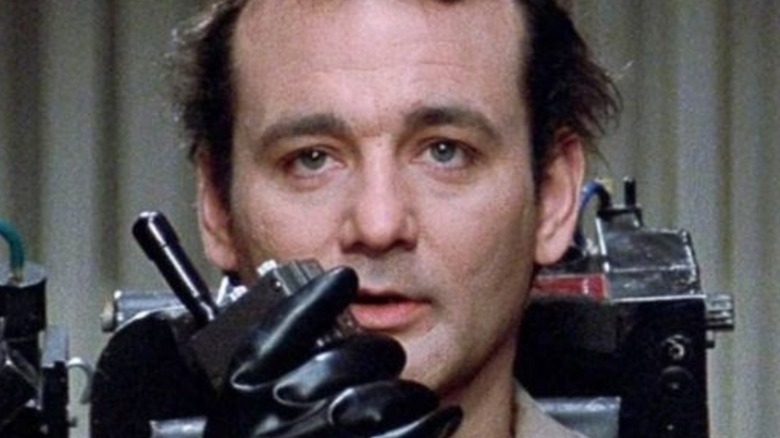 Columbia Pictures
Bill Murray is one of the most beloved comedic actors of all time. He first rose to prominence thanks to his memorable characters on "Saturday Night Live," joining fellow stars like Dan Aykroyd and John Belushi after Chevy Chase departed at the end of the first season. From there, Murray went on to become the biggest stars of the '80s, and many of his early films are now considered classics.
While Murray frequently takes the lead, he's also proved willing to step into supporting roles to support emerging filmmakers like Tim Burton and Wes Anderson. He's a capable dramatic performer too and has delivered sensitive performances in projects from Sofia Coppola and Jim Jarmusch. This versatility has allowed Murray to remain relevant for several decades.
Murray's elusive relationship with the media gives him an aura of mystery. There are countless stories about Murray's wacky public appearances. Like an urban legend, any story about Murray could be true, and his unpredictability makes him exciting. Murray is even open about his failures and often lampoons his decision to voice the titular character in the "Garfield" films. A look at Murray's career is a snapshot into the last four decades of comedy — here are the 20 best Bill Murray movies ranked.
20. Zombieland (2009)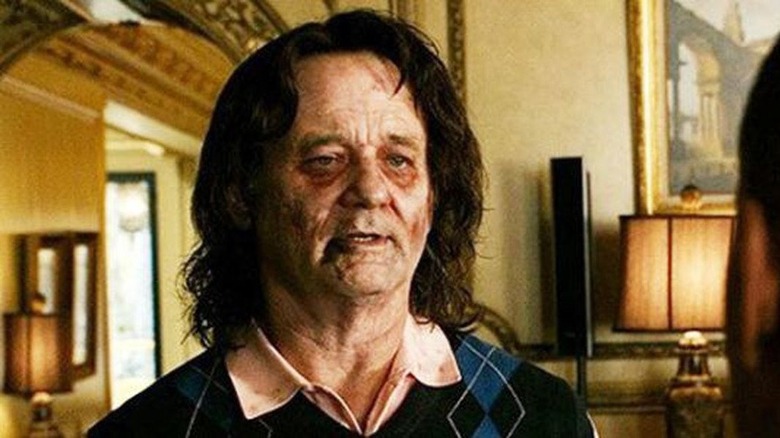 Sony Pictures
Bill  Murray's surprising appearance in "Zombieland" rates as one of the greatest cameos of all time. In the zombie apocalypse comedy, the survivors Tallahassee (Woody Harrelson), Columbus (Jesse Eisenberg), Wichita (Emma Stone), and Little Rock (Abigail Breslin) stumble upon a strange mansion as they look for shelter. They're shocked to discover that it's the home of Tallahassee's idol: Bill Murray. Murray appears as a fictionalized version of himself who dresses as a zombie in order to blend in.
It's amazing to watch Murray reflect on his own star power, and the cameo gives Tallahassee a chance to ecstatically explain his fandom. It's comforting to think that Murray would just be up to his usual routine during a time of crisis, and by just acting like himself he elevates the film. Murray even gets to poke fun at past mistakes; after he's shot and asked what he regrets most as he dies, he reveals it was the decision to voice "Garfield."
19. On the Rocks (2020)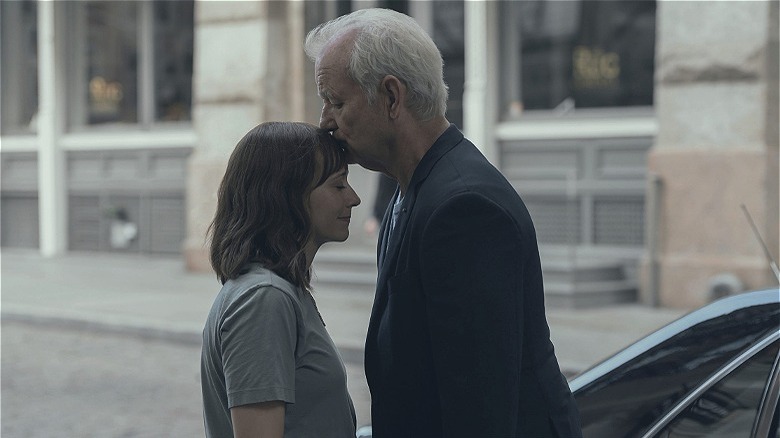 A24/Apple TV+
Sofia Coppola's films are noted for their emotional complexity and their subversion of standard Hollywood formulas, so seeing her take on an old-fashioned, slapstick crowd-pleaser was surprising. "On the Rocks," Coppola's second collaboration with Murray, is effective not because it's innovative, but because it executes familiar beats with precision. With Murray's welcoming presence, the clichés don't feel tired.
Novelist Laura Keane (Rashida Jones) is a hard-working New York mother who suspects that her seemingly perfect husband Dean (Marlon Wayans) is having an affair. Laura's father Felix (Murray) has never taken anything seriously and only occasionally appears in Laura's life, but decides to help his daughter solve the mystery through an increasingly ridiculous series of escapades. Though unreliable, Felix nonetheless cares deeply for his daughter and enjoys making her happy. As he's shown numerous times in his later career, Murray makes for a great father figure, even when he's pressuring Laura to step outside her comfort zone.
18. Broken Flowers (2005)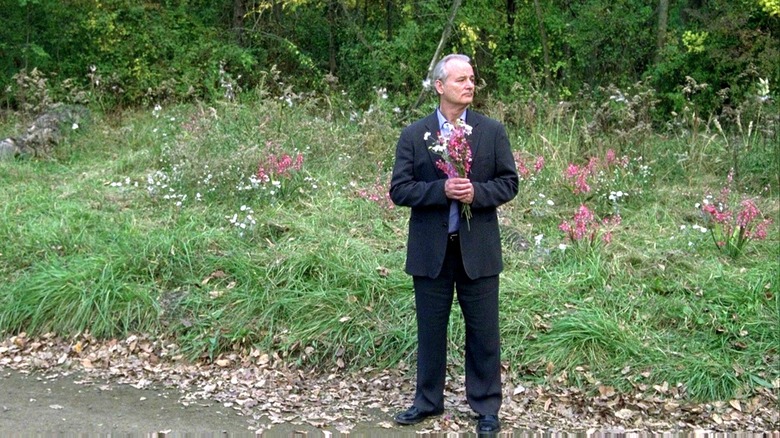 Focus Features
"Broken Flowers" is one of the most downbeat movies in Murray's entire filmography. Grimly humorous, "Broken Flowers" sees Murray take on a heartbreaking role as a man who no longer finds joy in his life. Director Jim Jarmusch's approach to comedy is the opposite of the eccentricity that Murray built his career on; he plays out situations until they're unbearably awkward. With a miscast lead, "Broken Flowers" could have easily been depressing, but Murray provides the needed charisma to make it shine.
Murray's character, Don Johnston, is a serial womanizer with a small fortune. An unexpected letter informs him that he has a secret son who is now a teenager, and Don decides to track down his child and form a connection. Unfortunately, the letter was delivered without a name, and Don realizes that five of his past lovers could be the boy's mother. As he investigates each one, the situations become ever more uncomfortable, compelling Don to face his past mistakes. There's a sense of futility to his mission; Don's neighbor Winston (Jeffrey Wright) even suggests that the entire letter could be a hoax.
While Don's failures are pathetic, Murray delivers humorous comments throughout. Don isn't necessarily likable, but his sadness feels very realistic. In fact, neither Murray nor Jarmusch seem at all interested in ending "Broken Flowers" on an optimistic note.
17. What About Bob? (1991)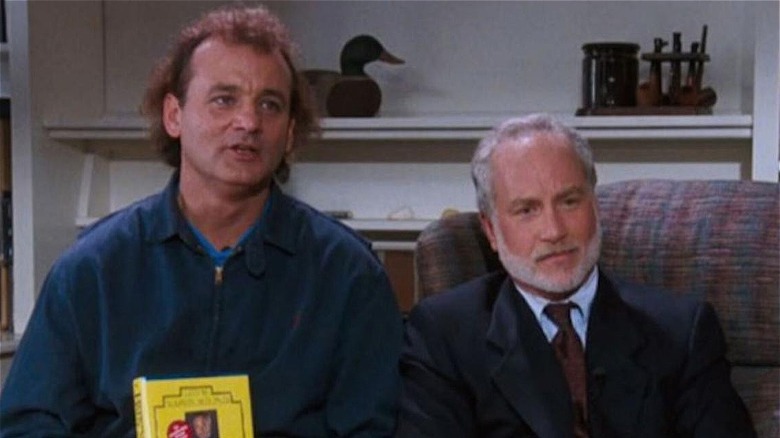 Buena Vista Pictures
Murray can make even annoying characters endearing — just look at "What About Bob?" Murray stars in the film as the upbeat Bob Wiley, who, despite his good nature, is hopelessly terrified of being in public. Wiley refuses to leave his apartment, exhausting his regular therapists with his behavior. As a result, someone refers him to the famous Dr. Leo Marvin (Richard Dreyfuss), who claims he can cure anyone with his innovative practices.
Bob grows so enthusiastic about Marvin that he follows his new doctor to a luxury resort, disrupting the doctor's vacation and introducing himself to Martin's wife Fay (Julie Hagerty) and his children, Siggy Marvin (Charlie Korsmo) and Anna (Kathryn Erbe). While Murray is supposed to be intentionally irritating, Marvin's lack of empathy is the real obstacle. Ironically, Marvin's family finds Bob charming, as he's not arrogant and tries to help them work through their problems without an eye toward personal gain.
16. Caddyshack (1980)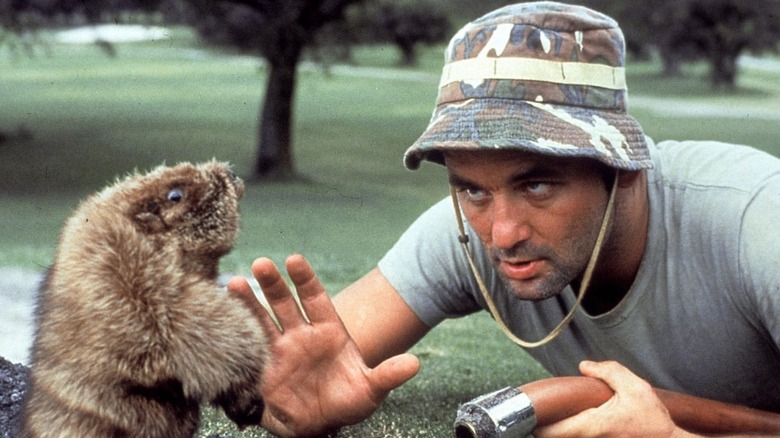 Warner Brothers
The ensemble sports comedy "Caddyshack" was not initially a hit, but fans grew to appreciate its chaotic spirit. "Caddyshack" is very sketch-like in its structure, with frantic scenes that lack internal logic, and Murray contributes many of the film's best recurring gags in such scenes.
"Caddyshack" explores the inner workings of the exclusive Bushwood Country Club and its unmotivated employees. Teenager Danny Noonan (Michael O'Keefe) attempts to earn enough money as a caddy to pay for his college education, but he's the target of cruel insults from the club's wealthy owner, Judge Elihu Smails (Ted Knight). However, Danny finds a mentor in the club's top-scoring golfer, Ty Webb (Chevy Chase). Murray's scenes exist outside of the main storyline; he co-stars as the dim-witted groundskeeper Carl Spackler, whose relentless pursuit of a gopher has destructive results.
It's a riot to watch Murray pop up and derail the central narrative, creating confusion and infuriating the club's pretentious senior members. Murray often plays intelligent, witty roles. Here, he was cast against type as a foolish hooligan — and turns in one of his all-time funniest performances.
15. Cradle Will Rock (1999)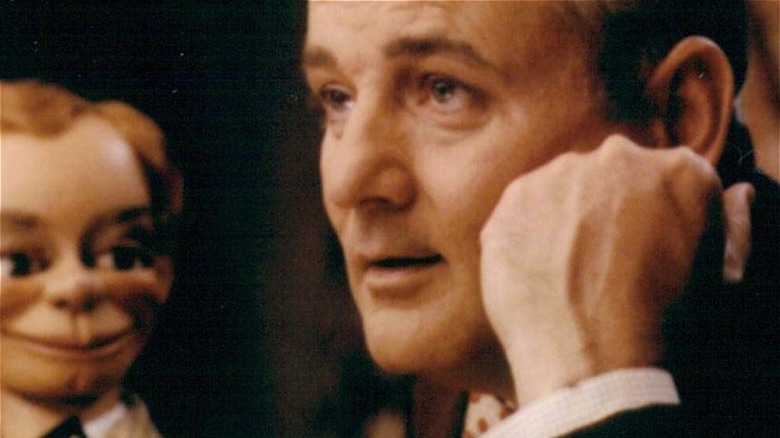 Buena Vista Pictures
While Murray is obviously best known for his comedic roles, he showed an interest in and ability to handle more dramatic fare as early as 1984's "The Razor's Edge." That film tanked at the box office, though, and it wasn't until 15 years later that the actor attempted another straight drama (that tanked even harder). Murray hedges his bets some by taking a supporting role in 1999's "Cradle Will Rock," but he does good work finding the soul, humanity, and humor of a shy ventriloquist struggling during the Great Depression. He's part of an ensemble that also includes Hank Azaria, Ruben Blades, Joan Cusack, John Cusack, Cary Elwes, and many more in a fictional story about some very real events.
The Federal Theatre Project was a New Deal-funded project to fund live theater during the Depression, but those holding the purse strings weren't prepared for the boundary-pushing art that followed. Authorities step in with force when they catch wind of the imminent production of a new leftist musical, and the film chronicles the various players on all sides of the issue as government might and public fear of socialism threaten to squash the public production. Director Tim Robbins' film shifts around with historical details, characters, and events to craft a compelling, if occasionally chaotic, ode to both the arts and the artists.
14. Meatballs (1979)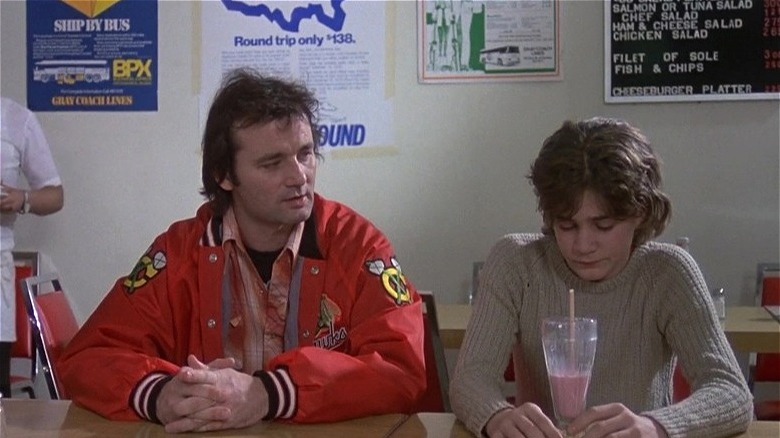 Paramount Pictures
1979's "Meatballs" represented Bill Murray's leading man debut and director Ivan Reitman's first box-office hit, and the pair would reunite for three more successful movies in the decade that followed. While "Stripes" and the two "Ghostbusters" comedies are arguably more popular, I'd assert that it's this early film that shows both talents at their sweetest and most compassionate. Those expecting something more akin to the raunchy comedy of "Animal House" will be disappointed as "Meatballs" really only teases that kind of comedy. Instead, the summer camp-set film takes a cornier approach to its mild laughs, a creative one to its practical jokes, and an empathetic tone to what's essentially a coming-of-age tale.
Murray's Tripper Harrison serves as head counselor at a stereotypical camp for stereotypically goofy kids, and while plentiful hijinks ensue between campers and counselors, the story mainly focuses on Tripper's attempts to help a shy kid out of his shell. Rudy (Chris Makepeace) is that friendless camper, but veiled kindness, fun banter, and honest encouragement from Tripper lead to a cheer-worthy, third-act triumph for underdog lovers. The pair show an affecting chemistry with Murray's big brother/immature father approach reaping rewards as this silly comedy morphs into something memorable and heartwarming. While Murray's bitingly familiar edge remains, his character's empathy becomes as visible as it is vital. The film spawned three almost entirely unrelated direct-to-video sequels that are probably best avoided.
13. Scrooged (1988)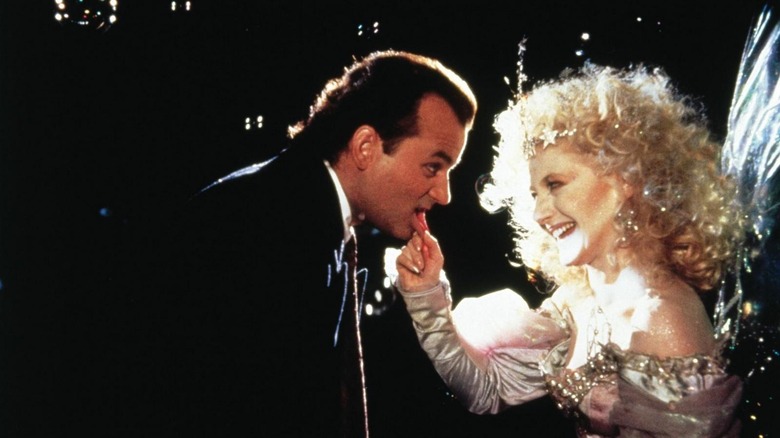 Paramount Pictures
"Scrooged" offers a darker, comedic take on Charles Dickens' holiday classic "A Christmas Carol," with Murray exploring the complexity of a great literary character from a modern perspective. Cruel and selfish television president Frank Cross (Murray) is preparing a grand adaptation of the Dickens story for the holiday season, and he subjects his crew to both unsafe working conditions and unrealistic expectations.
Cross is subsequently visited by the same ghostly figures that he's tasked with recreating. "Scrooged" — with Richard Donner directing an all-star cast — features a wild cab driver (David Johansen) as the Ghost of Christmas Past, a wacky fairy (Carol Kane) as the Ghost of Christmas Present, and a classically sinister nightmare (Robert Hammond) as the Ghost of Christmas Future. The new interpretations are amusing, while Murray must somehow transform a completely unlikeable character into someone sympathetic. Cross' cold-blooded behavior is so extreme that investing in his development is a challenge, but Murray leverages his charisma to successfully retain the heart of Dickens' tale and he is, of course, ultimately redeemed (with some welcome help from the wonderful Karen Allen as the great love that got away). Try to smile, cry, and laugh during the final scenes.
12. Little Shop of Horrors (1986)
Murray sometimes only needs one scene to steal the show. In the 1986 musical horror-comedy classic "Little Shop of Horrors," the diminutive florist Seymour Kelborn (Rick Moranis) contends not just with a killer plant, but also with the violently abusive dentist Orin Scrivello (Steve Martin) in order to win the love of his co-worker Audrey (Ellen Greene). Scrivello revels at the chance to torture his patients, and he's shocked when Arthur Denton (Murray) seems to enjoy his sadistic procedures.
Denton simply laughs with glee as Scrivello performs a painful root canal, and Scrivello becomes increasingly infuriated as Denton continues to have a great time in the dentist's chair. Martin milks Scrivello's rising annoyance and Murray plays his part in a gloriously over-the-top fashion. It's a scene featuring two comedy titans at the height of their powers. "Little Shop of Horrors" has numerous strange non-sequiturs, but Murray's sequence is among the most effective — and most memorable.
11. Stripes (1981)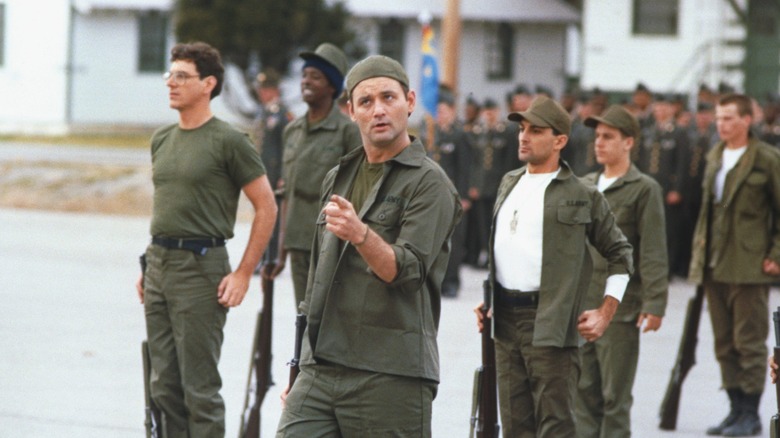 Columbia Pictures
"Stripes," a half-great satire from 1981, follows slackers John Winger (Murray) and Russell Ziskey (Harold Ramis), who experience a series of personal and professional hardships caused by their immaturity. Winger spontaneously decides that his only option is to enlist in the U.S. Army, and convinces Ziskey to join him. Upon beginning their training at Fort Arnold, Winger immediately clashes with his overbearing drill, Sergeant Hulka (Warren Oates).
Flabbergasted by Winger's lack of interest in legitimately fulfilling his duties, Hulka attempts to embarrass him in front of the other trainees. However, Winger's popularity only grows, and he emerges as the de facto leader of the quirky group of recruits. It's a hoot to watch Murray and his friends wreak havoc amidst Army protocol. Winger and Ziskey also utilize all available resources to romantically pursue military police officers Louise Cooper (Sean Young) and Stella Hansen (P.J. Soles).
The second half of "Stripes" is an absolute mess, as the band of misfits becomes unlikely heroes when they venture to Italy and execute a key rescue operation. The events are unrealistic, particularly when they steal the experimental armored EM-50 Urban Assault Vehicle. Despite the ridiculous story, however, Murray remains committed to the absurd change of pace.
10. Wild Things (1998)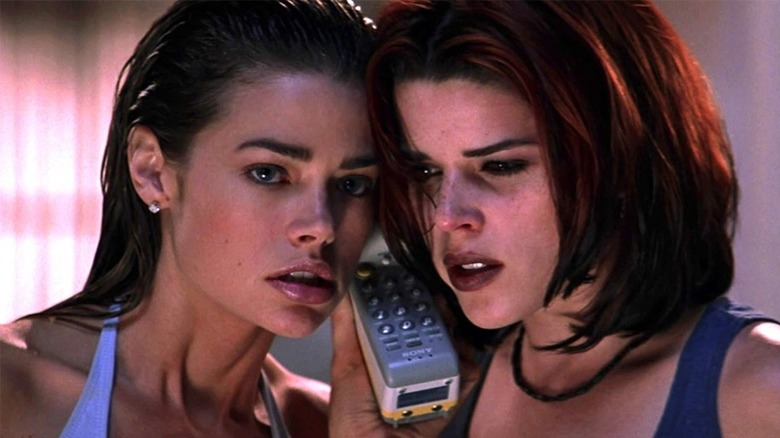 Columbia Pictures
People seem to forget that Murray co-stars in 1998's "Wild Things," and even plays an integral role, but it's an understandable slight. This is, after all, a sweaty, sleazy, endlessly twisty tale of bad men, naughty teenagers, and the small Florida town lubricated by it all. It was easy at the time for viewers to get caught up in the make-out sessions between various combinations of Neve Campbell, Denise Richards, Matt Dillon, and Kevin Bacon, but the film actually rates as a damn smart thriller with a script (by Stephen Peters) that continually throws sexy new wrenches into the mix as double crosses land and corpses hit the floor. It knows it's ridiculous and revels as much in the fun as it does the bodily fluids.
Murray wades into the morally vacant waters as an ambulance-chasing lawyer defending Dillon's popular high-school teacher against sexual assault charges levied by two of his students (Campbell and Richards). Things only get nuttier from there, but while the film as a whole is a dark comedy (I promise), only Murray takes a visibly comedic approach here. It's a smart move as the rest of the cast plays things hilariously straight, leaving Murray's character as something of a release valve reminding viewers it's okay to laugh at the silly, trashy depravity unfolding before us. Those of you seeking less intentionally funny takes on the story will want to check out the three — three! — DTV sequels.
9. Lost in Translation (2003)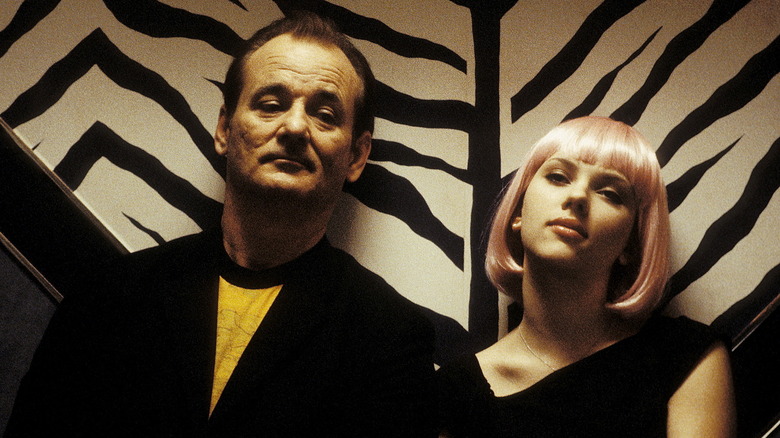 Focus Features
Writer and director Sofia Coppola created the role of fading movie star Bob Harris specifically for Murray in order to showcase the more sensitive side of one of her favorite actors. Not only is the result the best film of Coppola's career, but it finally earned Murray his first Academy Award nomination for best actor after being snubbed throughout his career. Though framed like a love story, "Lost in Translation" explores a deeper connection between two lonely outsiders who find fleeting moments of intimacy in their miserable daily lives. It's one of Murray's most complex performances; he hides depression behind the character's winning personality and brings authenticity to the pressure Harris faces while living up to his iconic status.
Harris has been married for 25 years and has fully-grown children, but goes through a midlife crisis while shooting a series of luxury whisky advertisements in Japan. While drinking alone in a hotel lobby, Harris becomes fascinated by the American student Charlotte (Scarlett Johansson). The two converse, and Charlotte reveals that she's struggling with her marriage to celebrity photographer John (Giovanni Ribisi). Bob and Charlotte bond over their shared loneliness. Despite the vast age difference and because they both feel trapped, they embark upon a memorable evening exploring the sights of Tokyo, popping in to random nightclubs for unexpected adventures.
The relationship could've been poorly handled and might've felt either creepy or superfluous, but Murray and Johansson make it completely sincere. Bob's final words to Charlotte remain a beautiful mystery.
8. Fantastic Mr. Fox (2009)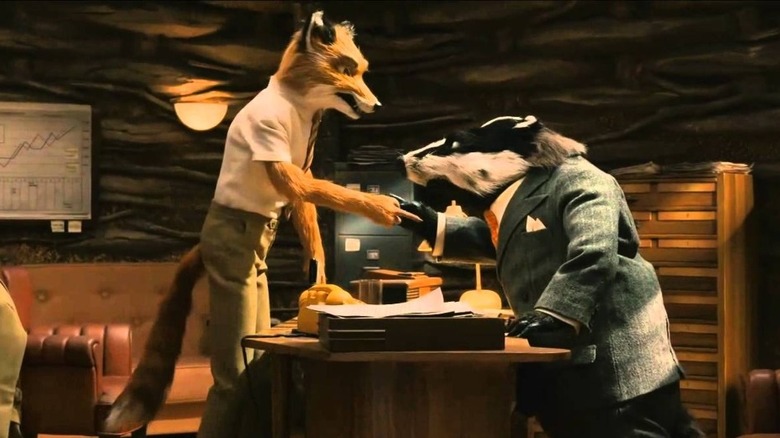 20th Century Fox
While "Rushmore" and "The Life Aquatic with Steve Zissou" remain the best of Murray's collaborations with Wes Anderson, as they give him the bigger roles, the comic actor has proven adept at bringing life to even the smallest of characters. Case in point: his turn as Clive Badger, Esq. in 2009's "Fantastic Mr. Fox." Not only is the badger a supporting player, but as part of a stop-motion animated film, he's also in the form of a small, adjustable maquette. There's little room for real emotion or depth here, but Murray still gives the badger weight and a humorous tone.
The film is an adaptation of Roald Dahl's classic children's book of the same name and follows the adventures of a fox family and other animals squaring off against some dangerous and devious humans. Three farmers threaten the lives and livelihoods of the surrounding animal community, so the furry creatures band together on raids, heists, a rescue mission, and more. George Clooney voicing Mr. Fox adds to the feeling that this is something of a family-oriented "Ocean's Eleven" riff, and other notable voice talents include Brian Cox, Willem Dafoe, Michael Gambon, Jason Schwartzman, Meryl Streep, and Owen Wilson. The film inexplicably failed to make a mark at the box office, but whether you watch it for Murray, the other cast members, or the exquisite compositions, it's still an animated gem worth your time.
7. The Royal Tenenbaums (2001)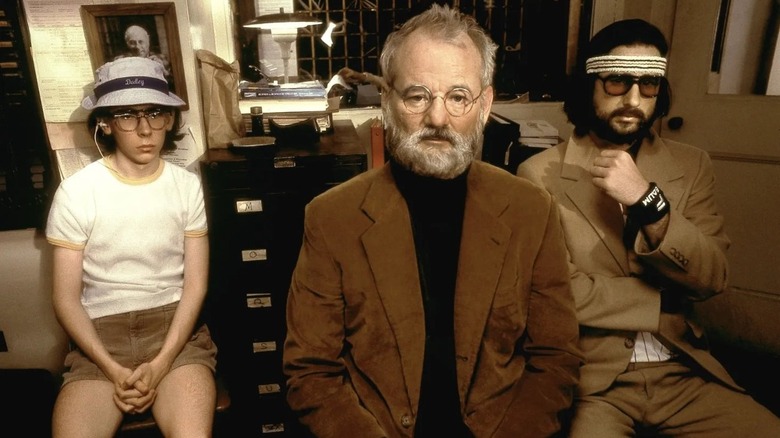 Buena Vista Pictures
Murray's role in Wes Anderson's exquisitely crafted look at a uniquely dysfunctional family may be of the supporting variety, but neurologist Raleigh St. Clair (Murray) is still an affecting part of the whole ensemble. "The Royal Tenenbaums" is also just a fantastic film that deserves a spot on this list. Alec Baldwin narrates our peek into the lives, loves, and losses endured by the Tenenbaum family, and it's equally measured in its laughs, heart, and style. Gene Hackman and Anjelica Huston portray the divorced patriarch and matriarch, respectively, and parents to three adult children (Gwyneth Paltrow, Ben Stiller, Luke Wilson) facing emotional problems of their own, but it's ultimately a tale of redemption and forgiveness with a highly satisfying finale.
Raleigh turns up as the much older husband to Paltrow's Margot, and he must contend with the reality that his marriage to the Tenenbaum is untenable. Murray ensures we feel empathy for this sad sack of a character to the point that his heartbreak becomes, however briefly, a palpable thing. Yes he's another quirky, slightly removed-from-reality character in a menagerie of Anderson's design, but we grow to care because Murray, and by extension Raleigh, cares too. Of course, it doesn't hurt that Murray also nails the subtle comic mannerisms and understated bond he has with a goofball test subject named Dudley.
6. Ed Wood (1994)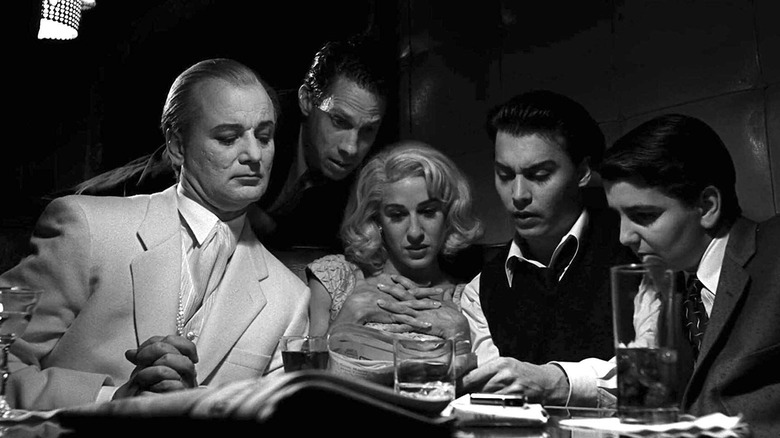 Buena Vista Pictures
Tim Burton's "Ed Wood" pays tribute to the creative spirit of artists who dedicate themselves to a craft. Burton is the ideal filmmaker to explore the life of a storyteller often mocked for being weird and considered too untraditional to ever attain mainstream success. This biographical movie centers on the titular cult writer-director (Johnny Depp), who created low-budget films throughout the '50s. Wood is passionate but completely incompetent, and his films, which include "Glen or Glenda" and "Plan 9 From Outer Space," are often considered among the worst ever produced.
Despite his lack of talent, Wood creates a unique community of performers and crew members who remain loyal to him throughout his career. Part of this unusual family is the aging drag queen John "Bunny" Breckinridge (Murray). Murray finds the sadness in a misunderstood performer who thinks he'll never find his calling again. The scenes in which Bunny supports Wood's ambitions are among the film's most touching.
The real Bunny plays a pivotal role in "Plan 9 From Outer Space." Murray delivers a spot-on recreation of Bunny's performance. It's particularly amusing when, in the low-budget science fiction film, Bunny is forced to wear a medieval costume borrowed from another project.
5. The Life Aquatic with Steve Zissou (2004)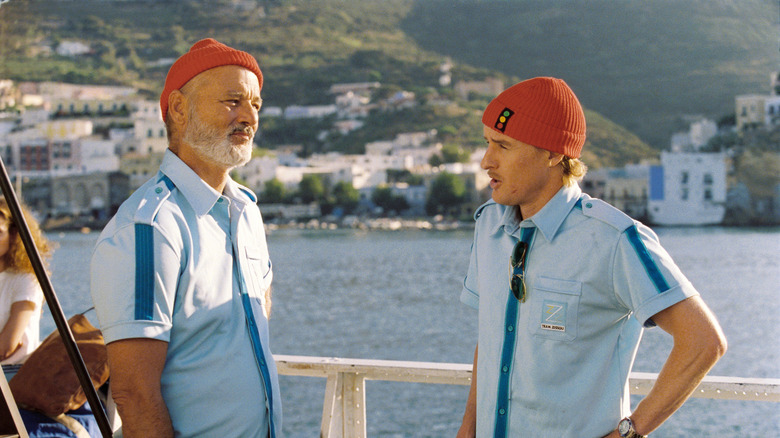 Buena Vista Pictures
In his collaborations with Wes Anderson, Murray often plays supporting roles, but he got the chance to take on the main character in "The Life Aquatic with Steve Zissou." The underwater adventure follows the titular explorer, hailed as a legend within the oceanography community. However, Zissou still holds a grudge against an elusive great white shark that killed his partner decades prior. He embarks on a new voyage to exact revenge, calling together his off-kilter crew.
Zissou is unexpectedly accompanied by his biggest fan, Ned Plimpton (Owen Wilson), who joins the expedition after his mother dies. Plimpton idealizes Zissou's achievements but secretly suspects that his idol is also his father. Ned attempts to determine the truth as they search together for the dangerous beast, and Zissou gradually becomes a father figure to him. Wilson's performance feels earnest throughout, which is hilarious when compared to Murray's stoic self-seriousness. Murray makes Zissou pretentious in a manner that is amusing, and not grating.
"The Life Aquatic with Steve Zissou" is Anderson's most action-packed film, but its conclusion is surprisingly dark. The ambiguous note with which the mystery is addressed elevates the premise beyond simple parody.
4. Ghostbusters (1984)
Columbia Pictures
"Ghostbusters" wonderfully mixes fantasy adventure, sharp humor, and body horror, and it proved that Murray's comic timing translates well to an action-comedy blockbuster. Dr. Peter Venkman is by no means a noble hero, as he uses his position at Columbia University to charm students and annoy rivals.
Venkman and his best friends, Ray Stantz (Dan Aykroyd) and Egon Spengler (Harold Ramis), are fascinated with the undead ghouls that haunt New York City, and they develop technology that can be utilized for both public service and financial gain by catching ghosts. Each member of the trio is unique. Ray is a little looney and often makes clueless mistakes, and Egon is methodical without any capacity for irony. Venkman possesses a gleeful cynicism that humanizes the film's most fantastical moments. They share a terrific rapport, and the addition of the fast-talking Winston Zeddemore (Ernie Hudson) later in the film creates a unique blend of heroes.
Murray also has great romantic chemistry with Sigourney Weaver, who plays his love interest, Dana Barrett. Murray's advances are earnest, and he truly cares for Dana when she becomes possessed by the evil spirit Zuul. Venkman is a role that Murray has returned to as the Ghostbusters franchise has expanded — even in the disappointing "Ghostbusters II," he is still entertaining.
3. Quick Change (1990)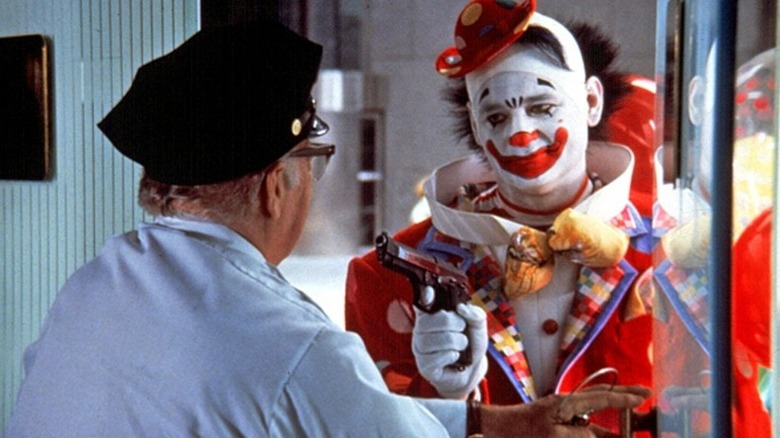 Warner Bros.
Cinema is filled with crime films that unfold over one bad day, spanning from the highs of "16 Blocks" to the lows of "88 Minutes." 1990's "Quick Change" hews a bit closer to the likes of "Dog Day Afternoon," though, as it kicks off with a bank robbery and descends into beautifully orchestrated chaos. This Murray-led affair is also far less serious than that Al Pacino movie. Here the robbery is the easy part as Grimm (Murray), his girlfriend Phyllis (Geena Davis), and their pal Loomis (Randy Quaid) pull off a perfect crime and exit the bank untouched. Unfortunately for them, their trip down Easy Street ends right there as New York City proceeds to throw any and every obstacle into their path toward the airport.
"Quick Change" remains Murray's only stab at directing — he co-directed with Howard Franklin — and the result is a smart combination of absurd laughs and dark-edged humor. Murray plays Grimm as a man with a long plan and a short fuse, and while increasingly flustered characters are no stretch for the actor, there's a finer mix of anger and warmth here as he tests the affection of both his friends and moviegoers. It's a high-wire act that he pulls off as character details come to light and the ridiculousness of their situation grows. Murray and Davis show biting romantic banter, and Jason Robards shines as the determined detective on their trail. It's a hidden heist-movie gem.
2. Rushmore (1998)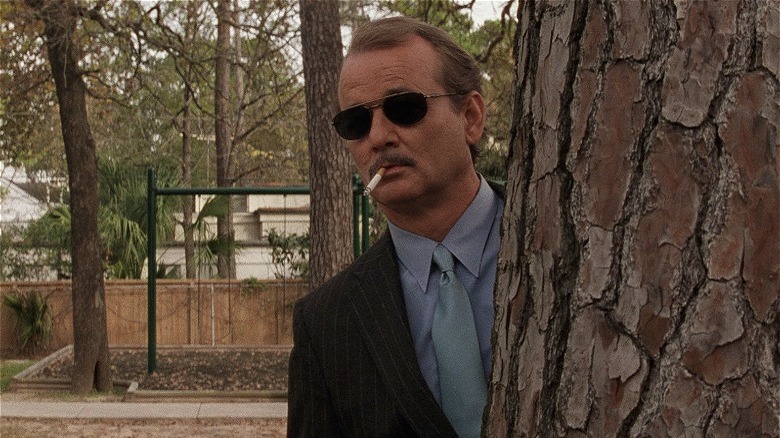 Buena Vista Pictures
"Rushmore" ushered in a new era of Murray's career, as it was his first collaboration with eccentric writer-director Wes Anderson. Anderson is renowned for his idiosyncratic characters, striking images, and symmetrical framing, and Murray's dry humor fits perfectly with his style. Anderson's films also often feature stacked casts, and it was exciting to see Murray interact with a larger ensemble as he passed the torch to the up-and-coming stars of "Rushmore."
"Rushmore" tracks the coming-of-age story of precocious overachiever Max Fischer (Jason Schwartzman). A student at the private Rushmore Academy in Houston, Max participates in every possible extracurricular activity, yet struggles to keep his grades up. Disillusioned, Max wants to be taken seriously by adults, and his confidence catches the interest of the reclusive aristocrat Herman Blume (Murray). Similarly disenchanted with Rushmore, Blume bonds with the strange boy. Their initial friendship is shattered when they both fall for the widowed literature teacher Rosemary Cross (Olivia Williams) and begin bitterly goading each other into childish pranks.
Murray and Schwartzman illustrate the evolution of their selfish characters. Max realizes he's ultimately not a good fit for Rosemary, and channels his efforts into helping Blume make amends. Although neither character offers a formal apology, Schwartzman and Murray make the respect that has developed between the two very, very clear.
1. Groundhog Day (1993)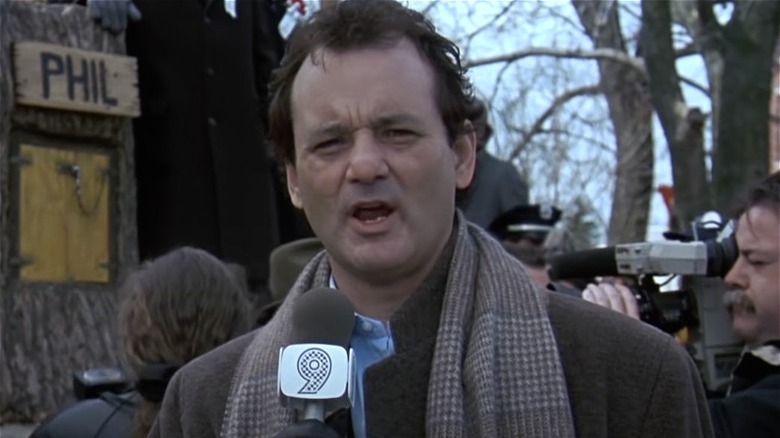 Columbia Pictures
In "Groundhog Day," Murray displayed a versatility that he's never topped. This perfect film seamlessly combines comedy and drama, and finds an optimistic perspective on a character that starts off incredibly cynical. "Groundhog Day" veers into dark territory at times, but the twisted laughs don't detract from the sweetness of the story's conclusion. Murray's longtime collaborator Harold Ramis understood his star's unique talents, and channeled his lifelong friend's best attributes into the most complete performance that Murray has ever delivered.
Murray stars as downbeat news reporter Phil Connors, who dreads covering the festive Groundhog Day celebrations in Punxsutawney, Pennsylvania, every year. Accompanied by his loyal producer Rita Hanson (Andie MacDowell), Connors reluctantly stays in the joyous town overnight due to a blizzard. When he wakes up the next morning, Connors discovers that his entire day is repeating. It's not just a one-time occurrence; Connors must relive February 2 for eternity.
The beauty of "Groundhog Day" is seeing Connors slowly alter his behavior as he memorizes the day's events and becomes a better person. He starts off parlaying his knowledge into personal gains but learns to become more empathetic toward the people that he's ignored. Connors dreaded seeing his childhood acquaintance Ned Bryerson (Stephen Tobolowsky) every morning, but ends up greeting the obnoxious man with open arms. It is fulfilling to see Connors finally recognize Rita's love for him, and to realize he feels the same way.