Wes Anderson Blames Himself For Limiting Fantastic Mr. Fox's Box Office Success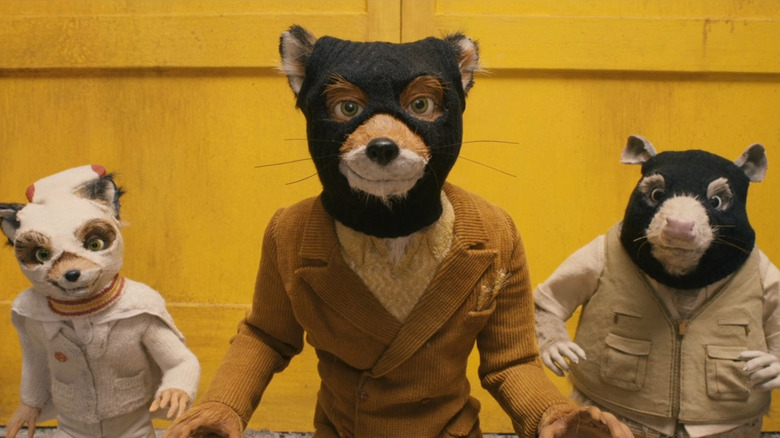 20th Century Fox
For as lucrative a medium as animation can be, stop-motion animation has always had a bit of trouble making a ton of money at the box office. Domestically, only one stop-motion film has crossed $100 million, the 2000 Aardman comedy "Chicken Run." The next closest is "The Nightmare Before Christmas" with $77 million, but that is thanks to it being frequently re-released during both Halloween and Christmas. Its original theatrical run was only $50 million, but that would be just over $100 million in today's dollars.
If you want to make a moderate amount of money with stop-motion, leaning into the spooky stuff tends to fare better. Along with "The Nightmare Before Christmas," you have "Coraline," "ParaNorman," "Corpse Bride," and even Aardman's "Wallace and Gromit: The Curse of the Were-Rabbit" all existing in the $50 million-ish range, with "Coraline" being the one outlier at $75 million. For some reason, be it the herky-jerky movements of stop-motion characters or just the overwhelming connection the medium has to "The Nightmare Before Christmas," people will show up for stop-motion when it features horror-tinged material.
Wes Anderson's adaptation of Roald Dahl's "Fantastic Mr. Fox" cost $40 million to make and barely crossed that number worldwide, grossing a mere $21 million domestically. Despite the film arguably being Anderson's greatest triumph of finding the perfect vehicle for his intricately constructed frames, not to mention being based on a book from a beloved children's author, it did not connect with the populace. Speaking with Film4, Anderson believed this would be his most successful film saying, "I thought that I was taking less of a risk than I ever had." While he acknowledges the box office limitations of stop-motion, he puts the blame of its lackluster gross entirely on himself, explaining, "[I]n the course of making the movie, I think I managed to prevent [guaranteeing an audience] from happening."
Too Wes Anderson for the kids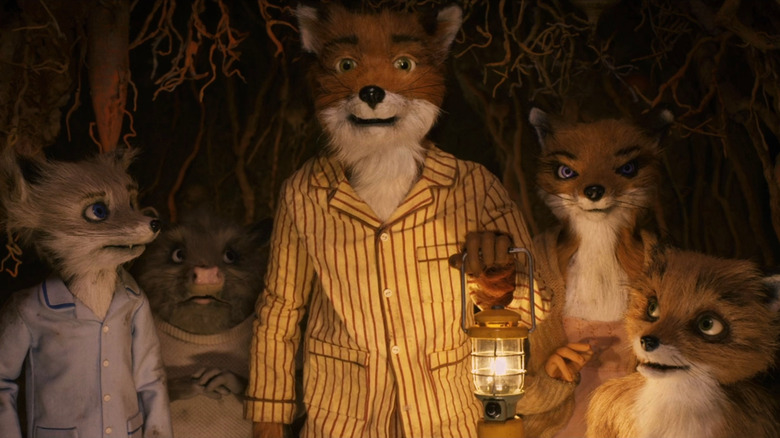 20th Century Fox
Wes Anderson cannot help but be himself. Watch any single film he has directed (or, hell, even the commercials). Every single shot could only have been composed by him. The symmetry, the texture, and the colors are often imitated but never replicated. Not everyone is enraptured by his style and dry wit, though. He has legions of fans, myself included, but he has just as many detractors.
Going into "Fantastic Mr. Fox," Anderson thought he would be entirely serving Roald Dahl and the audience of mostly children, making his overwhelming style take a backseat. But Wes has to Wes, and as he said to Film4, the film became much more personal to him than he expected:
"What happened was, as we made the film each step of writing it, but then beyond writing it, I got more and more invested in it than I expected to be, and it became more and more personal, and I always felt we were trying to do Roald Dahl, but I also thought we were finding a lot of room to invent our own things to go in this. So in the end it ended up being something that I feel is a very personal film, that I feel very close to, that feels like my work. But it doesn't really feel like what I would necessarily picture as a hit cartoon."
Wes Anderson made a Wes Anderson film that wasn't aimed at his usual audience, and the one it was aimed at didn't know what to make of it. Therefore, "Fantastic Mr. Fox" sadly didn't make much of a financial impression. Strangely enough, Anderson's inferior stop-motion follow-up "Isle of Dogs" made about $11 million more domestically. The Wes fans knew to look out for it that time.