How A Failed Twin Peaks Spinoff Became Mulholland Drive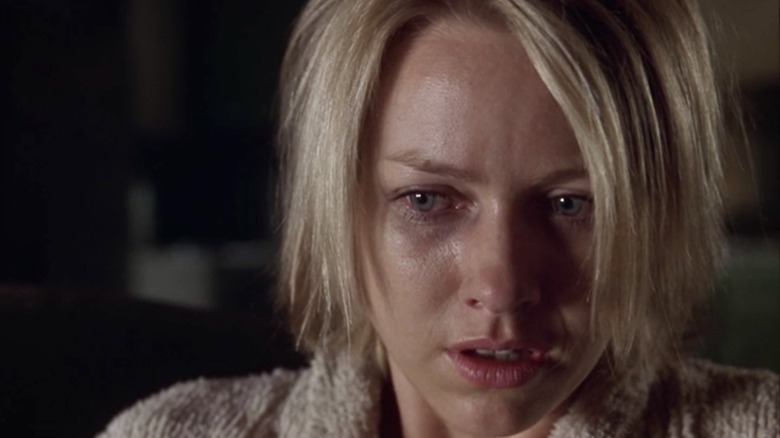 Universal Pictures
In a 2016 BBC poll, over 175 film critics from around the world voted David Lynch's "Mulholland Drive" the greatest movie of the 21st century thus far. However, Lynch's surreal neo-noir thriller, an American dream turned L.A. nightmare, famously began life as a TV project. He shot much of it as the pilot for a potential television series, and it was only after the network, ABC, passed on it that he re-developed it as a standalone story for the big screen. Yet there was another stage even before that where "Mulholland Drive" could have been a spin-off of the show "Twin Peaks."
Lynch co-created "Twin Peaks" with Mark Frost in 1990 and the show has since gone on to become a cult classic, but it only lasted for two seasons in its original run on ABC. In 1992, Lynch followed it up with the movie "Twin Peaks: Fire Walk with Me," and 25 years later, he and Frost would revive the franchise on Showtime with an 18-episode "limited event" series, "Twin Peaks: The Return."
Frost also penned the epistolary novel, "The Secret History of Twin Peaks," and its sequel, "Twin Peaks: The Final Dossier." In another book, "Conversations with Mark Frost," published in 2020, he later discussed how "Mulholland Drive" first arose as a spin-off idea for Sherilyn Fenn's "Twin Peaks" character, Audrey Horne. There, Frost explained (via Indiewire):
"I lived on Mulholland Drive at the time and I thought it was a great title. We had considered spinning off the Audrey character and setting her loose in Hollywood, in a modern noir. We had very preliminary talks; it drifted away, and then six years later, I hear it's going be a pilot at ABC."
'I know Sherilyn was eager to do it at the time'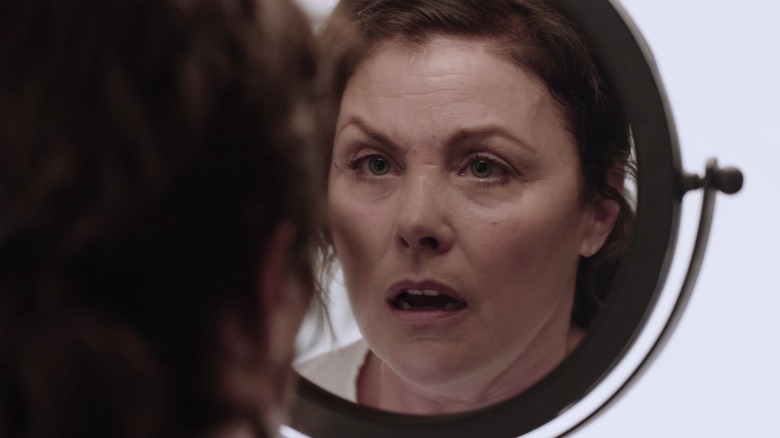 Showtime
Frost continued:
"I know Sherilyn was eager to do ['Mulholland Drive'] at the time. She was ambitious, and we probably could have built a show around her. I don't know exactly how it went from there to a pilot script without her. [...] Maybe because 'Twin Peaks' had crashed and burned, there wasn't much appetite for spinning off a series from it. I wasn't involved, and frankly, I needed a break from working with Lynch at that point."
Fenn did show up as Audrey in "Twin Peaks: The Return," though her screen time was limited and her character's fate was left ambiguous. Back in 1991, the "Twin Peaks" series finale ended on a cliffhanger where Audrey was last seen chained to a bank vault door before a bomb went off inside the vault. "The Return" implied that she was perhaps in a coma or trapped in an extra-dimensional Lodge like the one where series protagonist Dale Cooper (Kyle MacLachlan) landed. "I feel like I'm somewhere else," she said to her husband, Charlie (Clark Middleton). "Like I'm somewhere else and like I'm somebody else."
Audrey's scenes culminated in her doing her signature dance in a roadhouse, only to suddenly find herself flashing to an all-white limbo space where she was left staring at herself in the mirror. "Mulholland Drive" took its central character, played by Naomi Watts, on a similar arc, with one interpretation being that she was a failed actress named Diane Selwyn who had disassociated from her surroundings in a kind of pre-death fugue where she took on the dream self of Betty Elms. If you look at where Audrey and Diane/Betty both ended up, it's easy to see how Lynch simply inserted a new character as he was reworking the structure of "Mulholland Drive" to make it something independent of "Twin Peaks."