Netflix's Resident Evil: Release Date, Cast, And More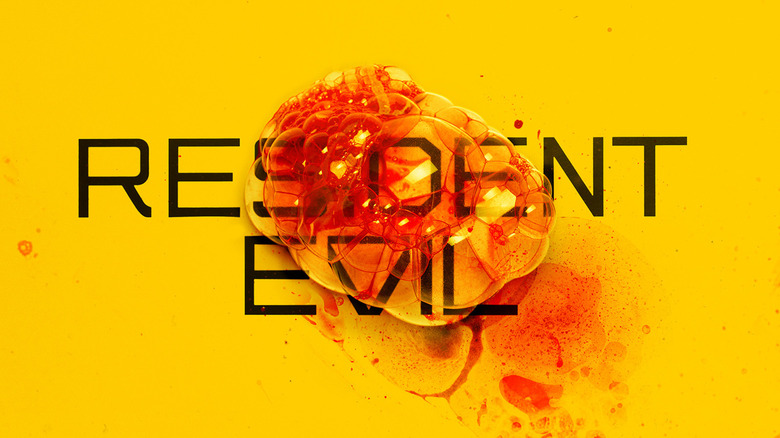 Netflix
Gaming classic "Resident Evil" is heading to Netflix — no, not the films with Milla Jovovich. The upcoming new series is based on the popular survival horror games, but we won't be getting a rehash of the original game's story. At least, not this time. "Resident Evil" apparently tells a whole new story.
Enter Jade Wesker, the daughter of series stalwart Albert Wesker (Lance Reddick), who is struggling to survive in a post-apocalyptic world. That's right: the T-virus has ravaged the earth, leaving less than 2% of the world population alive. The rest, people and animals alike, have been transformed into monsters.
It's a neat premise that takes us beyond the realm of the video games, allowing the show to explore what it's like in a bleak future where undead monstrosities prowl the earth. But it looks as though we'll be delving into what happened before the world ended, too.
After "Resident Evil: Infinite Darkness," it looks as though Netflix is all-in on one of gaming's longest-running horror franchises. Following it up with a "Resident Evil" live-action show, it's game on for the online streaming giant ... and it's already grabbed the interest of "Resident Evil" fans.
What can we expect from the upcoming live-action series? Will classic monsters such as the Tyrants and Lickers return to our screens? Here's what we know about Netflix's Resident Evil so far.
When and where to watch Resident Evil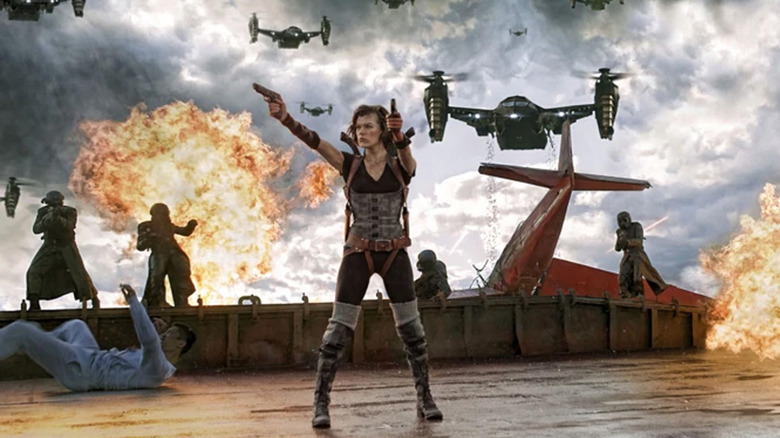 Sony Pictures Releasing
"Resident Evil" heads to Netflix on July 14, 2022, so there's really not long to wait. Not now, anyway. After all, it debuts almost three years after rumors that a "Resident Evil" show was in the works. Eventually, Netflix confirmed it and even gave us a hint of what's to come, teasing the first page of its "Resident Evil" script via Twitter.
When the Wesker kids move to New Raccoon City, the secrets they uncover might just be the end of everything. Resident Evil, a new live action series based on Capcom's legendary survival horror franchise, is coming to Netflix. pic.twitter.com/XWh5XYxklD

— Netflix Geeked (@NetflixGeeked) August 27, 2020
"Resident Evil is my favorite game of all time," said writer Andrew Dabb. "I'm incredibly excited to tell a new chapter in this amazing story and bring the first-ever Resident Evil series to Netflix members around the world. For every type of Resident Evil fan, including those joining us for the first time, the series will be complete with a lot of old friends, and some things (bloodthirsty, insane things) people have never seen before."
Netflix promises a new story that features classic "Resident Evil" characters and themes, not to mention a few Easter eggs that fans will love. Thankfully, we won't have to wait too long to find out what it's all about.
What will Resident Evil be about?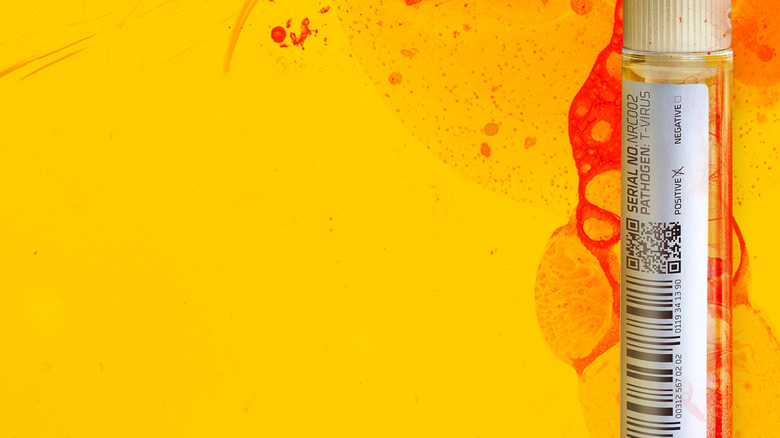 Netflix
It's time to answer the big question — what will "Resident Evil" be about? Thankfully, when Netflix confirmed the show back in 2020, they also revealed a handy synopsis that breaks down all the biggest details of the upcoming series:
"Building on one of the most popular, best-selling survival horror video games of all time, Resident Evil will tell a brand-new story across two timelines."
Essentially, we'll be following new character Jade Wesker — a survivor of the zombie apocalypse who's also searching for answers about her own past. It's an interesting idea that allows "Resident Evil" to take place across two different time periods:
"In the first timeline, fourteen-year-old sisters Jade and Billie Wesker are moved to New Raccoon City – a manufactured, corporate town forced on them right as adolescence is in full swing. But the more time they spend there, the more they come to realize that the town is more than it seems, and their father may be concealing dark secrets. Secrets that could destroy the world."
Fans of the series will be well aware of their father, Albert Wesker... but we'll get to that. First:
"Cut to the second timeline, well over a decade into the future: there are less than fifteen million people left on Earth. And more than six billion monsters — people and animals infected with the T-virus. Jade, now thirty, struggles to survive in this New World, while the secrets from her past – about her sister, her father, and herself – continue to haunt her."
It sounds as though the dual timelines will explore Jade's relationship with her father, as well as delving into how he and the Umbrella Corporation caused the imminent apocalypse. A bit of time-hopping inspiration from "The Witcher" perhaps?
What Resident Evil will adapt from the games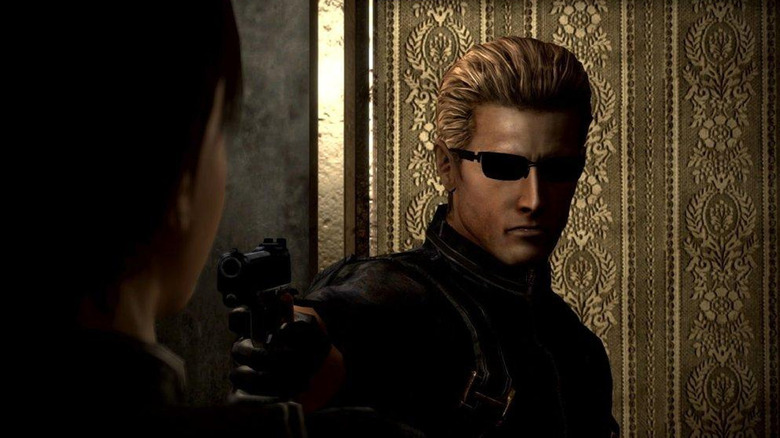 Capcom
It may be an all-new story, but "Resident Evil" will be relying on some classic elements from the video games.
First off, we've got the T-virus, the classic bioweapon developed by the Umbrella Corporation in the "Resident Evil" video game series. It essentially mutates its hosts into zombie-like monsters, both animals and humans alike. It's responsible for the zombie apocalypse in Netflix's live-action "Resident Evil" series and clearly features heavily in the show. A vial of infected blood even features front-and-center at the heart of the show's advertising campaign, appearing on one of its new teaser posters.
But that's not all.
Albert Wesker will no doubt appear heavily on the show. He's Jade and Billie's father and an infamous Umbrella Corporation employee. Appearing throughout the "Resident Evil" games, Wesker was a senior researcher during the creation of the T-virus and eventually comes to favor the mass extinction of humanity as a means of forced evolution. The product of a eugenics project himself, Wesker is often depicted with extremely high levels of intellect, as well as near-superhuman strength due to his intentional exposure to a bioweapon virus in his youth.
It's unclear what role Wesker will play in the "Resident Evil" show, but it's likely that he's still a part of Umbrella Corporation's bioweapons research team in some capacity. The fact that he takes his children to Raccoon City is surely no coincidence.
What we know about the Resident Evil cast and crew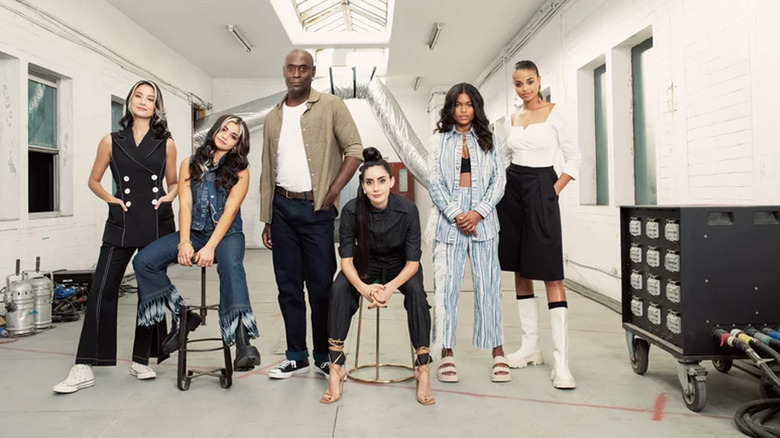 Netflix
At the moment, "Resident Evil" is in an odd place. It's already been revealed that Albert Wesker will be played by none other than Lance Reddick — an excellent choice if you ask me. However, while the rest of the main cast has been announced, we have no idea who they'll be playing. The rest of the "Resident Evil" cast includes: Ella Balinska, Tamara Smart, Siena Agudong, Adeline Rudolph, Paola Nunez, Ahad Raza Mir, Turlough Convery, and Connor Gossatti.
It's currently unknown who will be taking the leading role as Jade Wesker, but my money is on Ella Balinska. She's already known for the 2019 "Charlie's Angels" reboot starring Kristen Stewart and Naomi Scott, and is more than capable of propping up an eight-episode series such as "Resident Evil."
"Resident Evil" will be led by "Supernatural" editor and producer, Andrew Dabb as showrunner, executive producer, and writer. He's joined by Robert Kulzer, Oliver Berben, and Mary Leah Sutton as executive producers, while Constantin Film (who produced the "Resident Evil" movies) brings its CEO Martin Moszkowicz on board as producer.