The Lost City Proves People Still Want Original Movies With $31 Million Opening Weekend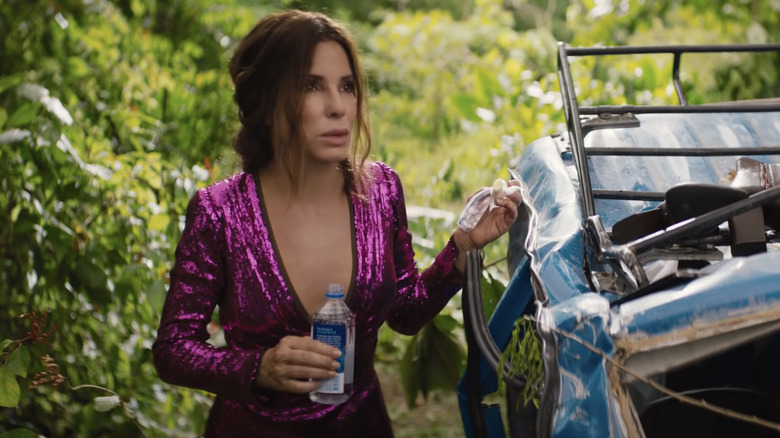 Paramount Pictures
Movies: people still want to see 'em! And in theaters, no less! Just when you thought the weekend box office was the sole province of recent superhero blockbusters like "The Batman" and "Spider-Man: No Way Home," along comes a Sandra Bullock movie to remind us that there's still a market for other kinds of entertainment at the multiplex.
"The Lost City," Bullock's new action-adventure comedy with Channing Tatum, Daniel Radcliffe, and Brad Pitt, has raked in an impressive $31 million at the domestic box office on its opening weekend. Deadline reports that the film has scored "a record opening during the pandemic for a female-driven feature."
In "The Lost City," per the official synopsis, Bullock stars as Loretta Sage, an author of romance-adventure novels featuring a handsome cover model named Alan, played by Tatum. Loretta gets kidnapped by an eccentric billionaire (Radcliffe), who thinks she can lead him to a treasure in the ancient lost city from her last novel. When Alan tries to come to the rescue, he and Loretta find themselves thrust into a jungle adventure where Pitt's CIA agent also gets involved.
"The Lost City" bowed in 4,253 theaters and it brought in $11.55 million on Friday, $11.8 million on Saturday, and $7.65 million on Sunday. That puts its initial three-day gross in the range of "The Heat," Bullock's 2013 buddy-cop flick with Melissa McCarthy," and "The Proposal," her 2009 rom-com with Ryan Reynolds. Those two films earned $39 million and $34 million, respectively, on opening their weekends. "The Lost City" is actually the second-best pandemic opening for Paramount Pictures after "A Quiet Place Part II," and it builds on the success of "Scream" and "Jackass Forever" this year to give the studio its third number one opening already in 2022.
'It shows that movies still matter'
Women over 35 made up almost half the audience for "The Lost City," and as Deadline notes, that's a demographic that has turned out in much lower numbers for other recent movies like the Jennifer Lopez and Owen Wilson rom-com, "Marry Me." Chris Aronson, the President of Domestic Distribution for Paramount, highlighted the crowd-pleasing nature of "The Lost City" as one possible reason for its unprecedented success during the pandemic, when it's become all too common for viewers in general to skip theatrical releases in favor of streaming ones. He said:
"It's kind of a throwback. But it shows that movies still matter. This is very much a crowd-pleasing movie, and it points toward people want to laugh and they want to be entertained after the last two years we've been through."
"The Lost City" definitely has star power, with the addition of Radcliffe and Pitt giving it a certain "Ocean's Eleven" (or "Ocean's Eight, since this is Bullock) team-up energy. Over and above that, it just looks like a fun popcorn flick, as you can see from the trailer above.
It's easy sometimes to get caught up in the doom and gloom of films like Guillermo del Toro's "Nightmare Alley" faring poorly at the box office, but if there's anything to be learned from the success of "The Lost City" this weekend, it's that maybe audiences just want to feel good right now, and there's still some room for that outside the usual run of remakes, superhero sequels, and other assorted franchise films.