Don't Let Questlove's Deserved Oscar Win And Emotional Speech For Summer Of Soul Get Overshadowed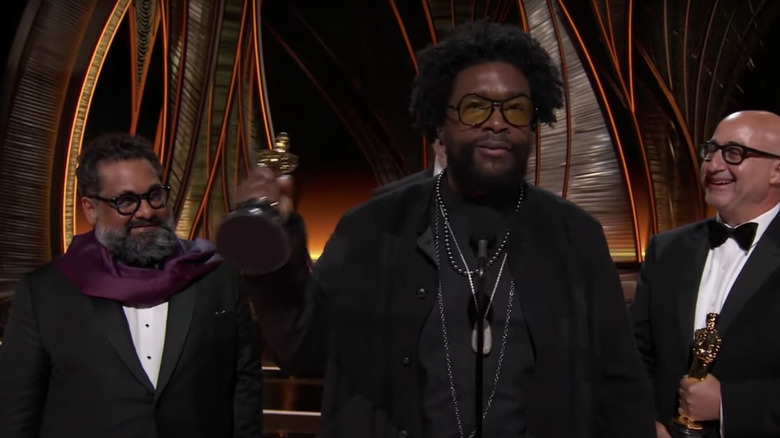 ABC
The Academy Awards wouldn't be complete without a controversial moment or two to keep us all awake — but do you know what else can help get your blood flowing? Joy! And one of the greatest examples of pure, unbridled joy celebrated a monumental win at this year's ceremony: "Summer of Soul (...Or, When The Revolution Could Not Be Televised)" took home Best Original Documentary.
This film marked a remarkable directorial debut from The Roots frontman, Amir "Questlove" Thompson, whose film provided some much-needed euphoria in the midst of a worldwide pandemic. Chronicling the long-forgotten 1969 Harlem Cultural festival, "Summer of Soul" is an incredible work of preservation, pulling together a treasure trove of archival footage that spent decades ignored and forgotten. Beyond being a crucial contribution to the neglected archive of Black art, the film immortalizes performances from some of our most gifted performers, featuring an iconic lineup of superstars like Stevie Wonder and Gladys Knight. It's a transportative piece of work, launching viewers back into the moment with pressing, emotional context delivered through interviews with attendees, that meshes perfectly with the captured footage. Naturally, a movie this emotionally charged evoked a powerful speech when Questlove and crew were pulled up on stage to celebrate the big win.
Classy as always, Questlove kicked things off by taking a moment to acknowledge the other nominees in the category — "Flee," "Attica," "Ascension" and "Writing With Fire" — and thanking them for their powerful work. He then launched into thank-yous, and takes a special moment to hit upon a key factor of this film — it isn't just about a singular moment in time:
"It's not lost on me that the story of the Harlem Cultural festival should've been something that my beautiful mother and my dad should've taken me to when I was 5 years old. This is not about me. This is about marginalized people in Harlem that needed to heal from pain."
Questlove won an Oscar!
The Academy doesn't always get them right, but there's nothing quite like seeing a much-deserved win happen in real-time. Just like Questlove's emotional speech, "Summer of Soul" is an electrifying experience. With an unbelievable line-up that includes Nina Simone, Gladys Knight, Mahalia Jackson, and B.B. King, it's shocking to know that something so incredible spent so many years in a basement. Just for this film to exist is a revolutionary act. When this movie arrived to streaming in the midst of the pandemic, it became a source of comfort for many: a chance to celebrate the joy of live music when doing so in the flesh could threaten lives. The idea of healing from pain was two-fold: for those who actually attended he festival back in 1969, the opportunity to revisit the experience was a miracle, giving them a chance to speak on and relive a moment that history buried. And for those of us living the festival for the very first time, that sense of healing took on an extra layer. At a ceremony celebrating art, what better film to thrive than one that shows how transcendent the medium can become?
"Summer of Soul (...Or, When the Revolution Could Not Be Televised)" is available to stream on Hulu and Disney+.