Year Of The Vampire: Joe Begos' Bliss Is A Neon-Soaked Punk Rock Bloodbath All Its Own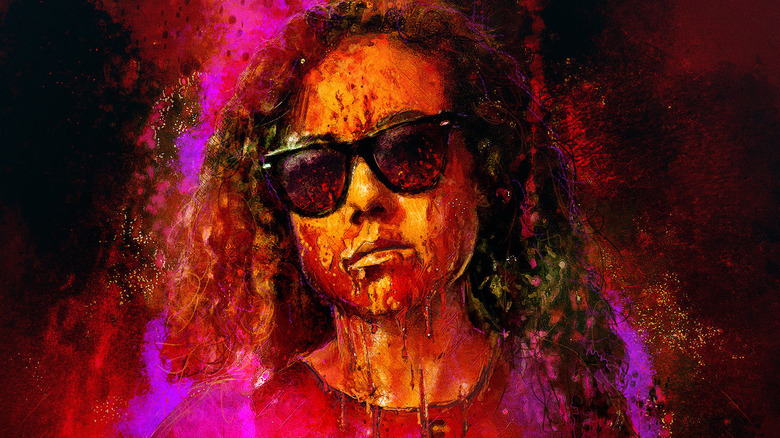 Dark Sky Pictures
(Welcome to Year of the Vampire, a series examining the greatest, strangest, and sometimes overlooked vampire movies of all time in honor of "Nosferatu," which turns 100 this year.)
There's something about the grime of punk rock and its lifestyle that melds seamlessly with the bloody fundamentals of vampirism. Throughout history, vampires have been quite buttoned up and proper. After all, their stories have existed throughout modern history, and their legacy extends back to the early 1800s. At that time, elegance wasn't a choice, it was a requirement — and thus, vampires and their stories have followed a similarly restrained trajectory throughout their existence. There have been outliers, but even today, we still enjoy the classic vampire stories that the world came to love first. However, there's no denying that new spins on the concept continue to captivate audiences in the now.
Enter Joe Begos' 2019 gritty, neon-soaked vampirical horror show called "Bliss." The film follows painter Dezzy Donahue, famous in the Los Angeles scene for her raw approach to art and a penchant for partying and hard drugs. When her inspiration starts to run dry just days before a major exhibition, Dezzy starts taking Bliss, a psychedelic drug that seems to unlock a primal need for blood in her. However, as she starts to unwittingly fall down the rabbit hole that the substance pulls her into, she comes to find there is more than meets the eye when it comes to her bloodlust.
A Gaspar Noé film meets a hardcore show meets a thoughtful exploration of art, "Bliss" is engaging, enraging, rapturous, and raucous all at once — and it's wholly different from nearly anything in the vampire genre before it.
What it brought to the genre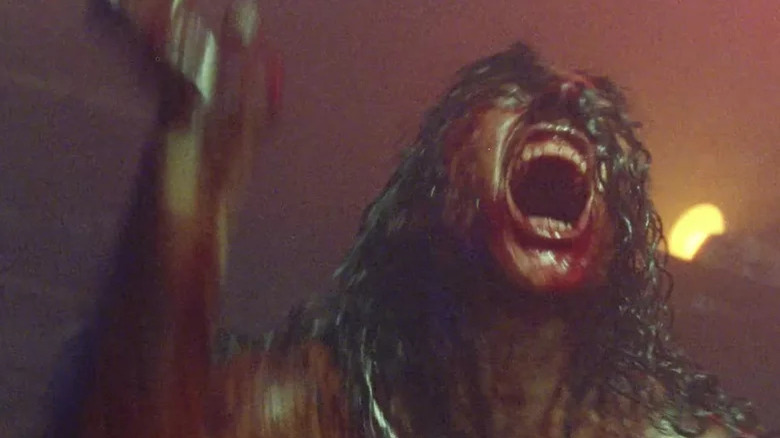 Dark Sky Pictures
Something that will always draw me to a film, no matter the genre, is specificity and uniqueness. If a movie feels singular, I can promise you that I probably quickly fell in love with it. It's the same feeling that led me to love the few vampire films I'm attached to: "The Transfiguration," "Ganja & Hess," "What We Do in the Shadows," even Francis Ford Coppola's "Dracula." And that is what innately draws the audience into "Bliss."
The film's neon-tinged edge and punk rock flavor burst onto the screen in the first seconds and permeate the screen throughout the movie's runtime, with the production design being a particular standout. It's full of genuinely fun and flawed characters who round out the story around Donahue as her life comes undone before her eyes. The drug sequences are pitch perfect at conveying the pace of the high as it overtakes the body. The cast, led by Dora Madison as Donahue, is absolutely on fire and their commitment to the concept is a major player in what makes this film, its ideas, and its world flourish on screen. The soundtrack and score is an excellent complement to the movie's aesthetic and overall worldbuilding. The film also contains a level of gore that is more unhinged than most vampire stories, based on their conventionally standard lean toward traditionally
"Bliss" is just different from most vampire stories in so many ways, yet claims its foundation in the classics. And that's what made me interested in it, what sucked me into its story, and why I still get lost in it with every rewatch.
"Bliss" is currently streaming on Shudder.