The Morning Watch: Creating Spider-Man's Digital Double, Luca Scene Breakdown & More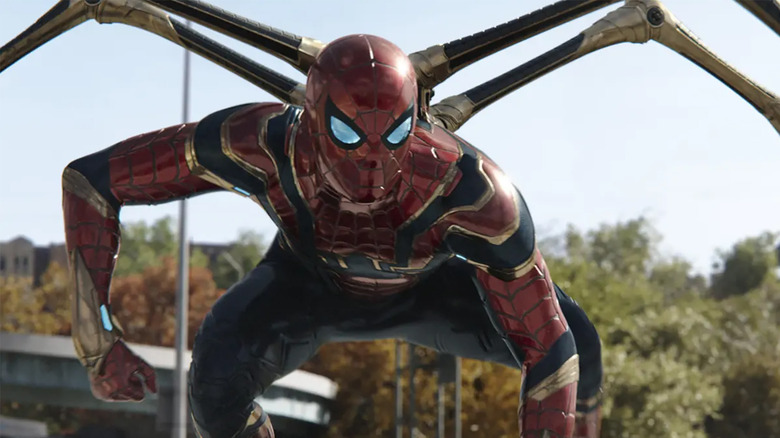 Sony Pictures Releasing
(The Morning Watch is a recurring feature that highlights a handful of noteworthy videos from around the web. They could be video essays, fan-made productions, featurettes, short films, hilarious sketches, or just anything that has to do with our favorite movies and TV shows.)
In this edition, Vox goes in depth to talk about CGI superhero stunt doubles and break down why digitally replacing the fabric of their supersuits is easier than trying to replicate skin. Plus, "Luca" director Enrico Casarosa dissects a scene from the Academy Award-nominated animated feature from Pixar. And finally, Andrew Garfield joins Netflix to take us on a journey back to 1990s New York City for a behind-the-scenes look at "Tick, Tick...BOOM!"
Where's my (digital) super suit?
As superhero movies continue to dominate the box office and all of our hearts, the desire to see bigger stunts and gravity-defying feats only increases. While I'm sure he'd go for it if asked, it's probably not a wise decision to let Tom Holland actually web sling between skyscrapers as Spider-Man. In this video from Vox, the team breaks down how technological advancements have gotten so good that many superhero movies opt for a digital double, allowing filmmakers and artists the ability to create beyond what was captured in principal photography. The limit is now dictated by technology, as scenes, costumes, vehicles, and even settings can all be changed after the fact using VFX. It's as impressive as it is bleak, and this video is a perfect argument for why VFX artists deserve to be paid exponentially more than what they're getting.
Enrico Casarosa brings sea monsters to life
Despite its unceremonious release on Disney+, the Pixar coming-of-age film "Luca" is an incredibly sweet story about the titular sea monster, his new human best friend, Alberto Scorfano, and a summer adventure in the Italian Riviera that will change their lives forever. Presented by the Oscars, director Enrico Casarosa breaks down a scene at the end of act two where our two buddies are starting to experience conflict. Alberto takes Luca on a bike ride, with the start of the ride signaling a moment shared at the beginning of the movie, and the end of the ride foreshadowing the climax that was to come. Utilizing color theory and the beautiful depth of field offered through animation, Casarosa was able to deepen the visual story of "Luca" far beyond the scripted material.
Andrew Garfield takes us into the world of Jonathan Larson
In this edition of "Netflix's ON SET: A Netflix Artisan Experience," Andrew Garfield takes us into the incredible set recreation of Jonathan Larson's apartment in "Tick, Tick...BOOM!" Alex DiGerlando painstakingly replicated Larson's 1990s NYC apartment, and stepping into it for the first time was described by Garfield as a "surreal" experience. In one of the video's more emotional moments, Garfield looks at the cast of Broadway legends who answered director Lin-Manuel Miranda's call to cameo in the song "Sunday" set at the Moondance diner. "It felt like Disneyland for musical theatre kids," said Garfield, acknowledging that Miranda brought together a chorus of some of the artforms greatest living performers to sing a song that Larson had only ever had the chance to hear in his own voice before his untimely passing. Bring the tissues.