How Brian Cox Ended Up With His Surprising Role In Super Troopers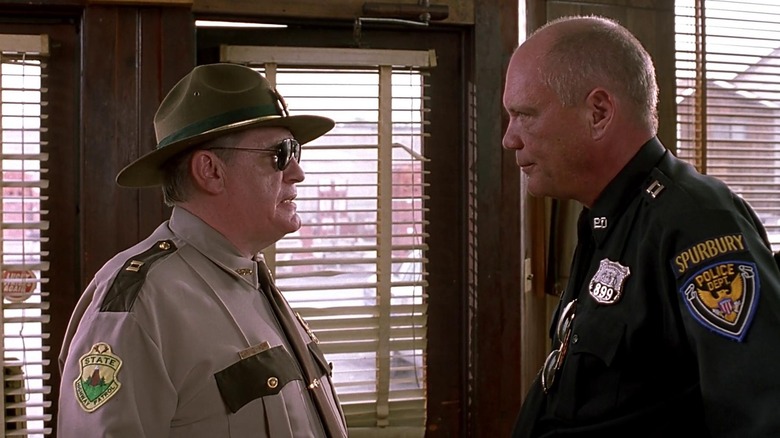 Fox Searchlight Pictures
Brian Cox is one of the greatest living actors. The Scottish thespian has a voice like a lion's purr, the ability to convey explosive rage like no other, and a glare that could kill. With these tools in his arsenal, it shouldn't be surprising that he's mainly played villains over his career on stage and in front of the camera. 
Typecast performers often pursue roles that allow them to break the mold and flex their acting muscles, and Cox is no different. After spending the first few decades of his career in serious projects, the veteran actor got the chance to branch out in a most unexpected movie: 2001's police comedy "Super Troopers."
Playing with the Broken Lizard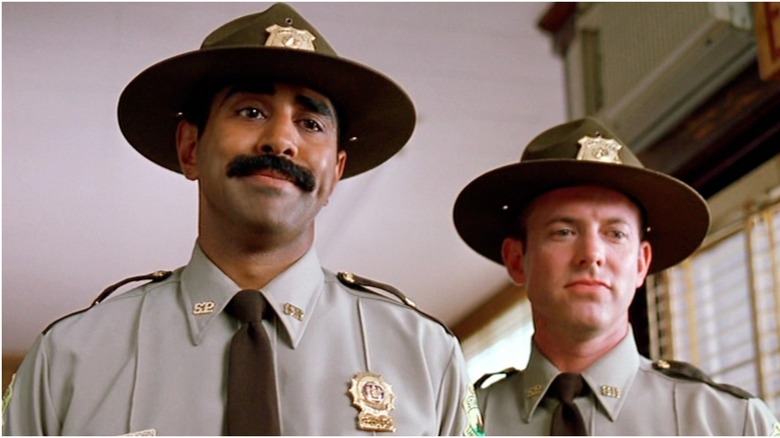 Fox Searchlight Pictures
"Super Troopers" centers on a squad of Vermont state troopers, played by comedy troupe Broken Lizard. Cox plays their captain, John O'Hagen, who is often frustrated by his men but has no intention of letting their department be shut down for poor performance ratings. 
At this point in his career, Cox's most famous roles included his tenure as King Lear with the Royal Shakespeare Company and his roles in "Rob Roy" and "Braveheart." With how different "Super Troopers" is from these, the obvious conclusion is that it was a money job for Cox — but that couldn't be further from the truth. In a 2004 interview with the A.V. Club, Broken Lizard explained that Cox approached them about the part, not the other way around. "Super Troopers" director Jay Chandrasekhar explained:
"[Cox] actually called us. He's always playing parts like pedophiles and Nazi generals and nasty people, and he's a big Jerry Lewis fan, and thinks he's got that bone in him. He's been looking for a comedy to do, and he kept contacting us and contacting us, and he turned out to be amazing." 
According to Cox's incendiary and entertaining autobiography, "Putting The Rabbit In The Hat," his Jerry Lewis fandom goes back decades. Cox recounts, "the first movie I ever saw was a Dean Martin and Jerry Lewis film, and I became a big fan as a result. The only thing the French and I have in common is we're both big Jerry Lewis fans."
While Cox was happy for the chance to experiment as a performer, the crew were grateful for his presence for another reason. As Broken Lizard member Paul Soter (AKA Trooper Carl Foster) recounted in the aforementioned interview, Cox's involvement made it much easier for the film to secure distribution.
Cox after "Super Troopers"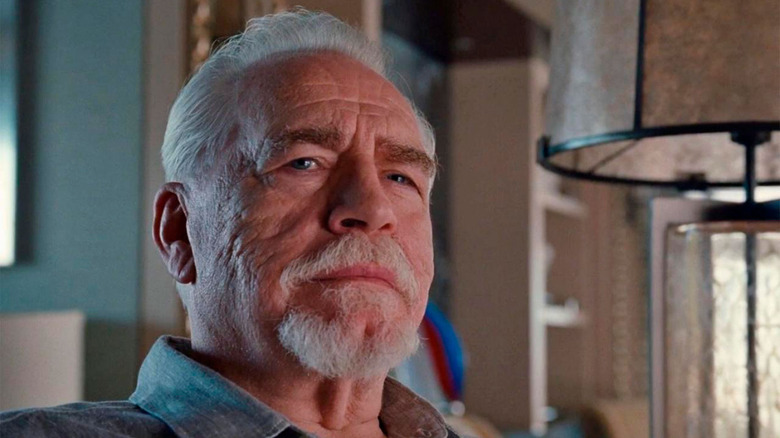 HBO
Having gotten the chance to put on his best Jerry Lewis in "Super Troopers," Cox returned to business as usual for the next few years, playing villains of Hollywood blockbusters such as William Stryker in "X2" and crooked CIA chief Ward Abbott in "The Bourne Identity." However, some of his later roles have skewed closer to "Super Troopers" than one might first think — they feature his usual fearsome persona but mine it for comedy instead of drama.
Cox rolled into season 3 of "Deadwood" as Jack Langrishe, a fey leader of an acting troupe. The actor's chemistry with Ian McShane's Al Swearengen is so good it excuses Langrishe's superfluousness to the show's narrative. Cox's second turn with HBO, "Succession," offers even blacker comedy. Logan Roy is not just a Rupert Murdoch stand-in but a modern-day King Lear: an aging patriarch resentful of the children in line to inherit his spoils. Like O'Hagen in "Super Troopers," Cox plays Logan as an especially temperamental straight man, a role comedy can't exist without. Seeing Logan's sneering disdain and thunderous anger bounce off characters like his cringeworthy son Kendall (Jeremy Strong) or his bumbling nephew Greg (Nicholas Braun) is always entertaining.
Despite negative reviews, "Super Troopers" earned a cult following, which led to a sequel simply titled "Super Troopers 2," where Cox reprised his role as O'Hagen. Incidentally, "Super Troopers 2" production delays resulted in it premiering in 2018, the same year Cox began playing Logan on "Succession." While the high drama of Shakespeare might seem like his bread and butter, Cox was apparently just as hungry for another chance to do his best Jerry Lewis.