5 Actors We'd Love To See Play Kratos In Amazon's God Of War Series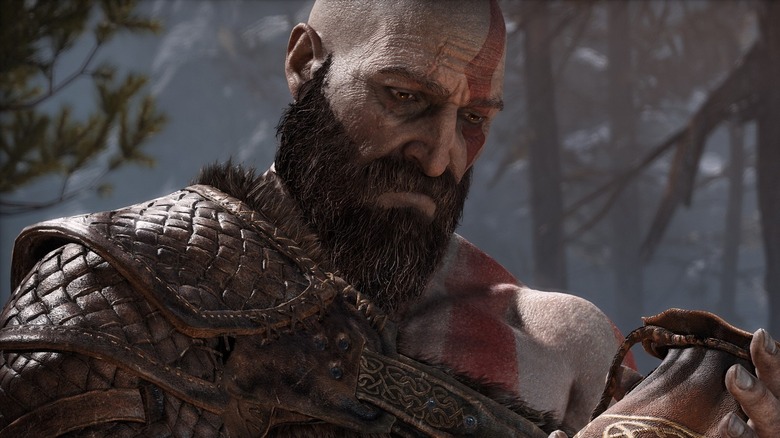 Sony Interactive Entertainment
"God Of War" is the latest video game to receive a live-action adaptation, with Prime Video looking to bring the adventures of the mighty Kratos to life. Not only does this continue Prime's push into genre fare — the streamer is also targeting sci-fi RPG "Mass Effect" for a series — but it's also an adaptation that fans have been chomping at the bit for. The "God of War" franchise has become a popular video game series due to its bloody take on Greek mythology, and Kratos recently underwent a shift in characterization with the 2018 "God of War" game. A large part of this is due to his relationship with his son Atreus; this places Kratos in the same league of "badass dads" that includes Wolverine, Batman, and Din Djarin from "The Mandalorian."
With Kratos becoming a more well-rounded character, whoever plays him in the upcoming adaptation will have to deliver a layered performance — and still manage to rip apart monsters using his battle axe. Here are five actors who could be a perfect fit for the God of War.
Christopher Judge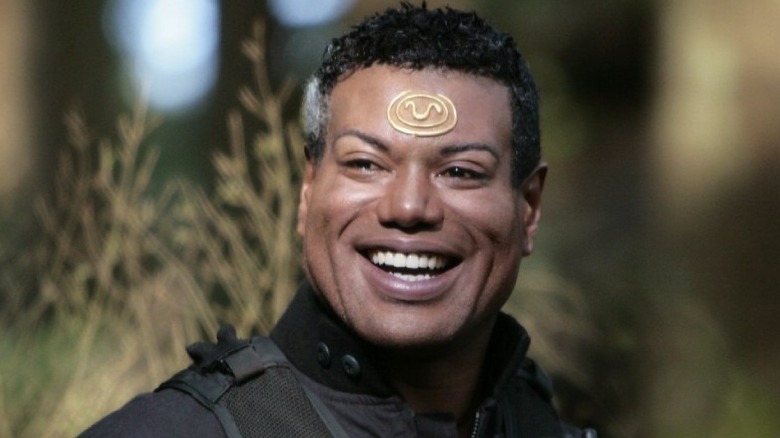 MGM Studios
Christopher Judge has had a long and storied career in genre fare, providing the voice of Black Panther in Square Enix/Crystal Dynamics' "Marvel's Avengers" and Magneto in "X-Men: Evolution." But his biggest roles are Teal'c in "Stargate: SG-1" and taking over as the voice of Kratos in the "God of War" reboot; he even did the motion capture performance. Given that most people have Judge's voice stuck in their head when they think of Kratos — admit it, you could listen to him say "BOY!" over and over again — coupled with his previous work, he could make the leap from video game to screen quite easily. He also cuts an imposing figure, standing 6'3".
Dave Bautista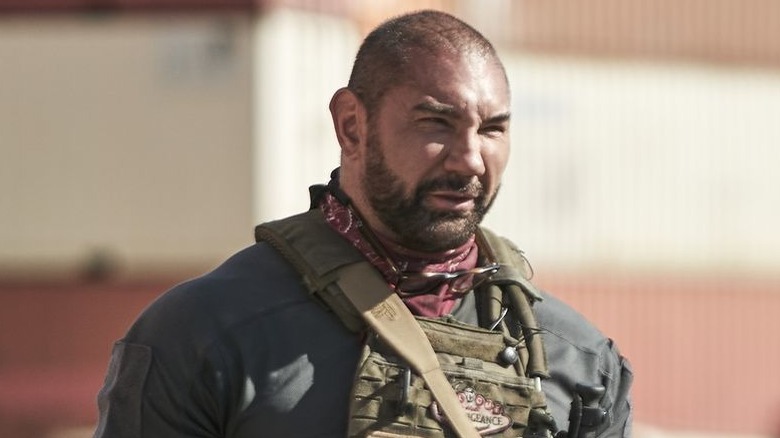 Netflix
Dave Bautista's filmography makes him the perfect fit for Kratos — the man has literally been in "action hero mode" for the bulk of his career. From Drax in the "Guardians of the Galaxy" films to Scott Ward in "Army of the Dead," he often plays a character whose menacing stature and muscular build spell bad news for anyone who finds themselves on the end of his wrath. But these characters also tend to have a surprising amount of depth: Drax is mourning the death of his wife and daughter, and Ward is attempting to rebuild his relationship with his daughter. That mixture fits Kratos to a T. However, Bautista has also expressed his desire to star in a "Gears of War" film — to the point where he turned down a role in the "Fast and Furious" films to pitch it. That level of conviction may mean that he wouldn't give Kratos a second thought. 
Aldis Hodge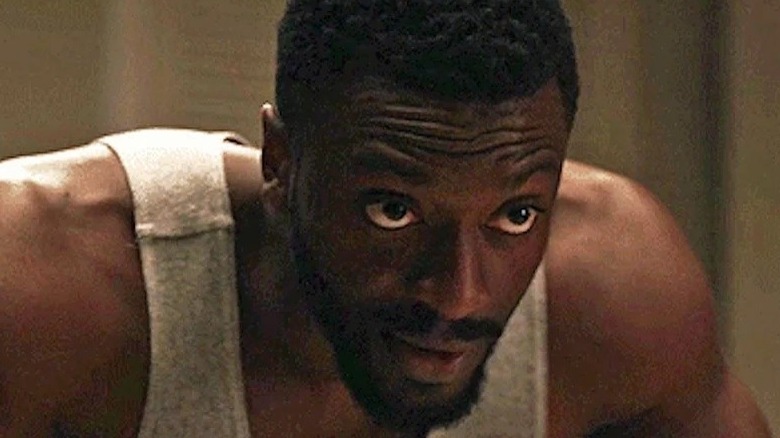 Universal Pictures
Like Bautista, Aldis Hodge is becoming a recurring presence in genre fare — he recently starred in Leigh Whannell's remake of "The Invisible Man" and will play the winged warrior Hawkman in "Black Adam." And like Christopher Judge, Hodge got his big break in TV — most notably, the excellent heist series "Leverage." (This is a gentle nudge on my end for you all to watch "Leverage.") He also has the dramatic chops to bring the God of War to life, as well as the muscle — his Instagram is fitness goals, as the kids would say. However, Hodge plays a large role in the "Leverage: Redemption" revival, which could bring up scheduling conflicts. There's also the Hawkman in the room — if "Black Adam" is a success, what's to stop Warner Bros. from launching a "Justice Society of America" spinoff film or HBO Max spinoff series? Whatever happens, I'd love to see Hodge pick up Kratos' axe. 
Gerard Butler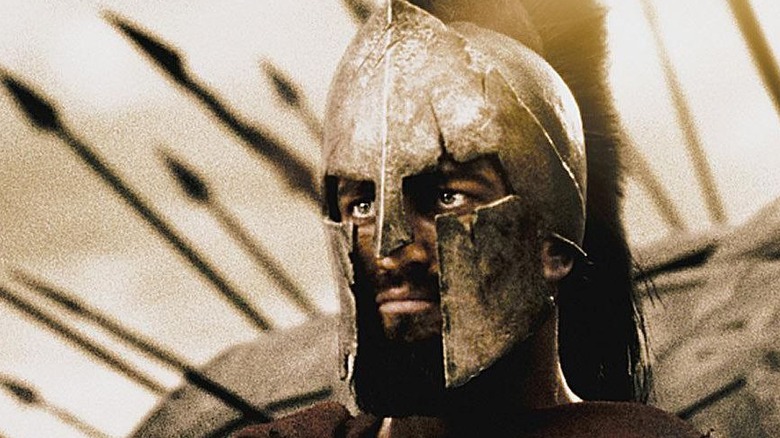 Warner Bros. Pictures
OK, this pick is a bit on the nose, but you have to admit it's a fitting one. Gerard Butler exploded onto the scene in "300," playing the Spartan King Leonidas who leads a mission to battle the invading armies of Persia. The film helped launch Butler's career — as well as director Zack Snyder's — but Butler soon found himself starring in a string of films that had less than glowing reviews. "The Ugly Truth," "Gamer," and "The Bounty Hunter" aren't exactly films I'd put on my resume, let's leave it at that. However, Butler's had a comeback, with the action film "Olympus Has Fallen" launching an entire franchise and "Geostorm" proving to be a surprisingly good film. Playing Kratos would not only continue his upward streak, but it would also bring him full circle. Plus I could totally imagine Butler roaring "I AM WHAT THE GODS HAVE MADE ME!" before delivering a killing blow.
Florian Monteau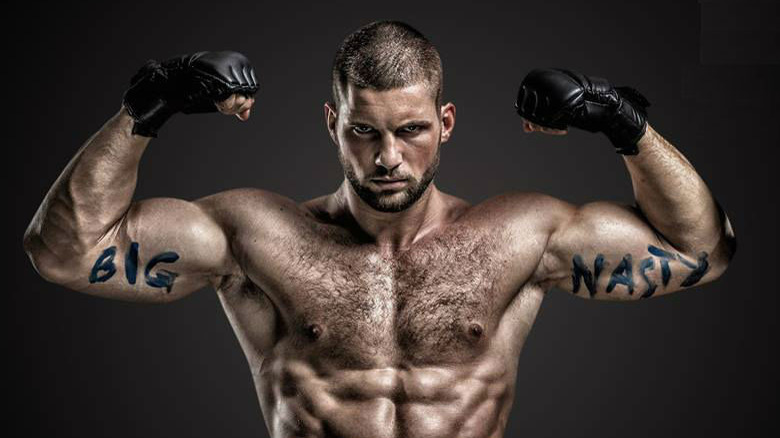 Warner Bros. Pictures
The first thought I had upon seeing Florean Monteau in "Creed II" was "This dude is ripped." And not only does he cut a terrifying physical figure, but he also gave depth to Viktor Drago — revealing a man who was struggling to make his father proud. Monteau would later bring his bulk to "Shang-Chi and the Legend of the Ten Rings," playing the villain Razor Fist, who, true to form, had a very large knife for a fist. Although he's been tapped for another video game adaptation with the upcoming "Borderlands" film, Monteau could definitely play the younger, more bloodthirsty Kratos. He even bears a physical resemblance to the God of War — seriously, look at him! 
We'll no doubt learn who Prime Video has picked to play Kratos in the coming months, but hopefully, they pick someone who brings the brawn and the pathos necessary for the role.