The Daily Stream: Andrew Garfield Gives An Oscar-Worthy Performance In Tick, Tick... BOOM!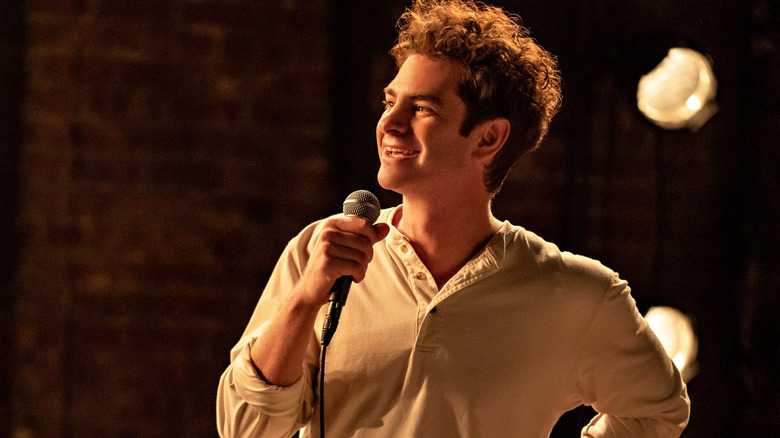 Netflix
(Welcome to The Daily Stream, an ongoing series in which the /Film team shares what they've been watching, why it's worth checking out, and where you can stream it.)
The Movie: "tick, tick... BOOM!"
Where You Can Stream It: Netflix
The Pitch:  Although I could take this opportunity to begin an impassioned speech about the works of Jonathan Larson — whose smash hit "Rent" reshaped the modern theater scene and became one of the longest-running shows on Broadway — I shall restrain my theater kid sensibilities for the sake of appealing to the masses: Andrew Garfield is the star of this show, shining brighter than ever before."tick, tick... BOOM!" ain't your average biopic. It tells the story of the genius composer long before fame and glory. The film hyperfixates on the period that comes right before — the frustration of reaching for success while the clock keeps ticking down.
When we meet Jon (Garfield) he's still waiting tables and polishing the script for the big project he's spent the last eight years of his life working on. He believed "Superbia" to be his magnum opus, a futuristic rock opera exploring capitalism and dystopia. That doesn't exactly scream Broadway, does it? Nevertheless, he managed to book a workshop to showcase his work and things are finally looking up for the young artist! But only if you ignore the second-act song he has yet to write, the growing pile of bills on his table, the fact that his girlfriend wants them to leave NYC, and oh yeah, the mounting AIDS epidemic threatening the lives of his closest friends. Based on Larson's autobiographical rock monologue of the same name, the film is a love letter to artists of all kinds.
Why it's essential viewing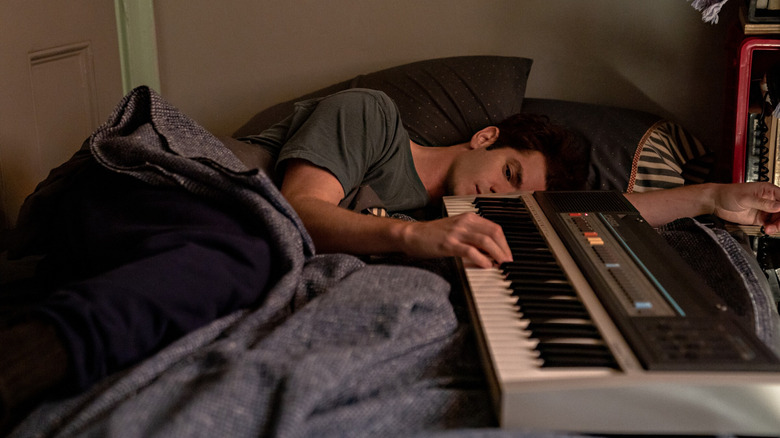 Netflix
I hesitate to dub this the Andrew Garfield renaissance, but doesn't it feel like a movement is upon us? No matter which corner of the internet you turn to, there he is! Bright-eyed and emotional, he's giving interviews that range from hilarious to philosophically insightful. He's in theaters, he's on Netflix, he's even on TikTok, and now he's also on the awards trail, campaigning hard for a trophy that the odds say he won't take home. And while that sounds overbearing, it's actually delightful, because Garfield has such exuberant star power that he seems to spark joy wherever he goes.
Perhaps part of this renaissance can be attributed to timing. For a while there, Garfield was precariously missing from our screens. After 2018's "Under The Silver Lake" his filmography goes quiet and then, ya know, the world shut down. In the midst of all that, the Garfield Boom began with a whopping four major roles in a row. Garfield popped back up as a maniacal influencer in "Mainstream," then last year followed up with the one-two punch of being a musical genius in "tick, tick... BOOM!" and the controversial real-life televangelist in "The Eyes of Tammy Faye." If that's not enough of an explosion, then came his scene-stealing return to the role of Peter Parker in "Spider-Man: No Way Home," which seemed to solidify the Andrew Garfield supremacy. It's hard to keep up with the never-ending stream of content, especially during Awards season, so in case you haven't gotten around to catching up on all the Garfield-starring roles, I highly encourage getting in on "tick, tick... BOOM!" Beyond being the performance that earned him an Oscar nomination, it's also one of his best yet, showcasing all that makes this actor so widely loved.
Across the board, Andrew Garfield has a special penchant for combining vulnerability and unabashed earnestness, with a touch of philosophical pondering. Now what better place to do that than a musical about running out of time? Tapping into the pathos of Jon is what makes Garfield's performance so magnetic. Jon's tunnel vision can make him insufferable at times, as we watch him fixate on his need for success at the expense of ignoring his girlfriend and mistreating his friends. But this becomes a feature rather than a bug, adding depth to a character whose desperation radiates off of him with feverish anxiety. His passion is palpable and even when he's driving everyone crazy, his energetic chaos is embellished by warmth. We're rooting for him because gosh darn it, Garfield knows exactly how to draw us in!
And not to bury the lede, but another very important note — Andrew Garfield can sing! Apparently, he couldn't before this movie, which I find insane given his powerhouse vocals. But fine, he wouldn't lie about that. He's certainly never lied to us before. Whatever his vocal backstory, his performance is pristine and you'll find yourself belting along to "30/90" in no time. "tick, tick... BOOM!" may grapple with big questions, but it does so with the magical warmth of musical theater and Andrew Garfield leads the way by radiating pure, joyous theater-kid-energy.