Guillermo Del Toro Shot Two Pacific Rim Endings We Didn't Get To See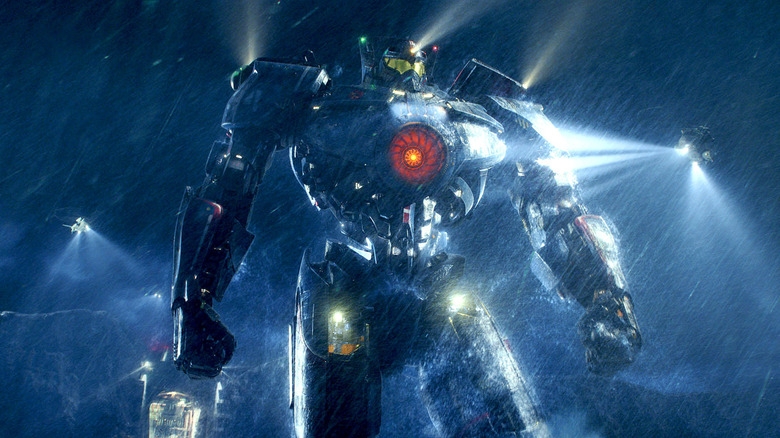 Warner Bros. Pictures
As we near its tenth anniversary, "Pacific Rim" remains one of the last gasps of a dying blockbuster breed. It's not adapted from pre-existing IP and instead tells an original story, albeit one built on homage to mecha anime and kaiju films. Furthermore, despite strong world-building, there are no hints of a sequel. The only post-credits scene is a comedy beat, and the story otherwise ends on a conclusive, satisfactory note. 
However, during the film's theatrical run, "Pacific Rim" director Guillermo del Toro revealed he shot three different versions of this ending. 
The different endings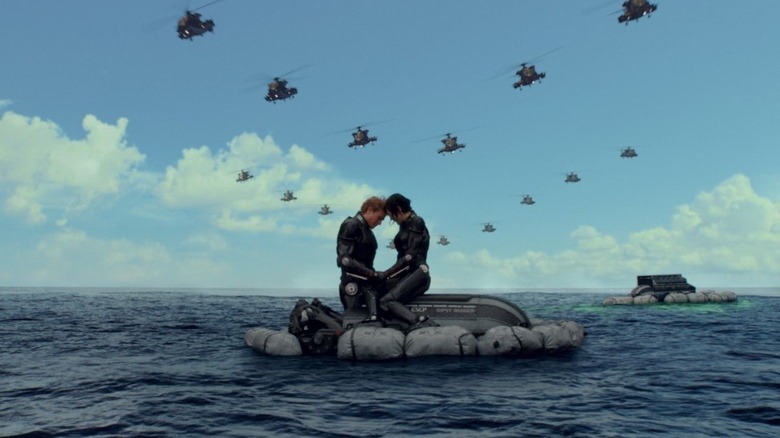 Warner Bros. Pictures
At the end of "Pacific Rim," leads Mako Mori (Rinko Kincuichi) and Raleigh Beckett (Charlie Hunnam) are the two survivors of the mission to close the seafloor rift that the monstrous Kaiju have been coming through. As they drift across the ocean on a life raft, waiting for retrieval, they bring their foreheads together for a tender embrace. Del Toro is more than satisfied with this ending, but he shot alternate footage to keep his options open before going into the editing room. 
In an interview with Birth.Movies.Death, del Toro elaborated:
"When I was working on the movie we had three or four different versions of the relationship between Charlie and Rinko because I wanted to see if I could make a story about two people liking each other without having to end in a kiss. So when I shot the ending we shot three versions. I've never done this before, but instinctively I thought we should do three versions. We did one version where they kiss and it almost felt weird. They're good friends, they're pals, good colleagues."
In another interview with The Mary Sue, del Toro emphasized one of the film's most important choices: "Let's not have a love story. Let's have a story about two people." The ending used in the film perfectly reflects that decision; Mako and Raleigh share trust and friendship, but their bond isn't romantic. Ending with a kiss would've been cheap and undermined what's special about the pair's relationship.
Del Toro didn't reveal what the third alternate ending the crew shot was. He promised the unused footage would feature as deleted scenes on the "Pacific Rim" Blu-ray, but this didn't come to pass. The closest shippers got to seeing the kiss was reading it in Alexander C. Irvine's "Pacific Rim" novelization.
Mako Mori's impact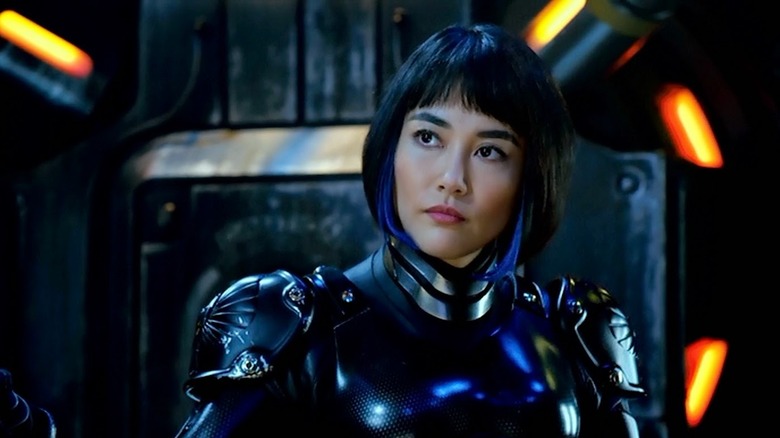 Warner Bros. Pictures
Not ending "Pacific Rim" with a kiss was one of many decisions del Toro made to ensure Mako was an independent character in her own right. In the aforementioned Mary Sue interview, the director explained, "One of the other things I decided was that I wanted a female lead who has the equal force as the male leads. She's not going to be a sex kitten, she's not going to come out in cutoff shorts and a tank top, and it's going to be a real earnestly drawn character."
"Pacific Rim" is an anime homage, but one area where it doesn't follow that medium is fanservice. Anime is often filled with leering shots of female characters; "Neon Genesis Evangelion," a mecha anime quite similar to "Pacific Rim," often ended its next episode previews with the character Misato Katsuragi declaring "Tune in next time for more fanservice!" The most skin Mako shows, on the other hand, is when she wears a tank top during a sparring scene. In fact, she's the one who ogles a shirtless Raleigh.
Mako's importance as a protagonist, not an object, isn't just conveyed visually. She's the character who grows the most across "Pacific Rim," fulfilling her dream of being a Jaeger pilot. In our world, she even inspired a new version of the Bechdel test: the Mako Mori test. This new test's criteria is that a female character has an arc that is not in support of a male character's development. Mako's journey passes with flying colors.
The sequel "Pacific Rim Uprising" is not well-regarded, a key reason being Mako's death in the first act. Given the character's impact, this was a baffling decision, and one that left many fans wishing "Pacific Rim" had ended with that embrace of friendly affection that closed the first film.