How Ridley Scott Found The Perfect Location To Film Raised By Wolves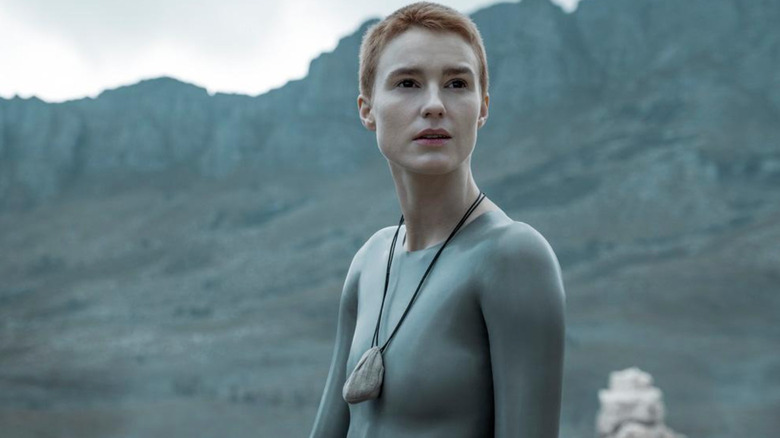 HBO Max
Even in the era of CGI and StageCraft sets, everyone's favorite grouchy old man director, Ridley Scott, prefers to design alien worlds by shooting in real-world locations as much as possible. He filmed in Iceland and New Zealand to create the non-Earthly settings for his "Alien" movie prequels "Prometheus" and "Alien: Covenant," and similarly used Jordan's Wadi Rum (aka the Valley of the Moon) to realize the landscapes of Mars in "The Martian." On-location photography is also a key element of "Raised by Wolves," the Scott-produced sci-fi series that was created by "Prisoners" scribe Aaron Guzikowski and often feels like a spiritual continuation of the themes and ideas in "Prometheus" and "Covenant."
On top of producing, Scott directed the first two episodes of "Raised by Wolves," teaming up with his longtime cinematographer Dariusz Wolski to construct the look for the show's main setting: Keppler-22b, a real planet located 600 light-years from Earth. The series takes place in a future where two warring factions of humanity (Mithraics, who worship the deity Sol, and atheists) have left their homeworld in ruins. Hoping to give human-kind a fresh start, a pair of androids known as Mother (Amanda Collin) and Father (Abubakar Salim) are sent to care for a group of human children on Keppler-22b and raise them as atheists. That's easier said than done, though; the planet is home to all sorts of toxic plants and dangerous creatures that seem to actively want to bring about humanity's extinction.
As deadly as Keppler-22b is, it's also quite beautiful, with luxuriant jungles in its Tropical Zone and gorgeous mountains that always seem to have a layer of clouds rolling over them. "What's so great is that Ridley likes to do a lot of stuff practically, and so we had a lot of real locations," as Guzikowski told Deadline in October 2020, adding that the clouds falling over the mountains "happened every morning just naturally" near Cape Town, South Africa. This was where the scenes depicting Mother and Father's base camp in season 1 were shot after Scott helped to scout out the location.
'These are things that you recognize, but you don't'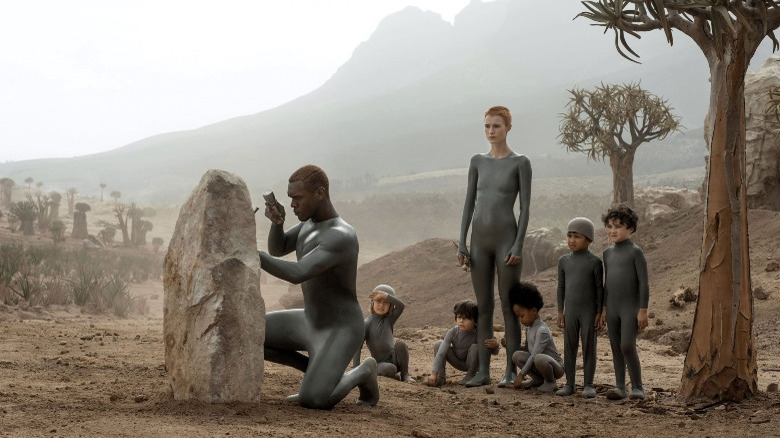 HBO Max
Speaking to IndieWire in February 2021, "Raised By Wolves" production designer Chris Seagers regaled the story of how he and Scott (having only met once before) found the perfect spot to create the "arid landscape" where Mother and Father land on Keppler-22b in season 1. As he told it, the pair and their team spent 45 minutes searching near Cape Town before locating an abandoned vineyard halfway up a nearby mountain. They flew down to the vineyard three days later to investigate further, "and of course, once you start looking at stuff, off he goes [and] suddenly Ridley started drawing out what he'd seen, how he wanted it to work," said Seagers.
"Ridley comes from a time in the 1980s when you couldn't do as many things with visual effects that you can do today, so coming up with inventive ideas of how to do things in-camera was really important," noted visual effects supervisor Raymond McIntyre Jr. Of course, "Raised by Wolves" still needed lots of CGI to enhance the shots where the not-so-alien-looking areas around the vineyard were visible. Season 1 alone had 3,700 VFX shots according to McIntyre Jr., and that number was no doubt even higher for season 2 (where the show moves to the Tropical Zone). Keep in mind, this was over 10 episodes spanning 40-60 minutes each. For comparison's sake, WIRED reported that "Rogue One: A Star Wars Story," which is 134 minutes long, has 1,600 VFX shots.
Besides cutting down the amount of required VFX, "which are time-consuming and expensive," Guzikowski told Forbes the show's shooting locations are vital to depicting Keppler-22b the way he and Scott wanted — as a place that seems like it could be hospitable to humans, but is definitely not of our world and possibly far more threatening than you'd think:
"You're still creating visually stunning stuff that feels alien, things on Earth that tickle something in our deep genetics that feel extraterrestrial. These are things that you recognize, but you don't, and I think that's the sweet spot."