One Of Butch Cassidy And The Sundance Kid's Biggest Stars Was Banned From Being On Set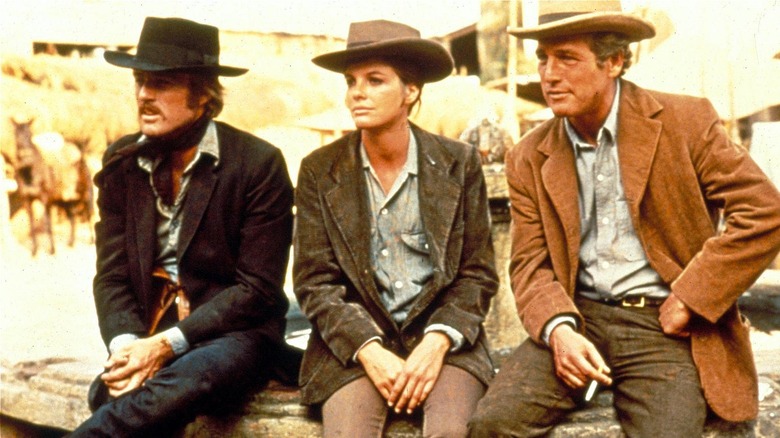 20th Century Studios
"Butch Cassidy and the Sundance Kid" immediately brings to mind the two titular lead characters, played by Paul Newman and Robert Redford respectively. However, it's important not to forget that Etta Place rounds out the gang as a third member, accompanying the boys on their outlaws' journey from robbing trains in Wyoming to hiding out in Bolivia. The charismatic companion of Sundance was played by Katharine Ross, who, despite her importance to the group chemistry at the heart of the film, was banned from the set when not in front of the camera.
Ross, who had already gained prominence for her role as Elaine Robinson in "The Graduate," approaches her performance with a bright-eyed energy and sarcastic wit to stand on equal footing with her male co-stars. In fact, the actress took part in one of the most famous scenes in the film, which doesn't even feature Redford. The "Raindrops Keep Fallin' on My Head" sequence, in which Butch takes Etta for a ride on his bicycle, was one of Ross' favorite parts of the production, in no small part due to the absence of director George Roy Hill. The scene had an easy-going spirit as Ross and Newman rode back-and-forth far in front of a long-lensed camera manned by a smaller crew, away from the intimidating eyes of Hill, who was the reason for Ross' confusing punishment.
Katharine and the Camera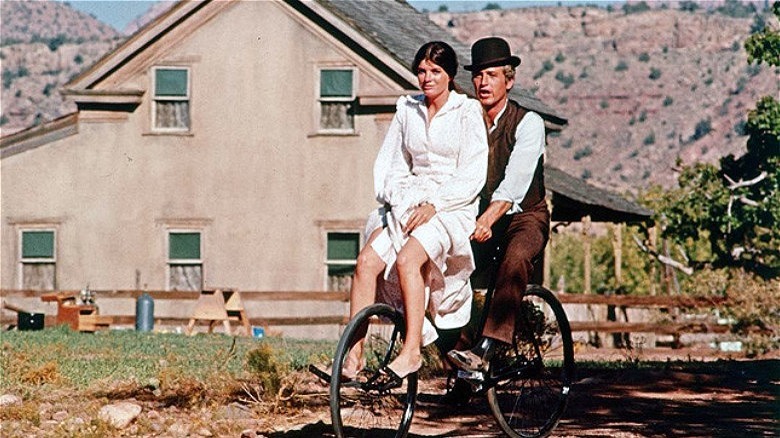 20th Century Studios
At the time of the shooting of "Butch Cassidy and the Sundance Kid," Katharine Ross was dating the film's cinematographer Conrad Hall (her future spouse, Sam Elliot, was also on set in a minor role shot from behind his back as "Card Player #2"). She explained in a post-screening Q&A at Santa Monica's Aero Theater held in April 2010 that she took an interest in the camera equipment. According to Ross,  
"...there was a shot that he [Hall] let me operate sort of an obsolete camera. You had to have an operator for every camera, so it was sort of an extra camera and it made Mr. [George Roy] Hill very angry... I didn't know it at the time, but when we got back to the hotel, the production manager came and told me that I was banned from the set except when I was working."
The experience made the rest of the shoot stressful for Ross, and she mentioned that it took her some time before she even watched the whole movie herself. There was no mention of Hill ever having the same reaction to his own cinematographer even though it was Hall's decision to put Ross behind the camera. Hill himself had a reputation for being a bit of a control freak who wanted to run every aspect of the production himself. Screenwriter William Goldman has mentioned that he would ban writers and producers from the set if he found them intrusive, so Ross' exile wasn't even an anomaly. All of this considered, it's a testament to Ross' talents as an actress that she was able to maintain her in-character cool under the pressure of Hill's draconian direction.