Joel Hodgson Had A Good Reason For Reviving Mystery Science Theater 3000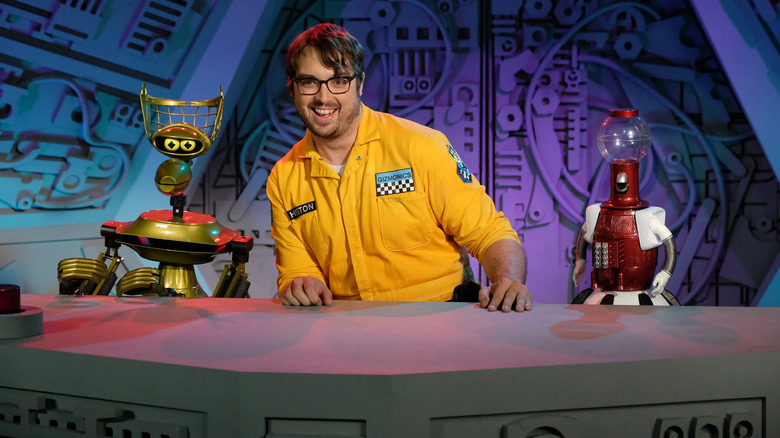 Netflix
"Mystery Science Theater 3000" officially ended its run in 1999, but never really went away. 
The "watching bad movies with several funny friends" premise was simply too good to leave behind, and every cast member on the show participated in "MST3K"-like projects for years thereafter. The show's creator, Joel Hodgson, teamed up with Mary Jo Pehl, Trace Beaulieu, Frank Conniff, and J. Elvis Weinstein to create "Cinematic Titanic," a riffing show wherein the cast was seen in silhouette, like on "MST3K," and were beholden to an evil, ill-defined corporate entity. Meanwhile, Mike Nelson, Bill Corbett, and Kevin Murphy formed "The Film Crew" wherein the trio was forced to make commentary tracks by a deranged billionaire. The Film Crew, along with Pehl and Bridget Nelson, would also be the primary participants in the successful Rifftrax enterprise, which provided humorous commentaries on old, bad movies, but also sold downloadable audio files to be played alongside big-budget Hollywood blockbusters (quite an innovative idea). 
Both "Rifftrax" and "Cinematic Titanic" also toured, performing riffs live. The "Rifftrax" shows, still performed semi-regularly, were often broadcast in theaters via Fathom Events. 
Joel Hodgson infamously left "Mystery Science Theater 3000" in 1993 due to his discomfort on camera, and his repeated arguments with the show's producer Jim Mallon over who should have creative control over the enterprise (per A.V. Club). Since his departure, affection for "MST3K" only grew. A new generation of comedians came to the fore and began kvelling openly about how much Hodgson's show had influenced them, and a new generation of kids were introduced to the show via the Shout! Factory's comprehensive DVD releases and free streaming service, which runs "MST3K" reruns 24 hours a day. 
Many producers approached Hodgson over the years about reviving "MST3K," but he was never interested. According to an interview with The L.A. Times, Hodgson didn't want to make a show all about himself. But interest persisted, and Hodgson eventually revealed that he would regret it if he never got a new show off the ground. "Mystery Science Theater 3000" re-launched on Netflix in 2017.
The new show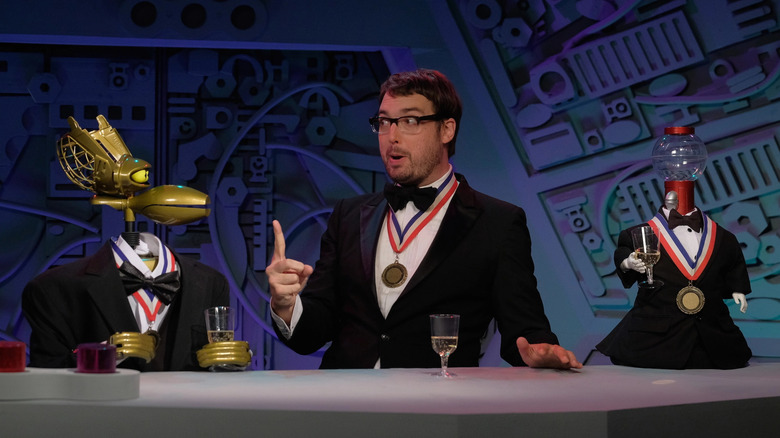 Netflix
The executives at Netflix asked Hodgson to re-create "MST3K" exactly as it had been in the early 1990s, seemingly interested in mere nostalgia. Hodgson wasn't so interested in that. Besides, he felt he was too old to get everything started again. From the L.A. Time interview:
"We're in our 50s, why not let somebody in their 30s do it like when we started? Most of the narrative out there was, 'Just re-create it exactly as we remember it.' I felt like that that's not the real spirit of it. I didn't want to make a love letter to the past, and instead make a love letter to the future, maybe."
Hodgson had met comedian Jonah Ray on the Nerdist podcast, and felt his self-effacing humor was more appropriate for a new version. The evil mad scientist Dr. Clayton Forrester (previously played by Trace Beaulieu) was to be replaced by his child Dr. Kinga Forrester, played by the internet's "It" girl Felicia Day. TV's Frank (previously Frank Conniff) was replaced by Son of TV's Frank played by Patton Oswalt. The setting of the mad scientist lair was shifted from deep underground to the surface of the moon. Crow T. Robot, Tom Servo, and GPC would return, all voiced by new actors. There would also be a live band of minions. 
Hodgson was happy to get it all up and running and modestly assert some control over his creation before it was done incorrectly, or before he was run over by a car: 
"More than anything, I felt like I was really going to regret it if I died before I got to spin it over and get this new group going. That was on my mind a lot. I'm going to really regret it if I get hit by a car or something. With only two days of shooting left, it's unlikely I'll get hit by a car so I feel really grateful. And even if I got killed they could do a rough edit, it would be pretty close."
The Netflix years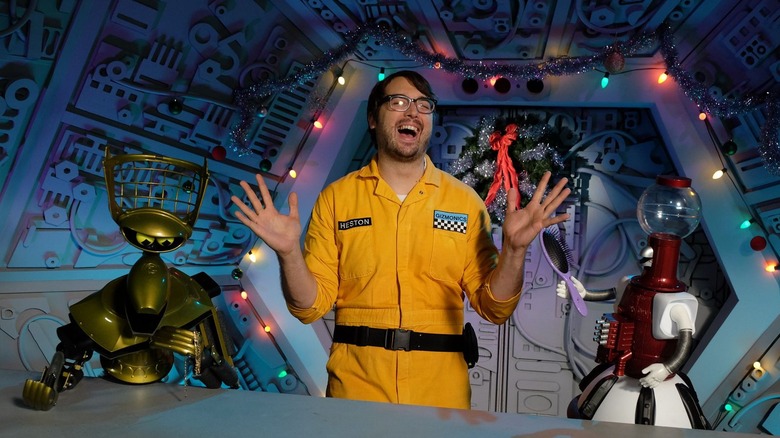 Netflix
Attracting talent wasn't an issue. Day and Oswalt were both fans, and Elliott Kalan, the former head writer on "The Daily Show with Jon Stewart," became the head writer on the show. Other screenwriters came over from hit shows like "Community" and "Rick and Morty." The Netflix launch was well-received, and the cast found a groove pretty quickly. It likely helped that Hodgson was there to give his blessing, and that the cast had such good chemistry. Heavily funded by Kickstarter campaigns, the show was also eagerly anticipated by many, many fans. 
The new "Mystery Science Theater 3000" ran for 14 episodes and featured such awful movies as the glorious 1978 "Star Wars" knockoff "Starcrash," the Danish monster film "Reptilicus," and the bizarre 1983 chimpanzee movie "Carnival Magic." A second season — staged as a six-film marathon — was released in 2018, where audience would finally see "Mac and Me" the way it was meant to be seen — through the lens of sarcasm. 
When I personally asked Hodgson once about how better-known "bad" films on his show might have fans, and that some of them may not be as bad as all that, he looked me dead in the eye and asked "Really?" 
A thirteenth season of "MST3K" is currently in the works, and it will feature such classics as "El Santo and the Treasure of Dracula," and "Robot Wars." It will be available not on Netflix, but on their very own streaming channel, called The Gizmoplex.