Bill Murray Almost Missed Out On His First Major Film Role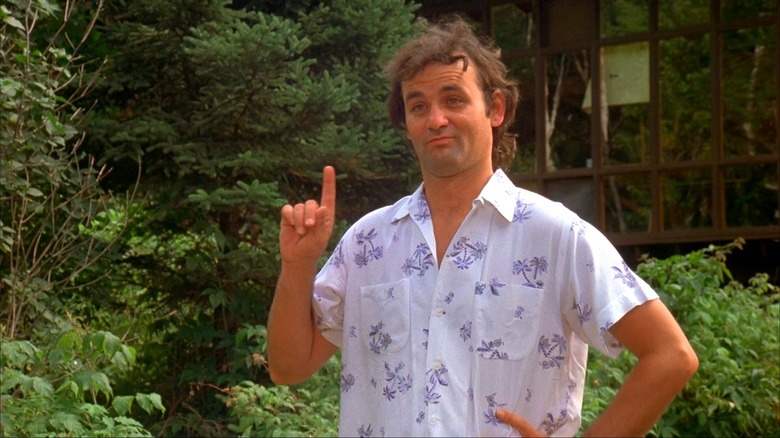 Paramount
Some actors become famous for their real-life quirks, but Bill Murray's mercurial behavior makes most other offbeat celebrities seem normal by comparison. Murray has so successfully and thoroughly created an unpredictable persona for himself both on- and off-screen that a large number of reported incidents and encounters with the man by regular folks have slipped into the realm of urban legend.
One of the legends that happens to be true is Murray being notoriously difficult to reach, reportedly having a 1-800 number whose calls are screened. This intentional lack of communication was part of Murray's M.O. from the beginning of his career, and while such behavior mostly served to cause problems for everyone but Murray as his stardom grew, it nearly backfired when he was just starting out. Thanks to his intentionally non-committal attitude, Murray nearly lost what would turn out to be his breakout film role: the freewheeling but lovable camp counselor "Tripper" Harrison in 1979's "Meatballs."
It just DOES matter: Reitman bets on Murray's arrival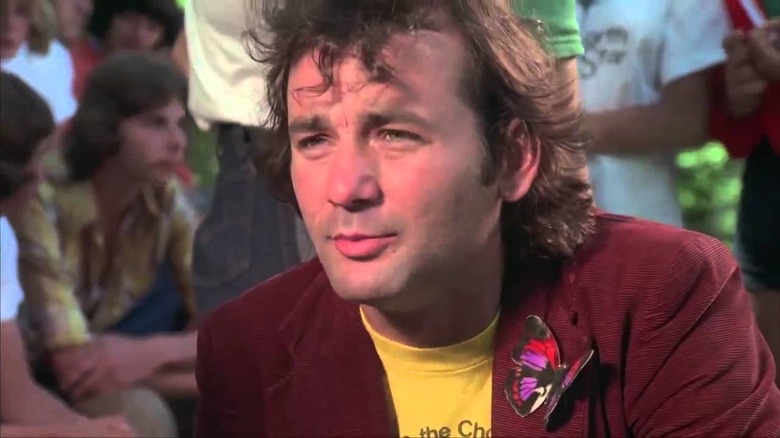 Paramount
After producing a number of low-budget genre movies (including the initial features of David Cronenberg) and directing the "improvised" horror-comedy "Cannibal Girls," Ivan Reitman hit it big producing 1978's "National Lampoon's Animal House." Admiring how successfully that film turned out, Reitman called up pals, and former fellow summer campers Len Blum and Dan Goldberg, hoping the trio could come up with an idea for a comedy set in a summer camp that would echo the raucous tone set by "Animal House." They did, and they wrote a script and set up the production of "Meatballs" in just a matter of months.
Securing a real Ontario camp to shoot in, Reitman recalls that they "were able to get a decent script going, and most fortunately, I was finally able to talk Bill Murray into starring in the movie." While by no means a star yet, Murray wasn't a stranger to showbiz: he'd been in an Off-Broadway show called "The National Lampoon Show" that Reitman produced, and had debuted on NBC's "Saturday Night Live" in January of 1977, going on to appear more frequently in the show during the '77-'78 season.
Still, Murray was a nobody in feature film terms — "more unknown than most unknown people who star in movies right now," as Reitman saw it. When Murray failed to commit to making "Meatballs," it threw the entire production into jeopardy. Especially the script, which Reitman colleague Harold Ramis had been dutifully rewriting to beef up Tripper's character in the hopes it would entice Murray. Thanks to Murray being "iconoclastically difficult about agreeing to be in things [and] also hard to reach," the movie was forced to go ahead without Murray.
Reitman "refused to take no for an answer," however, and started shooting in the hopes that Murray would eventually show. He not only believed in the actor's abilities, but "couldn't think of anyone else who could kind of fill those shoes." Reitman's faith paid off: Murray "agreed finally to do it" and "showed up on set on the second day of shooting."
Murray gets ready for the summer of his career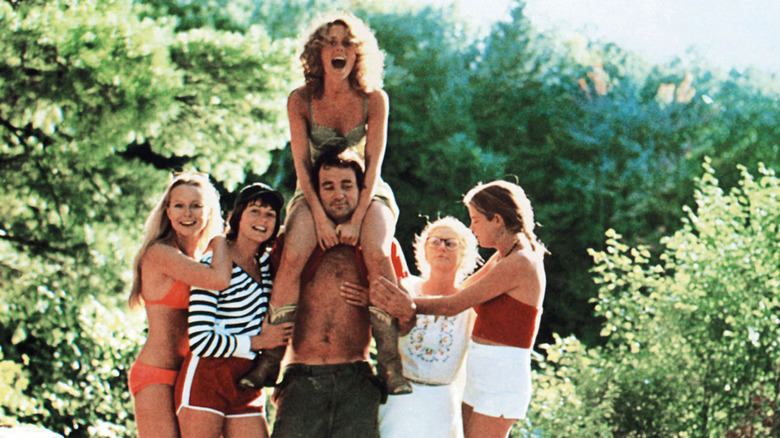 Paramount
Fortunately, once Murray actually turned up and committed to "Meatballs," he became a valuable asset to the film. As Reitman remembers, "he was absolutely committed" and "helped rewrite the script, as he usually does." Murray even went the extra mile to help the movie when it hit a speed bump before release: according to the DVD/Blu-Ray commentary by Reitman and Goldberg, the movie had a disastrous preview screening, at which point Reitman decided to beef up a subplot involving the tender, mentor-like relationship between Tripper and a camper, Rudy (Chris Makepeace). Murray returned for the reshoots without any fuss.
"Meatballs" was the beginning of Murray's career as a cinematic leading man, a career that went on to include some incredible classic movies, encapsulate a variety of genres, and continues in stride to this day. That doesn't mean Murray shaped up and became easier to deal with, however — on the contrary, he continued to be elusive on just about every movie he made, even on 1984's "Ghostbusters," arguably his biggest movie. Reitman understood that such behavior could be detrimental, being "well aware of the nervousness involved." Murray's antics occasionally went too far, in one instance nearly permanently damaging the friendship between himself and Ramis.
One thing Murray has never lost, at least, is his magic on-screen charisma, which goes a long way toward making up for his prankish behavior. Now widely regarded as one of the most beloved and sought-after actors working in film today, it's ironic that Bill Murray's stellar career nearly faltered before it began. Imagining a cinematic landscape without Murray is, like so many legends about the man, almost unbelievable.