Shows To Watch If You Miss Yellowjackets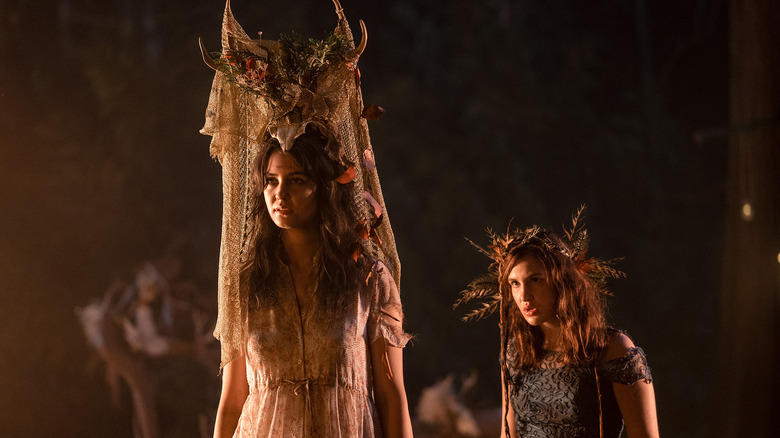 Showtime
Showtime blew viewers away with the release of "Yellowjackets," a mind-bending, heart-pounding thriller about a high school girls' soccer team stranded in the wilderness for 19 months after a plane crash. The show's story unfolds over two different timelines: in the past, as the girls battle the elements (and each other) in a fight for survival; and 25 years later, as the survivors attempt to maintain ordinary lives despite the secrets that still haunt them. Yes, there's also cannibalism, but the madness goes far deeper than that. The first season was captivating, addictive, and capped things off with a finale that had me crying out like a wild animal more than once. Like all perfect things, it was over far too soon. 
In a perfect world, the world we deserve, we'll get the five seasons the writers have in mind for "Yellowjackets." At the very least, there will be a second season, but it's not here yet. While we anxiously await the next season and for the writers to answer our collective cries of "What the hell was that?" and sate our growing appetites, we need something else to watch! There's nothing out there quite like this show, but there are a few other great series that incorporate some of the elements that made the psychological drama so excellent. Whether you're missing the secrets and schemes, the raw, visceral horror, or the delicious interpersonal drama, here are 13 series to watch if you already miss "Yellowjackets." 
Sharp Objects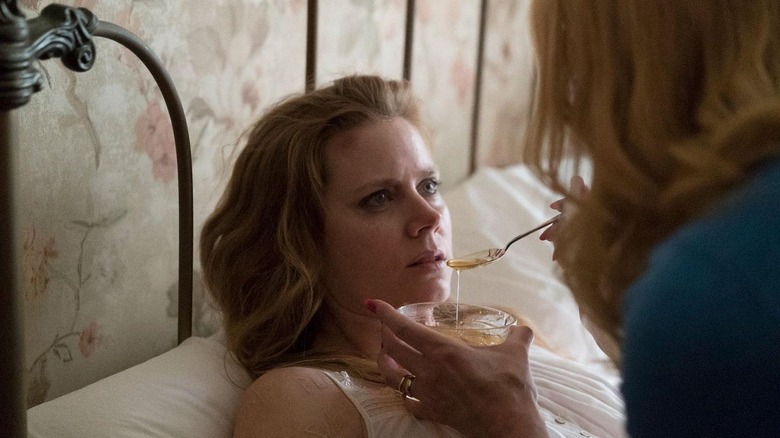 HBO
For another slow-burn mystery with thriller elements and complex, flawed female characters, look no further than HBO's "Sharp Objects." Based on the novel by Gillian Flynn of "Gone Girl" fame (which should give you an idea of the kinds of twists and turns that await), the series follows Camille (Amy Adams in one of her best performances yet), a struggling alcoholic journalist with a variety of self-destructive coping mechanisms. Camille returns to her small hometown to investigate the disappearance of a young girl. There, she is forced to confront her domineering mother (Patricia Clarkson), her estranged half-sister (Eliza Scanlen), and a world of dark secrets and memories she'd prefer to forget. The case has also drawn the attention of a gruff, handsome detective (Chris Messina), who Camille quickly forms a connection with. 
"Sharp Objects" is part quiet, mournful drama and part menacing thriller, with an all-star cast (including "IT" star Sophia Lillis as a young Camille) that brings the residents of Wind Gap, Missouri, to dysfunctional life. It takes a few episodes to really get going, but once it hits its stride "Sharp Objects" knows exactly how to get under your skin. It's a piece of premium Southern Gothic mystery that takes on trauma, cycles of violence, and a twist ending that hits like a punch to the gut. 
The Stranded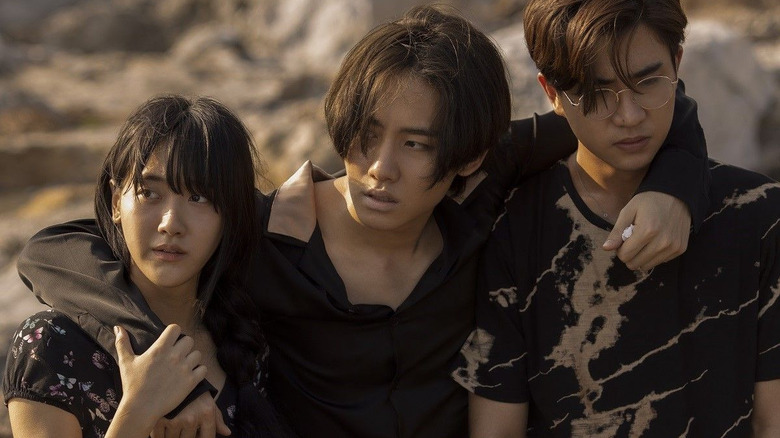 Netflix
If you're looking for more shows about teens in peril, stranded in a remote location, and forced to fend for themselves, then Netflix has got you covered. There are a few series that deliver on that premise, from "The Society" to "The I-Land," but one of the standouts is the Thai series "The Stranded." One review described the series as "Degrassi on the island from Lost," and if that sounds intriguing to you then you're in for an angsty little treat. 
The show's action kicks off when a group of students from a wealthy private school are trapped on an island after a devastating tsunami. They are left with no adults, no method of communication, and seemingly no way out. They do their best to work together and escape, but, naturally, all of the teen melodrama keeps getting in the way; not to mention the plethora of mysterious supernatural forces. It's soapy, tense, and surprisingly compelling in its exploration of class dynamics, burgeoning sexuality, and some genuine scares. If you can, make sure to watch it in the original language with subtitles, as the dub leaves out a few important details in its translation that may change how you view certain characters. 
Good Girls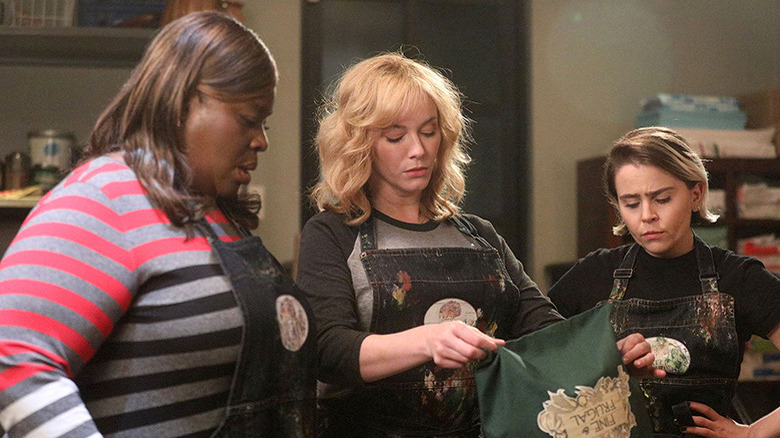 NBC
For a show that, similar to "Yellowjackets," allows suburban moms to be nuanced, flawed, and even badass, you can turn to NBC's "Good Girls." The comedy-drama crime series is a bit lighter in tone, but there's plenty of darkness buried under those white picket fences. The story follows three Michigan moms struggling to make ends meet and keep themselves afloat financially. Beth Boland (Christina Hendricks), her best friend Ruby (Retta), and her younger sister Annie (Mae Whitman) are sick and tired of being on the losing side of things, so they decide to do the unthinkable and rob a supermarket. 
Mothers can be anything, even career criminals. It may feel good to break bad and take control of their lives, but the grocery store heist sets off a chain reaction that sends these buttoned-up women down a path of organized crime, increasingly dangerous stakes, and secrets. The series was sadly canceled in June 2021, but there are still four juicy seasons to enjoy on Netflix.
Manifest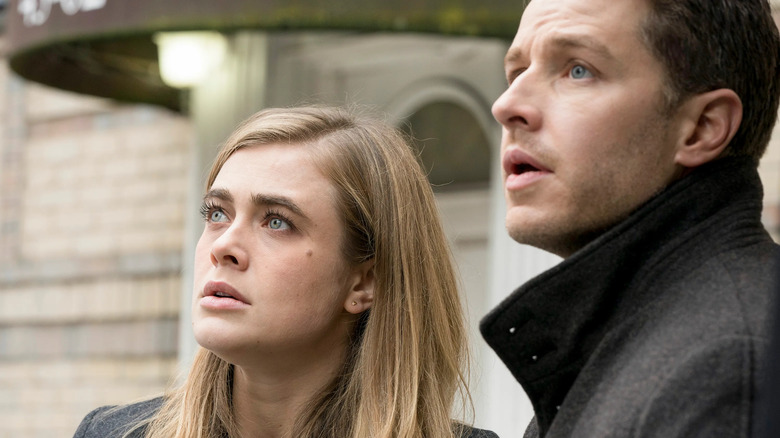 Netflix
One of the most harrowing scenes in "Yellowjackets" Season 1 is the plane crash that starts it all; the stomach-churning feeling of the plane suddenly dipping down and the ground rushing up to meet it as the characters scramble about the cabin for oxygen masks and something to hold onto during the inevitable impact is an excellent catalyst to kick off the rest of the season. Netflix's series "Manifest" also follows a plane that veers disastrously off course. However, this story comes with a supernatural twist. Instead of crashing, the plane goes missing for five years only to reemerge and land safely at its intended destination, with all of its passengers convinced that only five hours have passed since their initial departure. 
As they attempt to restart their lives after half a decade of being presumed dead by their friends and family, the passengers and crew from the lost flight struggle to adjust. While they have been frozen in time, the world has moved on without them. Not only that, but they're also plagued by strange visions that seem to be of the future. "Manifest" really finds its groove when it focuses on the central mystery, rather than getting lost in the weeds of its many characters and their personal drama. When the series is at its best, it is a gripping piece of television worthy of comparison to supernatural mystery dramas like "Lost." 
The Flight Attendant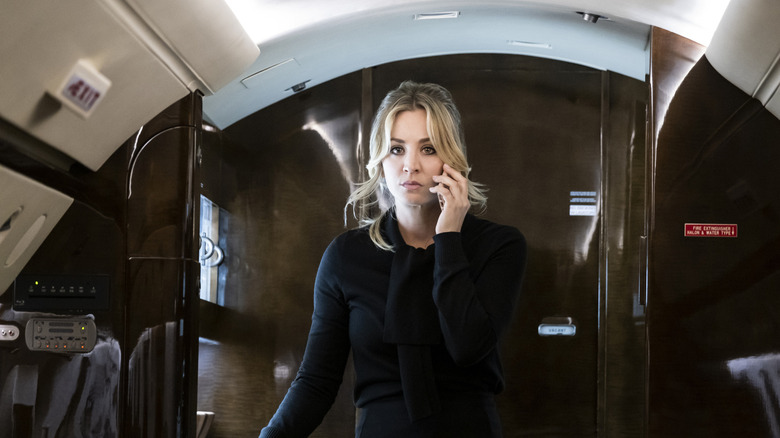 HBO
Air travel also plays a significant role in another show on this list, aka HBO's murder-mystery thriller "The Flight Attendant." Kaley Cuoco stars as Cassie Bowden, an impulsive alcoholic flight attendant who wakes up after a wild night out in Bangkok with a massive hangover, a passenger's dead body in her bed, and no memory of how it got there. Terrified that she might have been somehow responsible, and unsure of what else to do, she cleans up the scene, hops on a plane, and heads back to New York. There, scattered bits of half-recalled memories, hallucinations, and FBI investigators intrude on her everyday life, and she becomes obsessed with finding the killer's identity. 
The setup is exciting and pulpy, like a paperback novel you might read on a particularly long flight. The show really sets itself apart from other more forgettable mysteries with the characterization of its protagonist. Cassie is a darkly funny, often tragic figure, brought to life in brilliant shades of gray by Cuoco. The audience gets to peek inside her head and take a firsthand look at her doubts, anxieties, and the root of her reckless lifestyle. As Cassie is uncovering the mystery, we are, essentially, uncovering her. If you need another reason to tune in, Season 2 just added thriller queen Sharon Stone to its cast. 
The A-List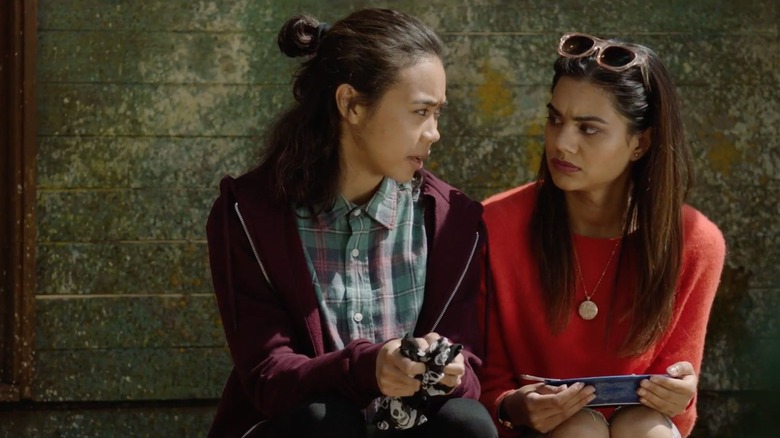 Netflix
A summer camp getaway turns into a nightmare in Netflix's British teen thriller "The A-List." Set on a remote Scottish island, the story follows Mia (Lisa Ambalavanar), an archetypical Mean Girl who is less than thrilled with the lack of cell phone signal on her island adventure. Still, she decides to make the most of it, and scopes out potential new friends (and boyfriends). 
Everything is off to a pretty average start, with cheerful counselors and forced "get to know you" icebreakers. The introductions are interrupted, though, by the arrival of the mysterious Amber (Ellie Duckles), an unpredictable master manipulator with an unsettling habit of staring out the cabin window all night. Things only get weirder from there, and it quickly becomes obvious that the seemingly peaceful Peregrine Island has plenty of dark mysteries to unravel. "The A-List" has all of the trappings of the average teen drama, but its scenic and creepy setting, along with some surprisingly deft performances from Ambalavanar and Duckles, elevate it beyond its basic premise.
Hannibal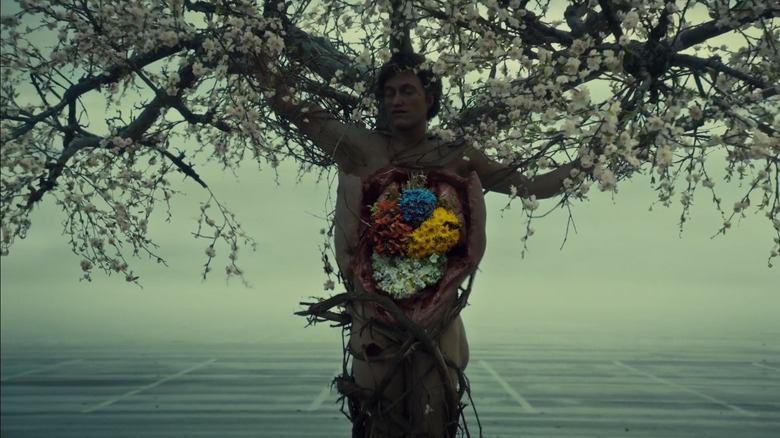 NBC
I know what you're thinking, and no, this show isn't on the list only because of cannibalism! "Yellowjackets" has a fascinating tendency to pair gory, horrific imagery with a savage kind of beauty (this is at its most apparent in the episode "Doomcoming"), and when it comes to intertwining the beautiful and the terrible, Bryan Fuller's "Hannibal" is the paragon. Though it often functions as a crime procedural, there are no CSI-style body bags and clinical plastic tarps here. Bodies are staged as ornate, almost impossible sculptures, as detailed as they are grotesque.
"Hannibal" follows Will Graham (Hugh Dancy), a profiler for the FBI who is recruited by Jack Crawford (Laurence Fishburne) to investigate a series of bizarre murders. As the police work begins to take a psychological toll on the very sensitive Graham, Crawford decides to have him supervised by the brilliant and refined Dr. Hannibal Lecter (Mads Mikkelsen). Of course, Dr. Lecter is hiding some pretty nasty secrets. "Hannibal" is a captivating series that blends psychological horror with a crime thriller, including unforgettable visuals, nightmarish antagonists, and superb acting. Dancy and Mikkelsen are at the absolute top of their game here, and every scene between Will and Hannibal is magnetic to watch. While there are currently no plans for a Season 4, Mads Mikkelsen and fans are keeping the hope alive. 
Misfits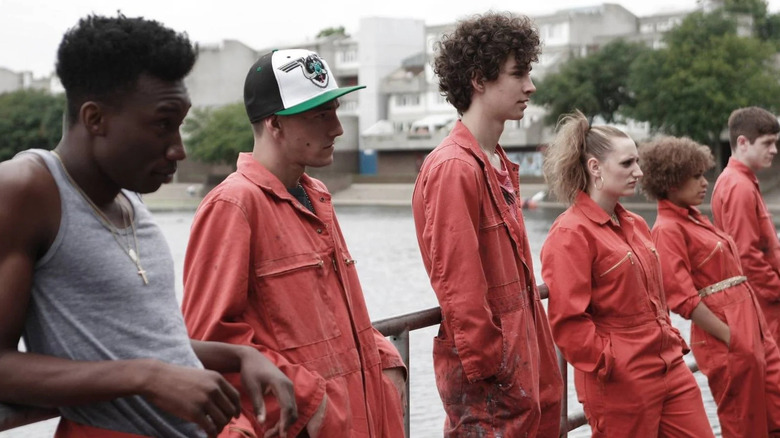 E4
For another story about teenagers thrust into unique, trying circumstances, check out the critically acclaimed British sci-fi dramedy "Misfits." "Misfits" is about a group of five teens with nothing in common, sentenced to work in a community service program for young offenders. While they are working, a freak electrical storm gives them superpowers. This is no Marvel movie, though, and the characters and their powers are messy and unpredictable. 
Each character's ability seems to reflect something central to who they are as a person. For example, a character who feels overlooked and ignored develops the power of invisibility, while another who is desperate to escape his past gains the power to rewind time. After the storm clears, and the five are left forever changed, they must navigate these new abilities on top of all the usual stresses of being a teenager. The show is funny, crass, heartfelt, violent, and everything in between. 
Pretty Little Liars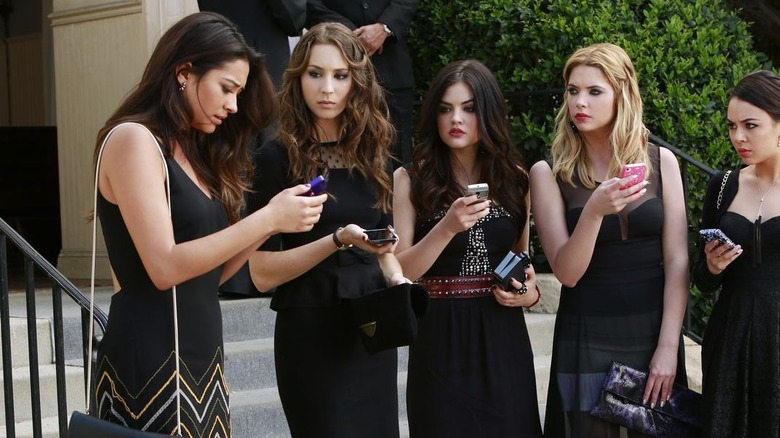 FreeForm
One storyline on "Yellowjackets" involves the survivors being targeted by a blackmailer who claims to know what happened to them during the 19 months they spent stranded in the woods. For a soapy, chaotic take on this idea, you can look to the Freeform series "Pretty Little Liars." Based on the Young Adult book series of the same name, the show features a group of high school girls who begin receiving text messages from an anonymous figure known as "A." Whoever A is, they know all of the girls' worst secrets, including a terrible mistake they made years prior that they swore they'd never speak of again. 
As the girls try to get to the bottom of A's identity without their lives blowing up in the process, their mysterious tormentor's tactics begin to escalate from gossip to kidnapping, home invasion, and even murder. As the seasons go on, the narrative gets more and more tangled, sometimes veering into the realm of pure nonsense, but a likable cast and plenty of suspense keep it afloat. Is it a perfect show? Not at all. Does it always make sense? Of course not. Is it a ton of fun to watch anyway? Absolutely. If seven seasons of "Pretty Little Liars" isn't enough for you, we might be getting a reboot sometime soon.
The Lizzie Borden Chronicles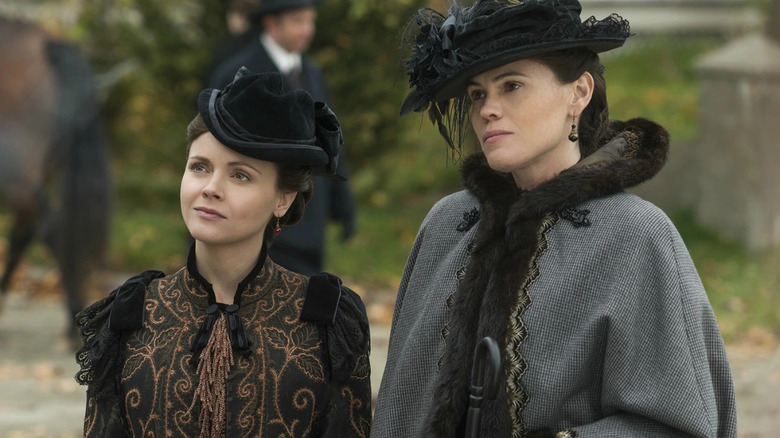 Lifetime
There is not a single weak link in the entire "Yellowjackets" cast, but one of the standout performances is Christina Ricci as the sweetly sadistic Misty Quigley. If you're missing Misty and searching for your next Christina Ricci fix, you should turn your attention to the Lifetime limited series, "The Lizzie Borden Chronicles," and watch her bring a fictionalized version of the famous accused killer to life.
The show's story is a continuation of the narrative from the 2014 made-for-television movie "Lizzie Borden Took an Ax," and takes place in 1893 four months after Lizzie has been acquitted of her father and stepmother's murders. Lizzie and her sister Emma (Clea Duvall) do their best to start over and make a quiet, happy life for themselves in the face of financial hardship and Lizzie's newfound infamy. However, fate and Pinkerton Detective Charlie Siringo (Cole Hauser) have other plans. Ricci is the crown jewel of this show, and her gleefully wicked turn as Lizzie Borden feels as if she leaped out of the lurid pages of a Victorian penny dreadful. 
Brand New Cherry Flavor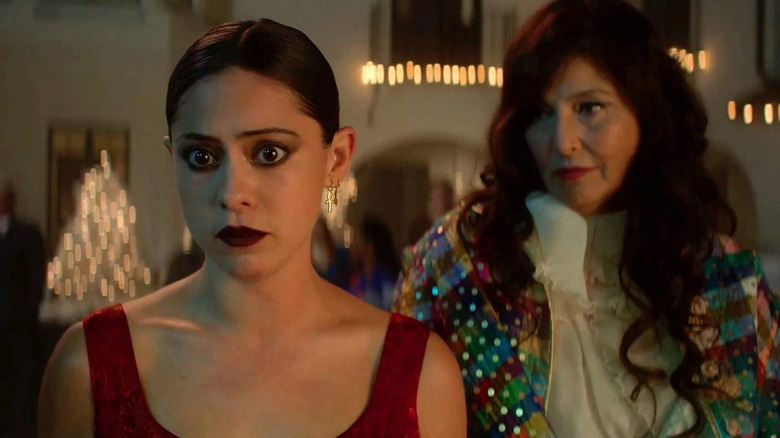 Netflix
For more '90s nostalgia, bloody violence, and women being truly wild, check out "Brand New Cherry Flavor" on Netflix. When young director Lisa Nova (brought to gorgeous, mesmerizing life by Rosa Salazar) arrives in Los Angeles with dreams of adapting her short film into a feature, she quickly learns that the industry is filled with backstabbing and betrayal. Desperate for revenge, she turns to a mysterious older woman who offers to "hurt someone" for her. So begins Lisa's descent into a world of sex, spells, and body horror that would make David Cronenberg proud. 
"Brand New Cherry Flavor" is a series better experienced than explained. It is surreal, surprising, vibrantly sensual, and disconcerting all at once. Like Lisa, the audience is swept up and knocked down, dragged along haplessly on an unpredictable journey. In its short eight-episode run, the show tells a truly unique horror story about art, abuse of power, and how vengeance can take over a person's life. It's a brand new flavor indeed, and if you try it, you just might find you have a taste for it.
The Wilds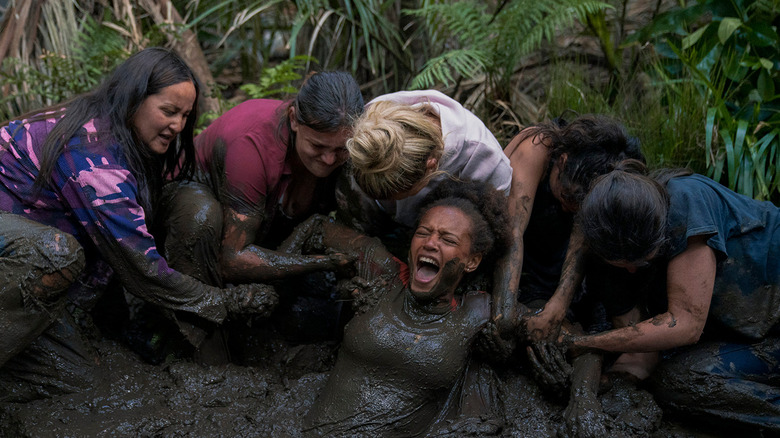 Netflix
"The Wilds" and "Yellowjackets" have quite a lot in common. Both take place over multiple timelines, using a combination of flashbacks and scenes from the present day while revolving around groups of teenage girls lost in harsh environments after a plane crash. However, the shows still manage to be distinct from one another, taking different approaches to their subject matter and stories. 
In "The Wilds," an airplane en route to Hawaii for a young women's empowerment retreat called Dawn of Eve crashes, stranding its passengers on a deserted island. However, there is something the girls don't know — their crash was no accident. While "Yellowjackets" focuses on what the girls did in order to survive, and the lingering impact of that, "The Wilds" preoccupies itself with the question: How and why did their plane crash? Who is pulling the strings, and what do they want? The series holds a lens up to the horrors of girlhood, contrasting the fight for survival with the everyday battles each girl faced prior to the crash. It shouldn't be considered a copy of "Yellowjackets," but "The Wilds" is definitely a kindred spirit. 
Channel Zero: No End House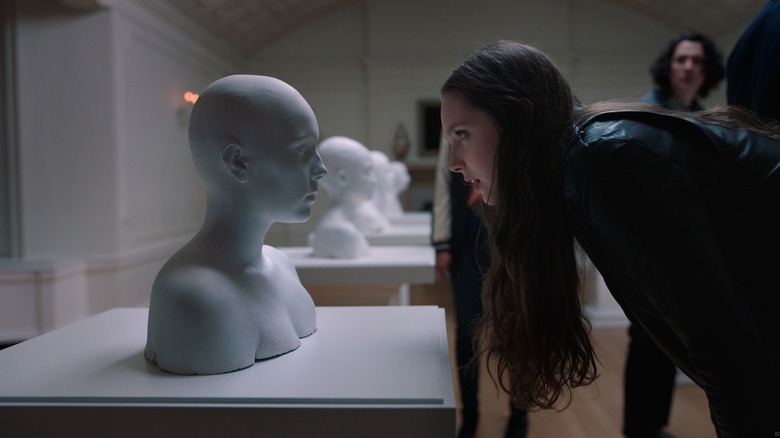 SyFy
"Channel Zero" was an extremely underrated piece of horror anthology television that got lost in the shadow of "American Horror Story" while it was airing, but this SyFy original series deserves far more attention than it got during its four-season run. The premise of the show, each season adapting a famous Creepypasta or internet horror story, could go either way as far as quality goes, but the "Channel Zero" writers (and showrunner Nick Antosca) took the scary yet scant source material and expanded it into something truly eerie and unique. 
Every season of the show has its strengths and weaknesses, but if you're going to pick only one to watch while you wait for the return of "Yellowjackets," it should be Season 2, "No End House." In it, a young woman named Margot (Amy Forsyth), who has been struggling in the aftermath of her father's death, is persuaded to join her friends on a trip to a secret extreme haunted house. There, they find something a lot more sinister than plastic skeletons and actors in latex masks. The house seems to know them, to see inside their hearts and minds and understands what truly scares them. The group discovers that once they enter the No End House, it might not be so easy to get out.