STX Places Rights To Chris Pine Thriller The Contractor In Bankruptcy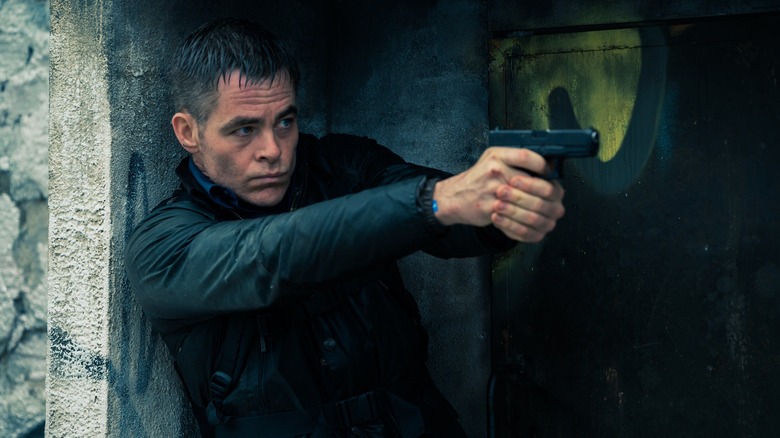 STXfilms
Here's something you don't see every day. The grand reunion between actors Chris Pine and Ben Foster, who last shared the screen together in 2016's brilliant "Hell or High Water" (along with "The Finest Hours," which also released that year), has hit something of a snag only a little over a week before its release in the United States. Stick with me here, fellow film fans who aren't all that business-minded, because this might get a little technical.
THR reports that "The Contractor" has found itself in a bit of a mess — though one that's not of its own making in the least. STX Entertainment, the studio behind the film and one that's currently right in the middle of separating itself from a 2020 merger with the Eros International production and distribution company, has placed an indirect subsidiary company that currently holds the rights to the Chris Pine-starring vehicle into chapter 11. That, of course, means that it has filed for bankruptcy.
But before anyone feels even slightly tempted to sensationalize this news, the report is quick to note that this decision was made specifically to "protect the value of the action thriller for the company's shareholders" ahead of Eros' impending deal to sell STX to The Najafi Companies. Additionally, according to Deadline, a company spokesperson released a statement, saying:
"This filing, like our previous filing on 'Greenland 2,' is surgical and strategic as we protect our rights while we work towards our closing for strategic alternatives for our company.
Migration is the entity that now owns the global distribution rights in 'The Contractor.' We determined that it was necessary to seek bankruptcy relief to protect the value of that entity for all of our stakeholders."
So what's going on with STX?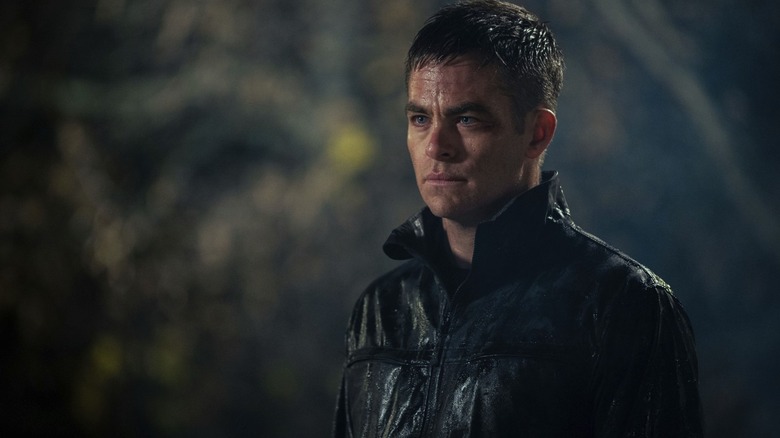 STXfilms
If you remember, we previously reported that STX and its small but valuable library of films (along with its nearly $150 million of debt, too) had been sold to private investment firm The Najafi Companies, bringing to a close a rather tumultuous last few years for the studio behind recent hits like "Hustlers" and "Bad Moms" and, unfortunately, some notable misfires like "UglyDolls" and "Playmobil: The Movie." Founded and led by producer Robert Simonds, the indie studio has struggled to keep up with the rest of the industry in recent times, at one point even circling Lionsgate as a potential buyer to absorb STX (although this ultimately fell through). /Film's own Ryan Scott has written at length about how the studio could lead the charge in resurrecting the rapidly disappearing mid-budget feature, but it will have to do so without the added bonus of STX's movie assets.
Nevertheless, those who have been looking forward to "The Contractor" will be happy to know that the previously scheduled release strategy for the film will continue unabated, even in the midst of all this behind-the-scenes paper-pushing. The cast of the Tarik Saleh-directed actioner features Pine, Foster, Gillian Jacobs (of "Community" fame), "24" star Keifer Sutherland, and Eddie Marsan. Expect the film to release on April 1, 2022, in a limited number of theaters. It will also release simultaneously on PVOD platforms, likely being made available on Showtime and the Paramount+ streaming service later this year.
Chris Pine stars in the action-packed thriller as Special Forces Sergeant James Harper, who is involuntarily discharged from the Army and cut-off from his pension. In debt, out of options and desperate to provide for his family, Harper contracts with a private underground military force. When the very first assignment goes awry, the elite soldier finds himself hunted and on the run, caught in a dangerous conspiracy and fighting to stay alive long enough to get home and uncover the true motives of those who betrayed him. Also starring Kiefer Sutherland, Ben Foster, Gillian Jacobs and Eddie Marsan.