Denzel Washington's Training Day Role Sparked A Surprising Amount Of Controversy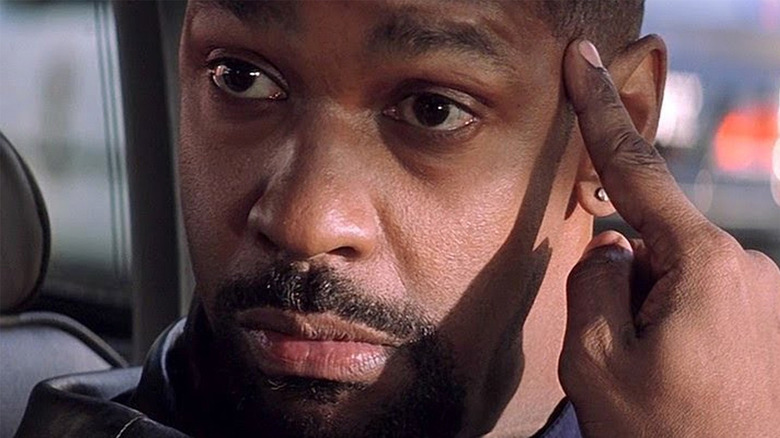 Warner Bros. Pictures
In Netflix's "Black Hollywood: They've Gotta Have Us," David Oyelowo shares an anecdote about the legendary Denzel Washington. As the story goes, Washington told his agents early in his career, "Send me every [role] that Harrison Ford is turning down or that he can't do."
Whether the story is true is a mystery in itself, but it skews close to the struggles that Black actors faced at the time. The '90s were a tough decade for Black performers, a time when — even in the face of the Black film renaissance — three-dimensional roles were still just out of reach. But the '90s also saw the rise of Denzel Washington. His eclectic work in films like "Philadelphia," "Courage Under Fire" and "Malcolm X" showed that it was possible to sidestep stereotypes and play a three-dimensional character. Not all his roles were specifically tethered to race, but each had a hand in expanding the way Black characters were perceived on-screen.
In some ways, Denzel Washington is the Sidney Poitier of the 21st century: both changed the game by playing dignified Black characters — but Poitier himself was also limited to playing only those characters. Washington effectively broke that mold in the early aughts with his Academy Award-winning performance in "Training Day." In the 2001 Antoine Fuqua film, Washington is Alonzo Harris, an LAPD narcotics officer who's about as corrupt as they come. The dirty cop in a crime thriller was not a novelty at the time, but casting Washington in the role certainly was.
Until that point, Washington had never played a villain before. In fact, much like Poitier, he had become more of a symbol than a performer, by portraying characters designed to comfort white audiences. "Training Day" represented Washington's departure from that dead end, a chance to reinvent himself and try something new — but some people were hard pressed to keep that from happening.
'It was a very dangerous thing at that moment in his career'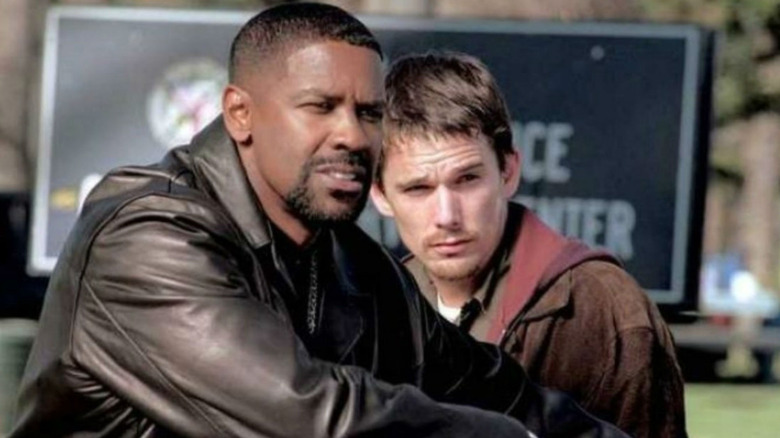 Warner Bros. Pictures
In "Training Day," Washington's Alonzo takes the uber-naive rookie Jake Hoyt (Ethan Hawke) under his wing, and disastrous consequences undoubtedly follow. Hoyt learns more than he ever wanted to know about the inner workings of the LAPD narcotics unit — but behind the scenes, Hawke too gained a new perspective by watching Washington work. "I knew he was going to win the Oscar," Hawke told Yahoo in 2021. "I knew it on about Day 3. I remember thinking that if I don't f*** up the movie, he'll win the Oscar."
Still, Hawke was the least of Washington's problems on "Training Day." The fact that he was playing such a corrupt character for the first time had caused a stir before the film had even wrapped production. "It was a very dangerous thing at that moment in his career for Denzel to play a bad guy," Hawke recalled. "You know, he was being harassed by the NAACP that he shouldn't play a bad guy and stuff like that."
The National Association for the Advancement of Colored People (NAACP), as their name suggests, works to uplift and encourage Black excellence in industries like film (and many more). They've been around since 1909 and have always championed Black artists — their yearly Image Award ceremony is an especially poignant statement in the face of the Oscars controversy of the past few years. Washington was (and always will be) important to the advancement of Black artists in film, so it makes sense that the NAACP was following his career so closely. Maybe too closely, as Hawke detailed in a Q&A at Loyola Marymount University's School of Film & TV in 2015:
"The NAACP came to the set and said, 'What are you doing?' And you know I never had a political organization talk to me about what roles I pick. And Denzel, I remember him saying, 'What, Al Pacino can play a bad guy. Gene Hackman can play a bad guy. I can't play a bad guy? I'm an artist. That's how I lead, not by being some dubious role model by only playing squeaky clean people. I'll be a role model by being great at my job.'"
'Boom!'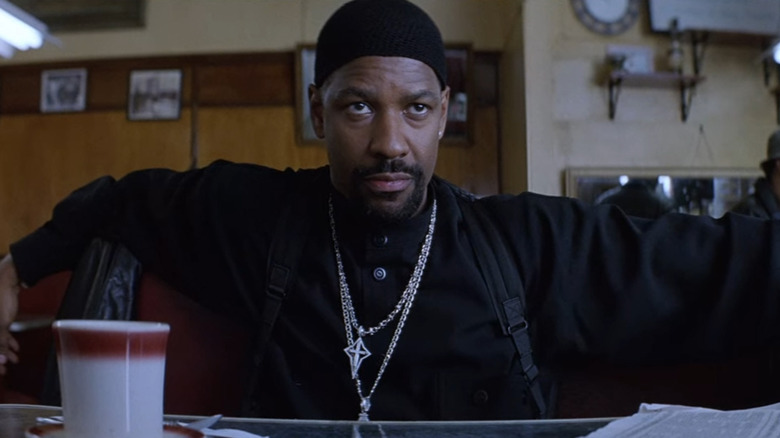 Warner Bros. Pictures
Though the film did ruffle feathers upon release, Washington never seemed to regret taking the role. "Every movie I've done, I've done because I wanted to," the actor said at TIFF in 2001. "Not because I thought [about what] people were going to think of it. I'm going to continue to do that."
To his credit, Washington's work in the film is, obviously, excellent. Despite pushback from The NAACP, the actor would win an Image Award for Outstanding Actor in a Motion Picture (his fourth of six consecutive wins from 1999 to 2003) — not to mention an Academy Award for Best Actor. Fittingly, Washington dedicated his Oscar to Sidney Poitier in a touching speech: "I'll always be chasing you, Sidney. I'll always be following in your footsteps. There's nothing I would rather do, sir."
Years later, Poitier would express his own admiration for Washington, telling the Academy in 2014:
"He had taken the concept of African Americans in films to a place where I couldn't, I didn't, and he has taken it there with the same kind of integrity that I tried to do and to articulate. So I thank him for that. He helped me that evening to a closing of my artistic life. He put the button on it for me. And I'm indebted to him."
It's important to remember that Washington would not have been able to take so many risks had Poitier not opened the door for Black actors in Hollywood — but it's hard not to get teary eyed at Poitier's remarks. The fact that the late actor felt just as grateful to Washington as the performers who came after him shows just how important nuanced representation is. Of course, it helps that Washington is impossible not to root for, even when he is playing the villain. But the strides he's taken in his near 50-year career have changed the face of the film industry for the better, allowing so many others to take even bigger risks.