The Movie Role That Sidney Poitier Turned Down Early In His Career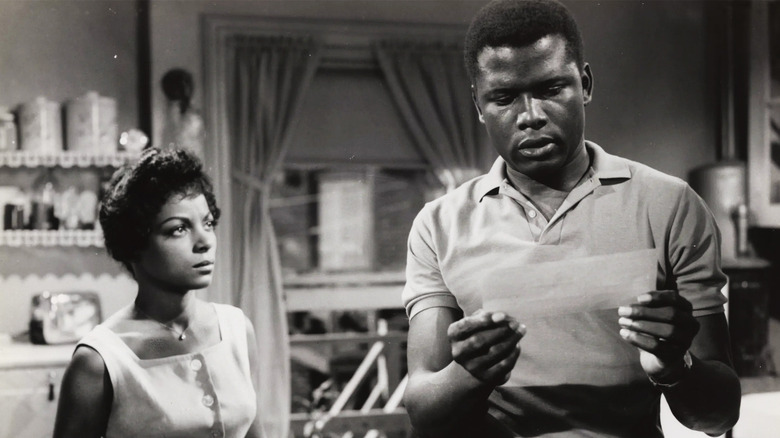 Columbia Pictures
It's hard to even discuss the late Sidney Poitier without mentioning his considerable legacy. The Bahamian-American actor, director and activist spent nearly 50 years paving the way for people of color in Hollywood — though he never forgot his humble beginnings. Poitier first left the Bahamas for America when he was just 15. While in New York, he took acting lessons at the American Negro Theater (and moonlighted as a janitor to cover the cost of tuition). It was there that he was discovered by Joseph L. Mankiewicz, the Hollywood director who would go on to make hits like "All About Eve" and the now-infamous "Cleopatra" starring Elizabeth Taylor.
Poitier's debut came with Mankiewicz's "No Way Out," a groundbreaking noir that focused its conflict on racial prejudice. That was 1950 — incidentally the same year that "All About Eve" premiered to critical acclaim — and despite Poitier's crackling performance in the film, overnight success still largely eluded him. The actor worked sparingly in the 50's, and by 1955 he was working in a restaurant to support his wife and daughter. Though money was tight for the actor, Poitier was still selective about the roles he chose — and there was one in particular that he turned down that same year, in spite of its generous payday.
Compromise vs. Character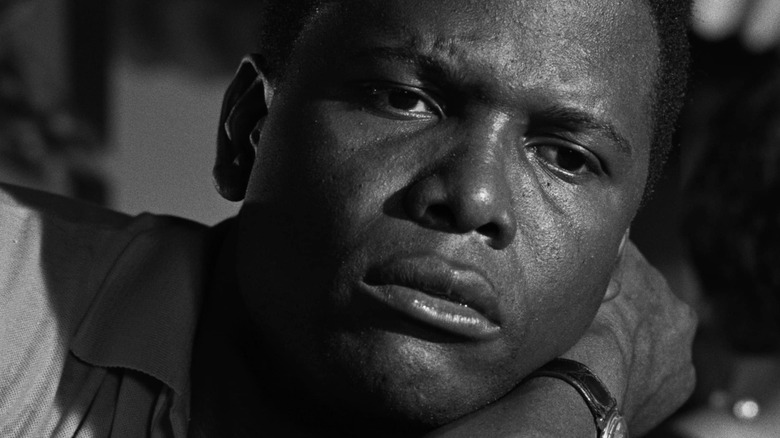 Columbia Pictures
Poitier sat down with Oprah Winfrey in 2000, and in that interview he discussed the role that would have been his first on film. Poitier revealed that he was offered a role in a film titled "The Phenix City Story." The character was a janitor, and the actor took no issue with that. However, when he witnesses a murder at the casino where he works, the murderers in question kill his daughter to keep him quiet. Poitier, a father himself with another daughter on the way, took issue with the character's reaction:
"His response was nothing. He didn't do anything about that. And I told them that I couldn't play that, because that man was a father. And knowing my father and remembering my father, I didn't want to have that kind of record on my plate. I just simply decided not to do it."
Though he'd made a noble choice in sticking to his principles, Poitier still had his financial troubles to contend with. "My [second child] was about to be born," the actor told Winfrey. "It would be $75 to cover the birth. I didn't have the money." Rather than compromise for a role that would easily land him $700, Poitier took out a loan to cover the hospital fees, and used his own furniture as collateral.
Poitier's Eventual Victory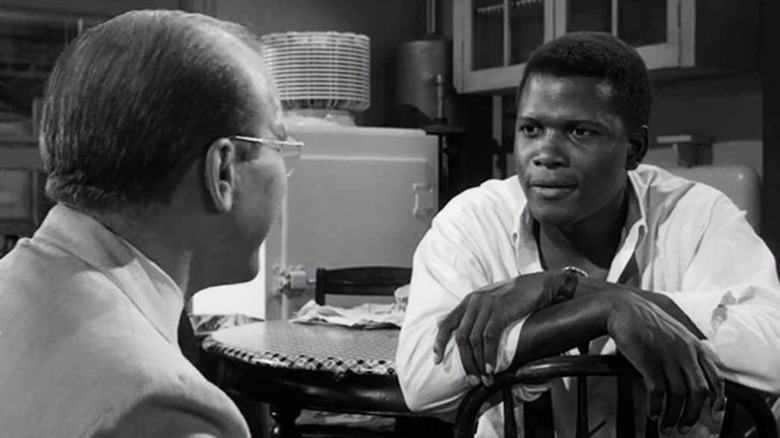 Columbia Pictures
At first, the actor struggled to explain his decision to Marty Baum, the talent agent that first offered him the role. "He never understood," Poitier recalls. But six months later, Baum reached out to Poitier again, this time with a very different proposal:
"[Marty] said, "You know, I've been thinking about you for all these months ... There was $750 you could have used. I know you needed the money." ... He said, "Well, in any case, I think you're crazy. Therefore, anyone as crazy as you are, I would like to be his agent."
Though his decision was bewildering to Baum, it also drew him back to Poitier. Baum signed on as Poitier's agent immediately, and the pair worked together until Poitier retired in 1997. For nearly the entirety of his career in film, Poitier refused to compromise. His staunch character and his commitment to dignified representation for black characters, helped pave the way for several generations of actors. Though Poitier may be gone now, countless actors will be following in his footsteps for generations to come.