The Morning Watch: Making Of Spider-Man: No Way Home VFX, Nicolas Cage Replies To Fans Online & More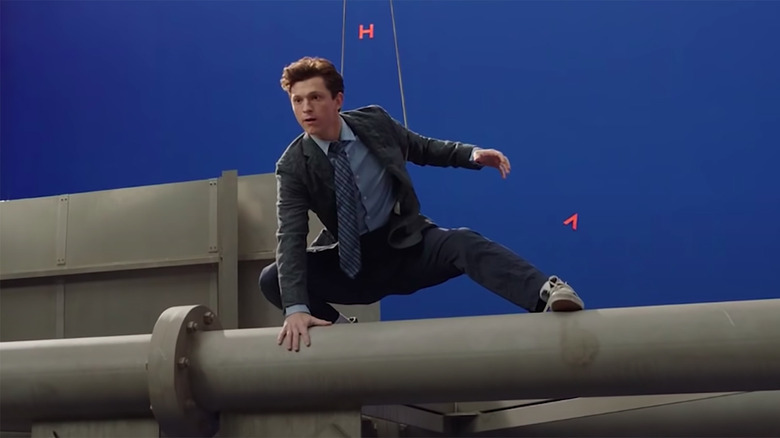 Marvel Studios
(The Morning Watch is a recurring feature that highlights a handful of noteworthy videos from around the web. They could be video essays, fan-made productions, featurettes, short films, hilarious sketches, or just anything that has to do with our favorite movies and TV shows.)
In this edition, "Spider-Man: No Way Home" visual effects supervisor Kelly Port gives an inside look at all of the incredible computer-generated imagery that made the movie come to life. Plus, Nicolas Cage answers fan questions from all over the internet. And finally, comedian Taylor Tomlinson answers all of Netflix's burning questions like, "What is the worst pre-show meal?" on a new edition of "Ask a Comedian" from Netflix.
Explaining the special effects of Spider-Man: No Way Home
First, "Spider-Man: No Way Home" had some pretty impressive special effects, but not all of them were noticeable. While the superheroic shenanigans of several Spider-Men are obviously assisted with the help of CGI, there are a number of really simple shots that also included digital trickery. In fact, there are only about 80 shots in the entire movie that don't have some kind of visual effects.
In this video from Vanity Fair, Port and his team explain how they basically re-created the entirety of New York City in digital, filming a large portion of the film on green screen, and the final result is nothing sort of incredible. Anyone out there worried about the baby in the back of the car that rolls? The youngin' was inserted digitally, after the fact, although the actors who played the parents went through a very real "rotisserie rig" roll, where the car was put on a stick and spun like a chicken in the grocery store. Usually when you hear rotisserie, you think about lunch, but not losing it! We like to have fun here.
Nicolas Cage gives the fans what they want: answers!
Next, veteran actor Nicolas Cage Nicolas Cage isn't on any social media because, as he states in this video from GQ, it's antithetical to his beliefs, but he did take some time out to answer various fan questions from around the internet. He even visits the subreddit "One True God," which is devoted entirely to all that is Nicolas Cage. There are a number of fun factoids, like the tidbit that Cage was apparently supposed to be in "Dumb & Dumber" with Jim Carrey, but he wanted to do "Leaving Las Vegas" instead. 
Cage also confirms the Wikipedia claim that he wanted to audition for his uncle Francis Ford Coppola and goes on at length about exploring imagination as a form of shamanism. The actor also visits YouTube and reminisces about playing Spider-Man Noir in "Spider-Man: Into the Spider-Verse," and explains that while it would have been fun to play famed "Tiger King" subject Joe Exotic, he has nothing in common with the disgraced big cat handler. 
Finally, when asked about memes with him in them, he has the best (and most Nicolas Cage) answer ever: "What am I gonna do about it? It's there."
Taylor Tomlinson answers everyone's weird stand-up questions
Last, but not least, if you ever wanted to know all of the gritty details of comedian Taylor Tomlinson's stand-up routine, including what she does and eats beforehand and what songs she likes to walk out to, then Netflix has just the video for you. In this "Ask a Comedian" segment, the folks at Netflix asked Tomlinson a series of questions submitted by fans, and she gave some characteristically comedic answers. For example, she shares the tip that no one should ever eat spicy food before stand-up, or any other foods that "flirt with diarrhea." She also dishes on her zodiac sign (no love for Scorpios, apparently), her comedy heroes, and the difference between having your heart broken and totally bombing on stage. Spoiler: a break-up is so much worse than bombing on-stage, even if it's a "nice break-up."