Denzel Washington Did More Than Act On The Tragedy Of Macbeth Set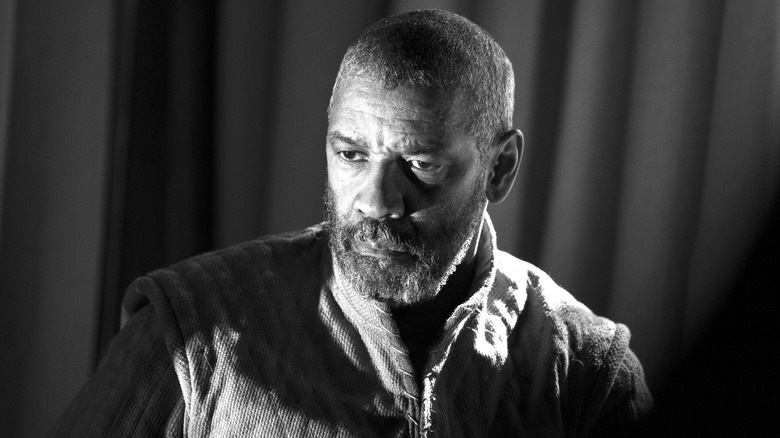 A24
William Shakespeare's play "Macbeth," believed to be first performed around 1606, is a play about a weak-willed thane in Scotland and his ambitious wife who take advantage of a rare opportunity to commit regicide and usurp the throne. Both Macbeth and Lady Macbeth are then karmically, legally, and capitally punished for their crime, realizing a deep nihilism about the world on the way down. It has been adapted to film several hundred times throughout the history of cinema, the most recent high-profile production being Joel Coen's "The Tragedy of Macbeth," released in 2021, and currently nominated for three Academy Awards, including Best Cinematography, Best Production Design, and Best Actor.  
That actor is Denzel Washington, one of the finest film actors of his generation. In this new version of "Macbeth," shot in a dazzling black and white, and featuring a fraught, funeral-on-caffeine tone, Washington played the title character not like a panic-stricken cautionary tale, but a sad sack, who only realizes the weakness of his will after it's far too late. This is against type for Washington, who more typically plays characters who are resolute and often are men of action. As Macbeth, Washington took advantage of a rare opportunity to watch another director at work in order usurp some ideas of his own. 
In a recent interview with Collider, Washington confessed to as much, admitting that he was tempted to put on his directors hat — Washington has directed four feature films to date: "Antwone Fisher," "The Great Debaters," "Fences," and "A Journal for Jordan" — and grill Coen about his thought processes as a director. 
Stealing from the master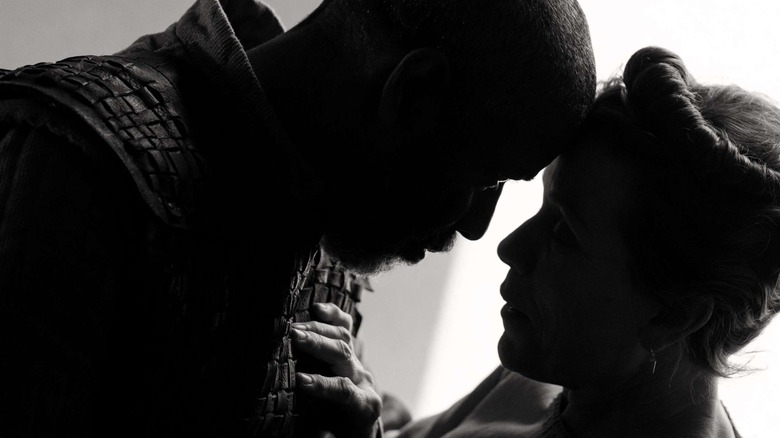 A24
In addition to being a fan of Joel Coen, Washington reveals that he is an analytical film viewer as well. Working with Coen was essentially an interview opportunity for him, and let him not just take direction, but also discuss technique. In an interview with Collider, Washington shared that he was intrigued by Coen's creative process, eager to see what he could "steal."
Everything. I was stealing too. I mean, he's a master. So you wonder sometime, why over here? I remember asking him one time he was setting up a shot and I wasn't in it. I had my directors hat on, because I wasn't in that part of the scene. So I said, "Now, I noticed you put the camera down here, like a lower angle. Are you making a statement? Is that a psychological thing? Or why'd you put the camera so low?" He said, "Actually I just like the ceiling." I was like, "You like the ceiling?" He said, "Yeah, look up." I was like, "Oh yeah." He said, "Yeah, I like the way the ceiling looked." I said, "So it was as simple as that?"
Often, fans spend more time analyzing a work of art than the artist ever did, making for an amusing, eternal conflict between the creator and their audience. Judging by Washington's words, by the time shooting was taking place, Coen had already laid the creative groundwork and had permitted himself to improvise smaller details. 
Basically what he said was, he didn't say this word for word, but what I got from it was, it was as simple as that now, because he had done everything else. He was prepared. He had thought about it every way. He storyboarded, he thought about every angle and then at that moment he said, "No, I like this." So he had done the work, but then he was still open to improvisation or another way of looking at it, reinterpreting.
The idea room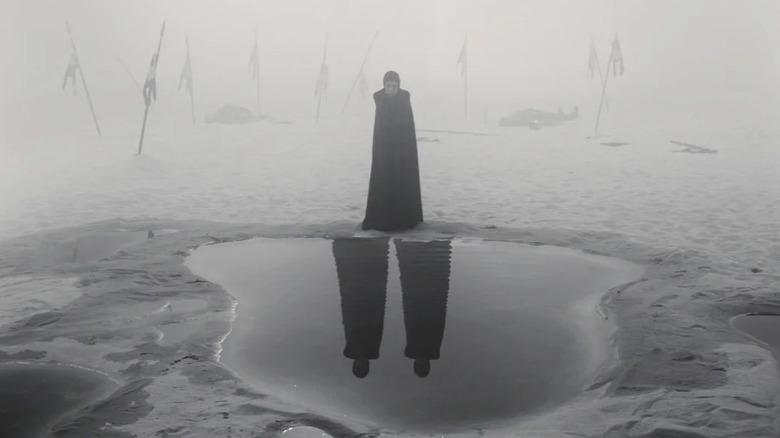 A24
Washington was also impressed by the creative idea-sharing sessions that Coen would set up for the cast and crew. In order to communicate the mood and visuals and tone he wanted for the film, Coen would bring the cast and crew into a room full of photographs and art (many production designers are familiar with this process), and fill their brains with a collage of Shakespearean imagery. Washington was so intrigued and enamored of certain photographs that he had to ask Coen — and others — about their origin or meaning:
Well, he had photographs and ideas up everywhere. When you went to the production office, you could see the movie on the wall. You could see where he was going or where he wanted to go and what influenced him and he was open. He just had pictures and drawings and stuff everywhere, so there was so much to absorb. It was fun because maybe the question I had wasn't for him. Maybe once I saw a drawing, I was like, "Oh, let me talk to the production designer," what they had in mind since they drew that, or the art director and just going to the different departments. It was just such a great collaboration. Again, Joel's a master and he brings in all these great people around him. I'm in this building with all these people that are really good at what they do, they're all masters. So you are like, "Okay, we're in here with the best. I got to bring my best."
Washington is currently producing "The Piano Lesson," the third feature film he's been involved with that is based on a play by Tony-winning playwright August Wilson, which follows "Fences" and "Ma Rainey's Black Bottom." Ten of Wilson's plays are part of what is commonly called the August Wilson Century Cycle, and Washington is determined to make film versions of all ten. Audiences may want to keep an eye out for any "Tragedy of Macbeth" influences on his next directorial project.