The Best TV Shows And Movies Coming To HBO Max In April 2022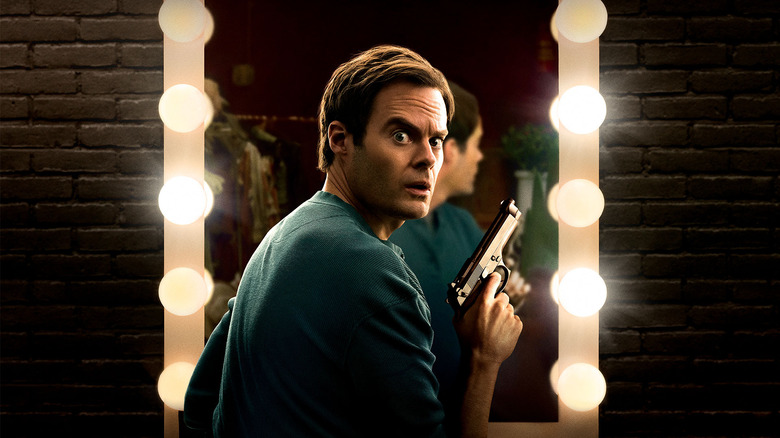 HBO
Spring is finally upon us, marking the time of year where we ritualistically shut off our screens and head into the outside world to soak up the sunlight and fresh air... Or at least we would, if only the never-ending stream of content wasn't so effectively distracting! HBO Max, a frequent contributor to everyone's screen obsessions, clearly has no interest in sniffing the flowers because their April slate is full of heavy-hitters, including some exciting TV returners, new releases, and a bundle of films that are bound to capture mass attention.
For those missing their fill of dark comedy and dangerous circumstances, both "Barry" and "The Flight Attendant" are making their grand returns, with two protagonists who are guaranteed to land themselves in life-threatening yet hilarious situations. If you want excitement with a little less potential death floating around, perhaps you'll enjoy the life and times of Tony Hawk, explored in the upcoming documentary, "Tony Hawk: Until The Wheels Fall Off." Or maybe you've heard the buzz about HBO kidnapping an Avenger — in which case, you can indeed venture back into the forgotten past of "The Incredible Hulk." The point is, there are certainly an abundance of options if you're looking to spend some spring afternoons burrowed into your couch. Here are a few titles you won't wanna miss!
Gentleman Jack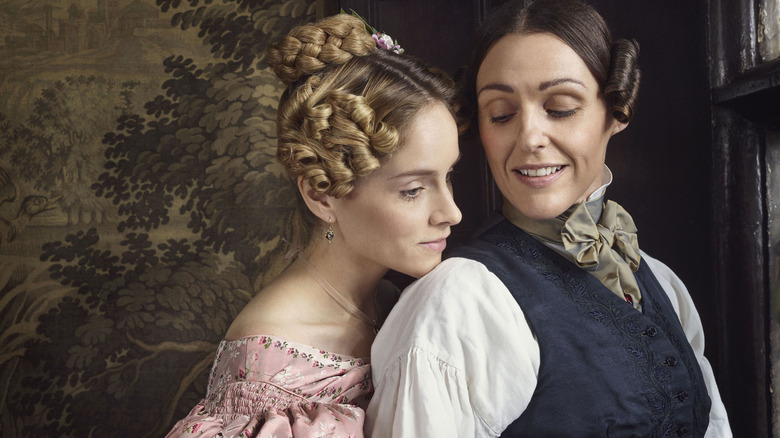 HBO
The world was a slightly sadder place without everyone's favorite messy lesbians brightening our lives, but at long last Anne Lister has returned, hand-in-hand with the love of her life, Ann Walker. "Gentleman Jack" arrived nearly three years ago, telling the story of a woman whom history remembers as "The First Modern Lesbian." Anne Lister proved to be equal parts charismatic and difficult as she weathered the unflattering gossip of West Yorkshire locals, who didn't appreciate her masculine attire, bold personality, and rumors of her affairs with women. But you know who did like all those things? The very lovely Ann Walker, who almost immediately fell in love. And thus we have a messy love story for the history books (literally).
After a season full of drama, miscommunication, second thoughts, and eventual reconciliation, everything (sort of) worked out. So season 2 picks up in 1834 with the power couple setting up a home together at Shibden Hall, determined to combine their estates no matter what society has to say about it! Expect lots more drama, boldness, some memorable facial expressions from Marian (the incredible Gemma Whelan), and more talk of dissecting babies.
Barry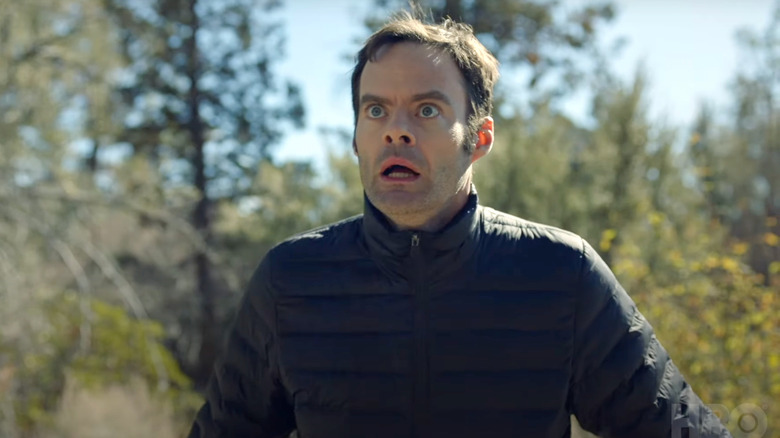 HBO
Speaking of shows that spent three years off-air, "Barry" is back! Barry Berkman AKA Barry Block (Hader) will continue his very unconventional lifestyle as both a thespian and an assassin. Still struggling to leave his violent past behind in favor of his newfound passion, Barry continues his bid to tie up loose ends and permanently untangle himself from the world of contracting killing. Thus far this journey has proven bloody, life-threateningly impossible, and oddly heartening. I'll avoid spoilers, in case you haven't had the pleasure of joining Barry's troupe but in the midst of time spent on the dark world of crime and hit-men, "Barry" finds time to explore huge philosophical questions and unpack trauma, and still never fails to evoke lots of laughter. Even if lots of it is uncomfortable!
The first two seasons see the actor-assassin dodging the Chechen mob, dealing with a manipulative handler (Stephen Root being incredible) and y'know, learning how to act. From the looks of it, in season 3, Barry gets to do some serious introspection as he considers the next chapter of his life.
The Night House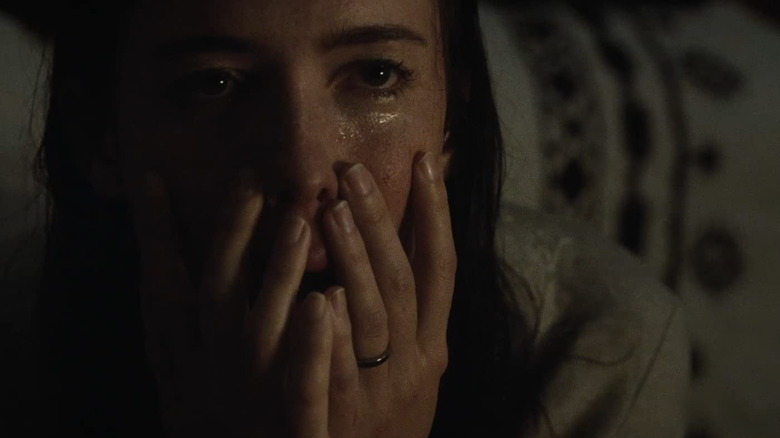 Searchlight Pictures
All you need to know about "The Night House" is that it stars Rebecca Hall — actress, director, and newly-crowned scream queen. But fine, I'll share a bit more: the horror flick come filmmaker David Bruckner, who helmed segments in the horror anthology films The Signal, V/H/S, and Southbound, along with directing the 2017 Netflix film, "The Ritual." If you've seen his prior work, then you probably have a sense of what you're in for. Bruckner is a master of building dread, as /Film's Chris Evangelista wrote in his review:
He lets the camera linger longer than it should, creating a palpable sense of unease. And he knows how to stage one hell of a jump scare. Make that jump scares – there's one sequence midway through the film where the filmmaker packs on one genuinely scary jump scare after another, after another, after another. The construction of the scene is remarkable – just when you think things are going to let-up another jarring event occurs.
The story follows a widow (Hall), still reeling from the unexpected death of her husband and left alone in the lakeside home he built for her. As she tries to keep herself together, she's plagued by disturbing visions of a ghostly presence calling to her and begins digging into her husbands belongings for answers. Instead of relief, she finds herself falling deeper into a dark mystery.
The Survivor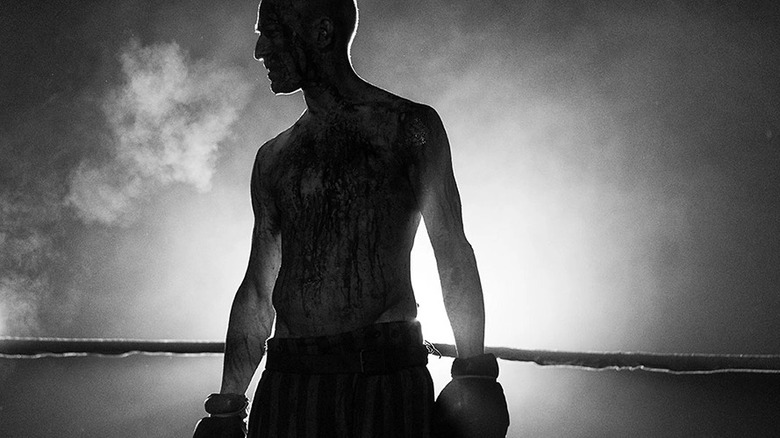 HBO
The latest from Academy-Award winner Barry Levinson premiered at the Toronto International Film Festival to such success that HBO acquired the exclusive North American rights in an eight-figure deal, one of the largest in TIFF history. This month, the film arrives on the streamer, telling the incredible true story of Herschel "Harry" Haft, a Polish-born Jewish man sent to Auschwitz at the age of 17. This story of inhumane persecution and survival is an unflinching look at the realities of war, grappling with the circumstances that led to Haft's post-war career as a boxer.
During his time at the Nazi slave labor camp, Haft was beaten and starved and after an SS overseer flagged his athletic build, forcing him into fights to the death with other captives in front of the military personnel. After the war, Haft had a brief career as a boxer in the United States and in April 2007, was inducted into the National Jewish Sports Hall of Fame at the age of 82. With Ben Foster in the leading role, the film also stars Vicky Krieps, Billy Magnussen, Peter Sarsgaard, Danny DeVito, and John Leguizamo.
A Black Lady Sketch Show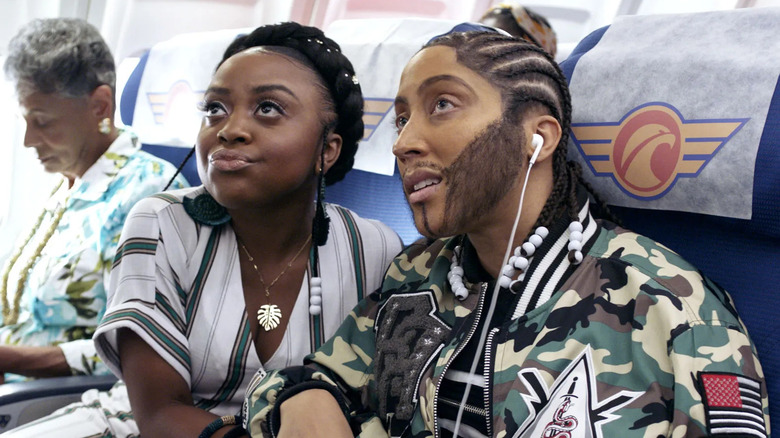 HBO
On the lighter end of HBO Max is "A Black Lady Sketchshow," a sketch comedy series featuring some of the funniest Black ladies of our time. If you've been falling in love with "Abbott Elementary" like the rest of the world, you'l be thrilled to see Quinta Brunson being her charming-hilarious self, alongside her fellow accomplished comedians Gabrielle Dennis, Ashley Nicole Black, and series creator Robin Thede. With bite-sized comedy bits, the series explores the mundane and obnoxious things that woman (specifically Black women) deal with on the daily, often jumping from straight-faced hilarity to utter absurdity. Extra bonus — the show is known for having an insane docket of guest stars, inducing everyone from HBO alum Issa Rae to Angela Bassett and Laverne Cox.
Movies and TV shows coming to HBO Max April 2022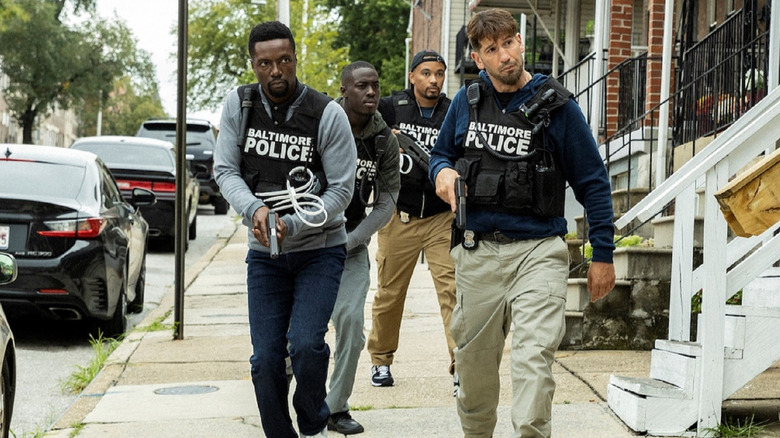 HBO
Exact Dates TBA:
Gentleman Jack, Season 2 Premiere (HBO)
March 29:
Death On The Nile, 2022 (HBO)
March 31:
Young Justice, Max Original Season 4B Premiere
April 1:
10, 1979
Annabelle, 2014 (HBO)
Armed and Dangerous, 1986
Balls Out: Gary the Tennis Coach, 2009
Battle Los Angeles, 2011
Beetlejuice, 1988
Bells Are Ringing, 1960
Black Gold, 1947
Blood Ties, 2014 (HBO)
Boys' Night Out, 1962
Brewster McCloud, 1970
Brie's Bake Off Challenge, 2022
Capote, 2005 (HBO)
Captains Courageous, 1937
Chicago, 2002 (HBO)
Children of the Damned, 1964
Czech It Out!, Max Original Premiere
Dances With Wolves, 1990 (HBO) (Extended Version)
Erased, 2013 (HBO)
Fantastic Beasts: A Natural History, 2022
Five Easy Pieces, 1970
Ghosts of Girlfriends Past, 2009
Girl Most Likely, 2013 (HBO)
Graffiti Bridge, 1990
Hugo, 2011 (HBO)
Insidious, 2010
Iron Eagle, 1986
Iron Eagle II, 1988
Kin, 2018 (HBO)
Krull, 1983 (HBO)
Larry Crowne, 2011
Les Miserables, 1998
Limitless, 2011 (HBO)
Moon, 2009 (HBO)
Moscow on the Hudson, 1984
Nobody's Fool, 1994 (HBO)
Odd Man Out, 1947
On the Waterfront, 1954
One True Singer, Max Original Season 1 Premiere
Only Lovers Left Alive, 2014 (HBO)
Original Sin, 2001 (HBO) (Extended Version)
Peggy Sue Got Married, 1986
Point Break, 2015 (HBO)
Rain Man, 1988 (HBO)
Red, 2010 (HBO)
Rendez-Vous, 2020 (HBO)
Revolver, 2007 (HBO)
Salt, 2010
Seven Brides for Seven Brothers, 1954
Sex Drive, 2008 (HBO) (Extended Version)
She Wore a Yellow Ribbon, 1949
Show Boat, 1936
Six Degrees Of Separation, 1993 (HBO)
Slc Punk!, 1999 (HBO)
Spartan, 2004 (HBO)
Special Agent, 1935
Summer of '42, 1971
Surf's Up 2: WaveMania, 2017
Sweet Bird of Youth, 1962
The Asphalt Jungle, 1950
The Big Chill, 1983
The Big House, 1930
The Boondock Saints II: All Saints Day, 2009 (HBO) (Director's Cut)
The Break-Up, 2006 (HBO)
The Brothers Solomon, 2007 (HBO)
The Chosen, 1982 (HBO)
The Freshman, 1990 (HBO)
The Heartbreak Kid, 2007 (HBO)
The Incredible Hulk, 2008 (HBO)
The Informant (aka A Besugo), Max Original Season 1 Premiere
The Ladies Man, 2000 (HBO)
The Last Airbender, 2010 (HBO)
The Last Detail, 1973
The Last Dragon, 1985
The Raid: Redemption, 2012 (HBO) (Extended Version)
The Relic, 1997 (HBO)
The Secret In Their Eyes, 2010 (HBO)
The Secret Life Of Walter Mitty, 2013 (HBO)
The Thaw (aka Odwilz), Max Original Season 1 Premiere
The Thirteenth Floor, 1999
The Toy, 1982
The Wackness, 2008 (HBO)
Tootsie, 1982 (HBO)
Under the Cherry Moon, 1986
Universal Soldier: The Return, 1999
Vice Versa, 1988
Welcome To Collinwood, 2002 (HBO)
Who's Harry CRUMB?, 1989 (HBO)
William Shakespeare's Romeo + Juliet, 1996 (HBO)
Winter Meeting, 1948
Wrath Of The Titans, 2012
April 2:
Batwoman, Season 3
Chad
April 4:
The Invisible Pilot, Documentary Series Premiere (HBO)
April 5:
Man of Steel, 2013 (HBO)
Tony Hawk: Until the Wheels Fall Off, Documentary Premiere (HBO)
We're The Millers, 2013 (HBO)
April 7:
Close Enough, Max Original Season 3
Queen Stars, Max Original Season 1 Premiere
Tokyo Vice, Max Original Season 1 Premiere
Trinity of Shadows, Max Original Season 1 Premiere
April 8:
A Black Lady Sketch Show, Season 3 Premiere (HBO)
Crabs In A Barrel, 2022 (HBO)
Mi Casa, 2022 (HBO)
The Night House, 2021 (HBO)
When You Clean A Stranger's Home, 2022 (HBO)
April 12:
Black Mass, 2015
April 14:
The Garcias, Max Original Season 1 Premiere
Gensan Punch, Max Original Premiere
The Great Pottery Throw Down, Max Original Season 5 Premiere
Not So Pretty, Max Original Season 1 Premiere
April 17:
The House, 2017
April 21:
Amsterdam, Max Original Season 1 Premiere
Marlon Wayans Presents: The Headliners, Max Original Special Premiere
The Flight Attendant, Max Original Season 2 Premiere
April 22:
A Tiny Audience, Season 3 Premiere (HBO)
Toy Aficiao, 2021 (HBO)
April 24:
Barry, Season 3 Premiere (HBO)
The Baby Limited Series Premiere (HBO)
April 25:
We Own This City, Limited Series Premiere (HBO)
April 27:
The Survivor, 2022 (HBO)
April 28:
Ana Emilia Show (aka Desafío Influencer con Ana Emilia), Max Original Premiere
DoDo, Max Original Season 1 Premiere
Lamput, Season 1-3
Made for Love, Max Original Season 2 Premiere
Up Close with Ana Emilia, Max Original Special Premiere
The Way Down: God, Greed, And The Cult Of Gwen Shamblin, Max Original Season 1 Part B Premiere
April 29:
Snowpiercer, Season 3
April 30:
The Blair Witch Project, 1999
House of 1,000 Corpses, 2003
The Devil's Rejects, 2005