The Daily Stream: Gentleman Jack Is The Messy Lesbian Period Romance You've Been Waiting For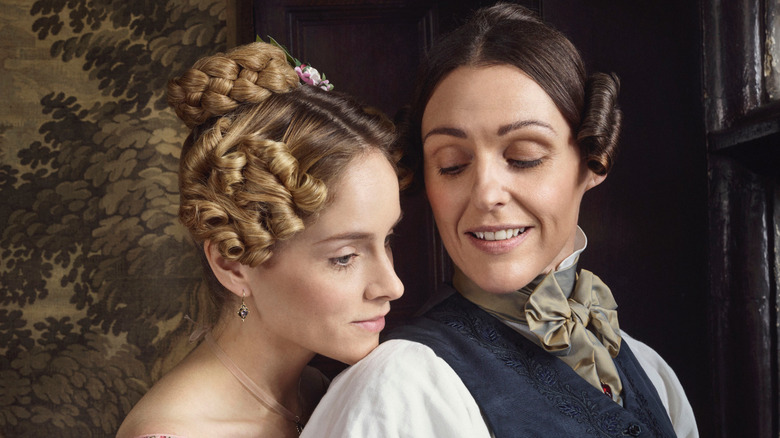 BBC One/HBO Max
(Welcome to The Daily Stream, an ongoing series in which the /Film team shares what they've been watching, why it's worth checking out, and where you can stream it.)
The Series: "Gentleman Jack"
Where You Can Stream It: HBO Max
The Pitch: Often referred to by historians as "The First Modern Lesbian," Anne Lister haled from a land-owning family based in Shibden, West Yorkshire, England, frequently traveled, and was interested in various industrial fields, including mining and landscaping. She also had romantic affairs with multiple other cisgender women starting at a very young age, which she documented in graphic detail via diary entries spanning millions of words and mostly written in a secret code that wasn't translated and made available to the wider public until well over a century after her death. Due to her habit of wearing only black and dressing in what was typically seen as masculine attire (combined with her bold and direct manner), Anne was often the subject of unflattering gossip among the locals in West Yorkshire, earning her the nickname "Gentleman Jack."
When the TV show "Gentleman Jack" begins, it's 1832, and a 41-year-old Anne (Suranne Jones) has returned to stay with her family at their home in Shibden Hall — having only just been left by her former lover, who has married a cisgender man. Seeking to escape her latest heartbreak, Anne busies herself by taking over the collection of her tenants' rent and focusing on mining the coal beneath her property. Along the way, she meets Ann Walker (Sophie Rundle), an unmarried heiress who Anne initially sees as a potential means of improving her income. However, their relationship quickly evolves into something much more intimate and meaningful, even as Ann's overbearing relatives conspire to keep the budding lovers apart.
Why it's essential viewing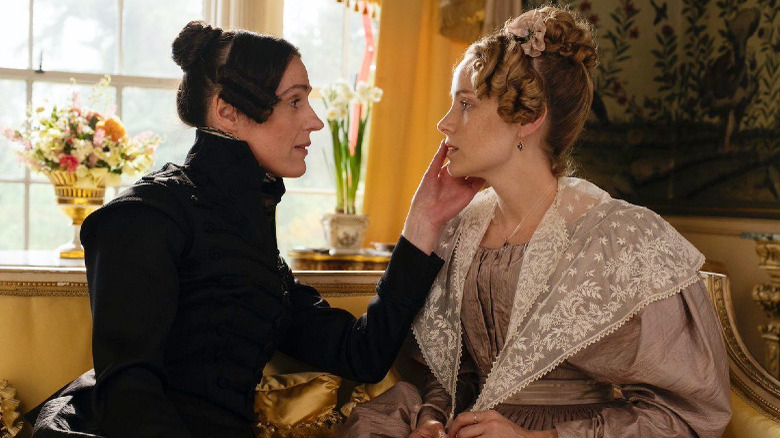 BBC One/HBO Max
As a whole, "Gentleman Jack" creator/writer Sally Wainwright tells Miss Lister's story with the same unbridled confidence and thirst for life that its namesake usually has, whether she's breaking the fourth wall (a plot device that nods to the real Lister's intricately detailed diaries), striding from one house to another as the camera follows her to the tune of Murray Gold's catchy main theme (heads-up, this happens a lot), or plainly speaking her mind to the men (some of whom are respectful to her, others who are not) she has to engage with on a regular basis. Jones similarly exudes charisma in the title role, yet excels just as much in those all-too-rare moments where her queer protagonist is able to let down her defenses and confess that, of course, it took a whole lot of practice to grow comfortable with not only living as honestly as she does but also pretending it doesn't hurt every time someone throws a snide look in her direction — or makes a not-so-subtly threatening comment about her lifestyle and the women she's (discreetly) in bed with.
Much like Anne with an "E" (no, not that one), however, the series doesn't always seem to recognize its hero's flaws, much less its own. Take, for example, the very first episode, which opens with a young boy being tossed out of a horse-drawn carriage in almost cartoonish fashion, then awkwardly cuts to him crying in a barn as the adults around him prepare to amputate his leg. The show then proceeds to present Anne as a 19th-century Girlboss because she's not like a regular landlord; she's a cool landlord who picks up her rent in person and speaks over her sister Marian (Gemma Whelan, AKA Yara Greyjoy from "Game of Thrones," getting to show off her versatility as an actor) when Marian suggests that Anne is rightly angry about not being able to vote on local matters ... but maybe non-landowning, poorer men deserve the right to vote as well. Can you tell the "Gentleman Jack" premiere was written pre-2020?
Anyway, I wanted to get those caveats out of the way because "Gentleman Jack" finds its footing after that by pitting Anne against brothers Jeremiah (Shaun Dooley) and Christopher Rawson (Vincent Franklin): Two wealthy D-bags who've been stealing the coal from her land and, as it turns out, were behind the accident that befell the poor boy from earlier. This is likewise when the show begins to dive deeper into the love affair between Anne and Ann (Rundle, I should mention, is also great), which is genuinely moving and honest about the emotional baggage and mental obstacles the pair will have to overcome to live happily together, on top of all the pressure from Ann's disapproving kin. "Gentleman Jack" is equally responsible in the way it handles a subplot involving trauma from sexual assault and, over time, finds ways of painting Anne's relationship with her servants and lower-class employees in a more complicated light — that is, without re-writing history by pretending that landlords like Anne Lister were actually besties with The Help. (Yes, I'm throwing shade at "Downton Abbey.")
In the end, "Gentleman Jack" season 1 is as messy yet compelling and charismatic as its namesake (I didn't even get to the pig murder story thread; just watch the show and you'll know exactly what I mean). It also left me fully on board for the upcoming second season of my new favorite, problematic, fourth-wall-breaking, lesbian period romance.