TV, Interrupted: Anne With An E's Cancellation Is Tragic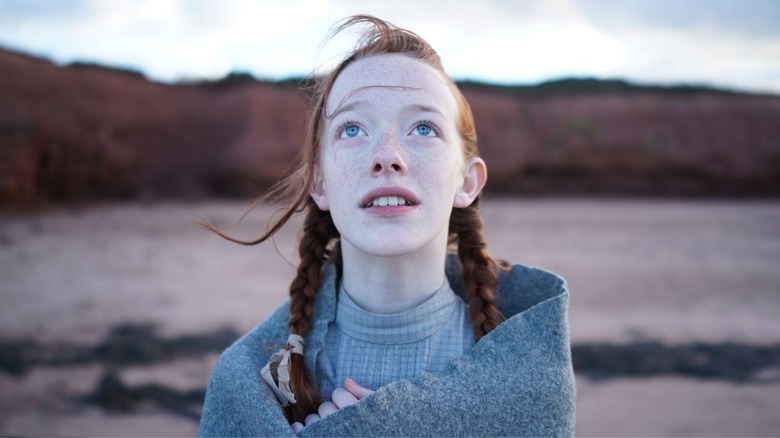 Netflix
(Welcome to TV, Interrupted, a series where the /Film team remembers, eulogizes, and makes a case for the revival of TV shows we loved that were canceled far too soon.)
Do you know what's more painful than watching your favorite Netflix show end? Watching Netflix make cancel culture their whole personality. In the case of lamenting over shows that get axed without warning, "Anne With An E" rises to the top. Since the streamer canceled the CBC series in 2019, there hasn't been a day when Netflix tweeted and didn't get angry responses from the show's beloved fandom, imploring them to reconsider their decision. But angry tweets aren't good enough ... and Netflix doesn't care — not even if you're Ryan Reynolds.
So fans did what they could and created a petition, hoping that if Netflix saw that "Anne With An E" had a prominent fanbase, they might change their mind. And they were right — the series has a significant following despite its niche audience, and over a million people signed the petition ... but guess what? Netflix still doesn't care. The streamer decided to end the series with its third season — despite Anne having unfinished business and plenty of source material to borrow inspiration from.
Why Anne With An E Was Great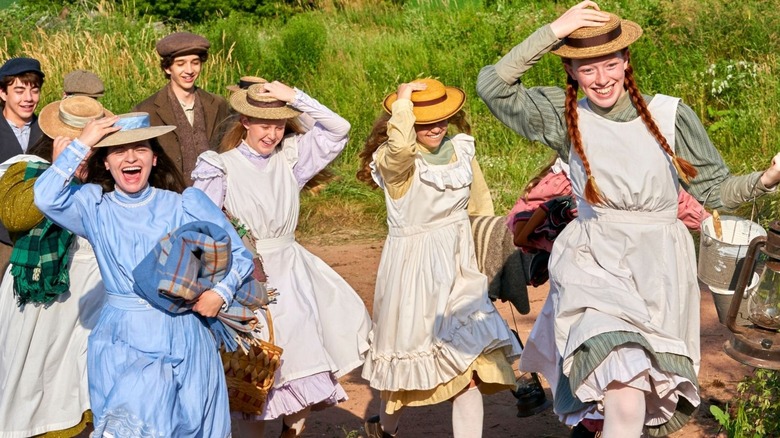 Netflix
Have you ever heard of Anne Shirley-Cuthbert? I think you might like her. I first encountered the imaginative, high-spirited, wide-eyed, fire-haired orphan from the sprawling pages of Lucy Maud Montgomery's "Anne of Green Gables" over a decade before Netflix and the CBC got together to bring her story to life. And they did it well.
"Anne With An E" found its heroine in the impeccable Amybeth McNulty, who embodied Anne's spirit and joie de vivre fearlessness to the T (or should we say E?). She made Anne an infectiously likable character — her smile, laughter, sincerity, and stubbornness against conforming to others' ideas of her resonates with young girls and adult women like me. We spent three seasons with Anne and her adopted parents — siblings Matthew and Marilla Cuthbert (R. H. Thomson and Geraldine James) — her "bosom friend" Diana (Dalila Bela), and her academic rival-turned-friend Gilbert Blythe (Lucas Jade Zumann). 
We watched her make reckless decisions, accidentally color her hair green, refuse to choose between beauty and brain, challenge gender roles, and transform into the confident woman and feminist she was always meant to be. With "Anne With An E," creator Moira Walley-Beckett (who created "Flesh and Bone" and also wrote for "Breaking Bad") drew out themes of gender disparity, racism, prejudice, bullying, and isolation. She reimagined a character (by casting the first Black actor in season 2) to make a case for diversity and inclusion. And she dared to depict the horrors of Canada's Indigenous residential schools.
"Anne With An E" was loosely adapted from the books — if you're accustomed to the relentless optimism of the books, the adaptation can feel somewhat grim. While Anne's traumatic past appears in the novels, creator Walley-Beckett accentuated her abusive upbringing throughout three seasons. It is made clear that Anne's endless imagination and enthusiasm for life are coping mechanisms, a means of keeping disturbing memories away.
Walley-Beckett faithfully extrapolated Anne's story from the text but updated it by allowing minor characters to take center stage and giving them powerful backstories. She emphasized the trauma of Anne's childhood, purposely filming the scenes in close, claustrophobia-inducing settings to convey Anne's despair. But for every scene that explored Anne's devastating past, there was a glimmer of hope for her bright future as she navigated a new life, shunning all pre-conceived notions about her, and in the process, making Avonlea an unimaginable place without her presence.
The characters' vibrancy combined with the pastoral lands and green meadows of Prince Edward Island made "Anne With An E" something of an escapist fantasy for its viewers. its protagonists' hope and perseverance, and her refusal to be limited by her gender is a timeless quality. It'll always be relevant. So, Netflix not allowing Anne to have the time and space to create a foundation, develop, and grow, despite "Anne With An E" being on the brink of creating meaningful conversations, feels like a missed opportunity.
Why Anne With An E Was Canceled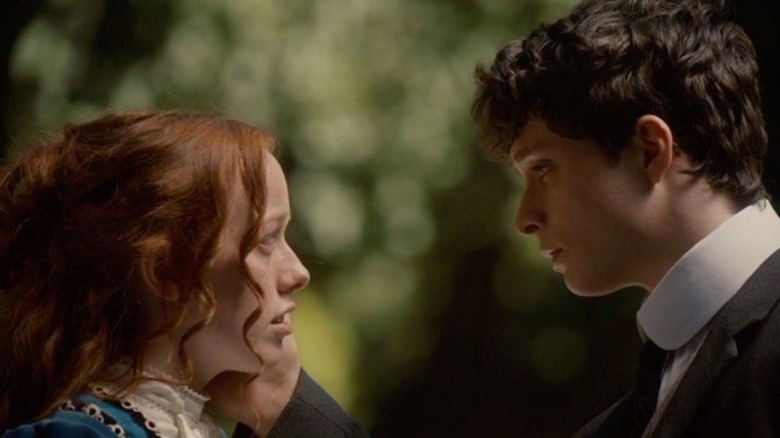 Netflix
Here's what's upsetting fans — not only did Netflix axe the show without warning — they never gave us a reason why. So we'll never know if there was a decline in the viewership or if "Anne With An E" wasn't profitable enough anymore. The streamer's lack of explanation has ensured that fans receive no closure, so they continue living on in the hope that maybe one day, Anne might find a more supportive home.
"Anne With An E" was canceled a few months ahead of the season 3 release, and Netflix and the CBC released a joint statement detailing their decision.
"We've been thrilled to bring the quintessentially Canadian story of Anne with an E to viewers around the world. We're thankful to producers Moira Walley-Beckett and Miranda de Pencier and to the talented cast and crew for their incredible work in sharing Anne's story with a new generation. We hope fans of the show love this final season as much as we do, and that it brings a satisfying conclusion to Anne's journey."
Series creator Moira Walley-Beckett revealed that they'd "fought" hard to continue Anne's story — for a new home and a conclusive movie. And producer Miranda de Pencier concurred that there was "no way" to revive "Anne With An E" and asked fans to hold onto the joy the show brought them when it was released.
"Please know that we fought, too. We tried to change their minds. We tried to find a new home. We tried for a finale movie...We tried our best ... Either way, we tried Art and Commerce is never an easy marriage. I often find it inexplicable. This is one of those times. But it's impossible to argue with words like Economics, Algorithms, Demographics, etc., etc. But those words and others like them are the reason why the Networks don't want to continue. And we didn't find a taker anywhere else. I know you're upset and disappointed, sad and angry — I completely understand — because our beloved Anne has been snatched away. If there was something more to do I would do it. So now you know what I know. I guess this is a tragical romance after all. But then again love is love is love is love is love. And love is not lost when it is nurtured. We will always love our Anne with an E. We will always love Green Gables with our whole hearts and everything it stands for. They can't take that away from us." — Moira Walley-Beckett's statement via Instagram.
In her statement, producer Miranda de Pencier wrote "...there is just no way to revive ANNE WITH AN E anywhere at this point. It will not happen. So now we need to love all that exists of it and hold onto the joy and hope and wonder the show brought to all of us who worked on it, and all of you who watched it."
Unfinished Business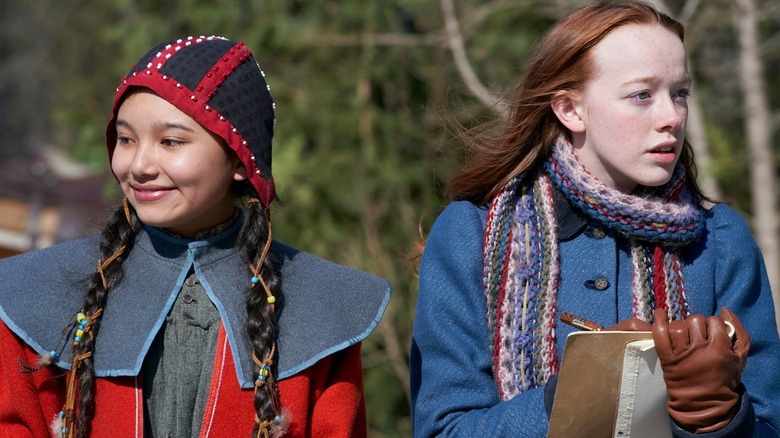 Netflix
To be entirely fair, "Anne With An E" ended its protagonist's story on a satisfying note for a final season. After two seasons of exchanging affectionate glances and an entire episode of missing each other's love letters and assuming the other was averse to their feelings, Anne and Gilbert reunited, kissed, and promised to write to each other while they're both at university. Thanks to Matthew and Marilla, Anne finally learned about her biological parents and discovered she inherited her mother's red hair. Her story is packed into a present and wrapped with a neat bow — while the stories of other characters remain unfinished.
In season 3, "Anne With An E" focused on a rather dark part of Canadian history, the Indian residential schools. These institutions were established to intentionally remove Indigenous children from their families' cultural and educational influences, causing them to undergo harrowing experiences. We med Ka'kwet, a Native American girl of Anne's age, whom she befriended and visited from time to time. Portrayed by Kiawentiio Tarbell, a Mohawk actor from Akwesasne, Ka'kwet was seen attending the residential school. Her long braids were cut off there, and she was stripped of her name and language and emotionally and physically abused. Although she managed a dangerous escape and briefly reunited with her family, she was abducted and brought back to the school, and her parents were forced to watch.
The cancellation of "Anne With An E" takes away the show's opportunity to dive deeper into Ka'kwet's storyline, one that could perhaps have been about Indigenous resilience. The introduction of the Mi'kmaq people proved that institutional racism in Prince Edward Island had always existed, but leaving Ka'kwet's story on a cliffhanger is rather disappointing. Could the show's inability to further explore her story have been a metaphor for how white Canadians dealt with Indigenous suffering in their country? Yes. But could a new season give Ka'kwet a voice instead of silencing her torture? Also yes.
Moreover, the show could venture into Anne's dream of becoming a teacher, her experiences at Queen's College, and her blossoming friendships. There's plenty of inspiration in Lucy Maud Montgomery's series of novels — Netflix just had to look.
Will Anne With An E Ever Return?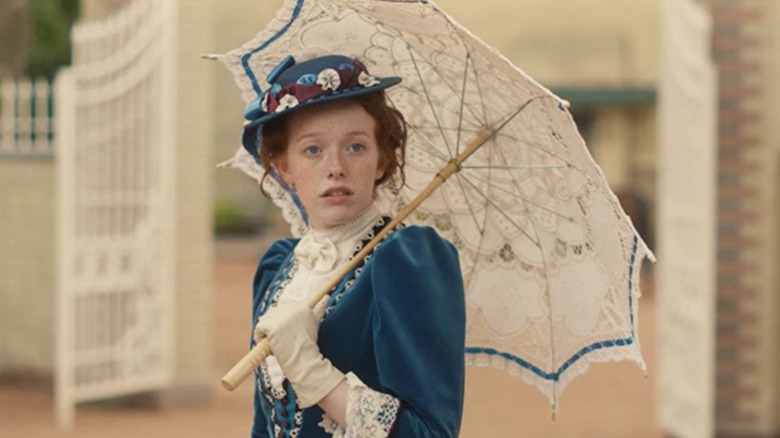 Netflix
Listen, "Anne With An E" fans are resilient. They're not going to stop campaigning for season 4, no matter how definitive Netflix's decision is. They've made petitions. They've purchased billboards in Toronto's Yonge-Dundas Square and New York City's Time Square. The #RenewAnneWithAnE hashtag has been used over a million times. If I'm not kidding myself, I'd say this is "Zack Snyder's Justice League" level manifestation — the fans are rallying behind a project they love and hoping to will it into existence. But are these efforts making any difference?
The massive community behind "Anne With An E" introduces the series to newer viewers, but it isn't convincing Netflix to rethink their choice. Although the streamer never gave fans a reason why the show was being canceled, the disintegration of the partnership between the CBC and Netflix, who produced the show together, is speculated to be the reason.
Shortly after "Anne With An E" season 3 was greenlit, the president and CEO of the CBC, Catherine Tait, declared that the network would no longer partner with the streaming giant. She also suggested their collaboration was a deal that "hurt the long-term viability of our domestic industry," as documented on the podcast "Content Canada", according to a report published by the Financial Post.
At the time, Tait's comments made fans wonder about the show's future, but looking back, they appear to stem from the CBC's disapproval of Netflix cancelling shows as a means of regular operation. So no, my dear "Anne With An E" fans, it doesn't seem like the show will ever see the light of day again. Anne's story on the small-screen might have come to an end, but her spirit lingers on in the pages of Lucy Maud Montgomery's books. For now, let's take comfort in the fact that we can revisit "Anne With An E" on Netflix forever. How's that for a tragical romance?