'Anne' Trailer: Netflix Series Goes Back To Green Gables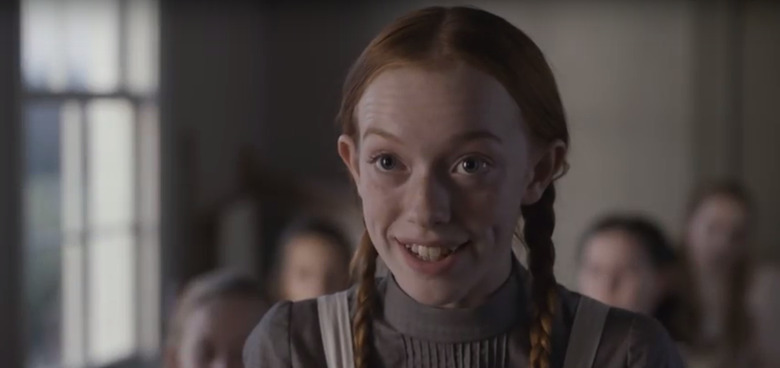 Anne of Green Gables was a literary staple of many a girl's childhood (including mine) and received the pitch-perfect adaptation in the form of the 1985 Canadian two-part miniseries starring Megan Follows as Anne With An "E" Shirley. So it's hard to imagine that Anne, the Netflix series adaptation of Lucy Maud Montgomery's novel, will live up to that legacy.
But with the new Anne, played by wide-eyed newcomer Amybeth McNulty, spunkily declaring, "Girls can do anything a boy can do – and more!" in the recently released trailer, it's clear that the Netflix re-imagining will bring the beloved Canadian orphan into the modern age. Hit the jump to watch the Netflix Anne trailer.
Netflix Anne Trailer
Set on Prince Edward Island in late 1890s Canada, Anne follows orphan Anne Shirley, as she gets accidentally adopted by aging siblings Matthew and Marilla Cuthbert (R. H. Thomson and Geraldine James, respectively). The two had sought to adopt a boy to help with the farm work at their home Green Gables, in the charming town of Avonlea, but are enchanted by the verbose and melodramatic Anne and decide to keep her. Despite being initially viewed as an outsider by the townspeople and her classmates, Avonlea slowly accepts and is transformed by the over-imaginative Anne, whose vivacious nature and mischievous hijinks keeps the small town on their toes.
The Netflix series seems to delve more into the darker side of Anne of Green Gables, upping Anne's ostracization in the small town, and dealing with issues of bullying, identity and feminism.
We do see glimpses of Anne's future friendship with Diana (Dalila Bela), her "bosom friend" through which Montgomery explored the depths of female friendship in the novel (and sparked theories that Anne was actually one of the first lesbian protagonists in a children's novel), and the infamous Gilbert Blythe (Lucas Jade Zumann), who — unsucessfully at first — vies for Anne's affection. Perhaps no Gilbert will live up to the dreamy Jonathan Crombie (who sadly passed away at the age of 48 in 2015), but Zumann seems to be trying his brooding best.
And what of Anne herself? McNulty — who has the biggest eyes I've ever seen — seems to be playing her with a quivering waifishness, though sparks of her brassy and stubborn self show when Anne declares herself to be as good as the boys, or chides Gilbert for being ridiculous. Follows was the defining Anne for nearly a quarter century, and played the beloved character with such a fierceness that it may be hard for McNulty to live up to it. But I'm open to being pleasantly surprised as long as I get to return to Green Gables one more time.
Since I've been eulogizing so much over the 1985 miniseries, watch a trailer to get a glimpse of the nostalgic masterpiece, which covered Anne's life from her childhood to adulthood.
Showrunner Moira Walley-Beckett (Breaking Bad, Flesh and Bone) and Miranda de Pencier (Thanks For Sharing, Beginners) are executive producers while Susan Murdoch produces. Anne is a Northwood Entertainment production for CBC and Netflix.
The eight-episode series begins streaming May 12 on Netflix.