Brittany Snow Credits Her X Performance To The Internet's Favorite Country Star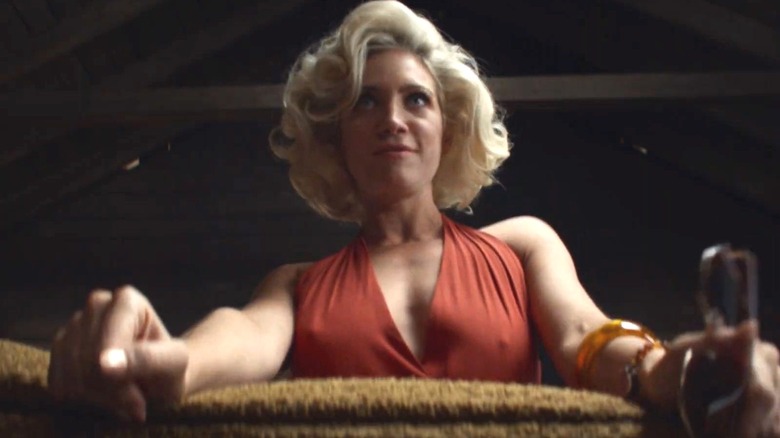 A24
The queen of country music is getting a lot of unexpected recognition lately. First, Dolly Parton showed up on the ballot for induction into the Rock & Roll Hall of Fame, a race she attempted to humbly bow out of. Now, she's crossing genres even more as the unexpected influence behind one of the best horror movie performances of the year so far.
In an interview with The AV Club, actress Brittany Snow cited Parton as an inspiration for her performance as Bobby-Lynne in Ti West's new film "X." Bobby-Lynne is a firecracker, a confident, Marilyn Monroe-styled Southern woman who teams up with porn producer Wayne (Martin Henderson) and her sometimes-boyfriend Jackson (Scott Mescudi) to make a low-budget adult film in rural Texas. She's a great character: bold but never mean, unapologetic about her beauty and desires, and able to maintain a perfectly coiffed hairdo even as their film shoot turns into an unexpected gore-fest.
Never underestimate the 'blonde bombshell'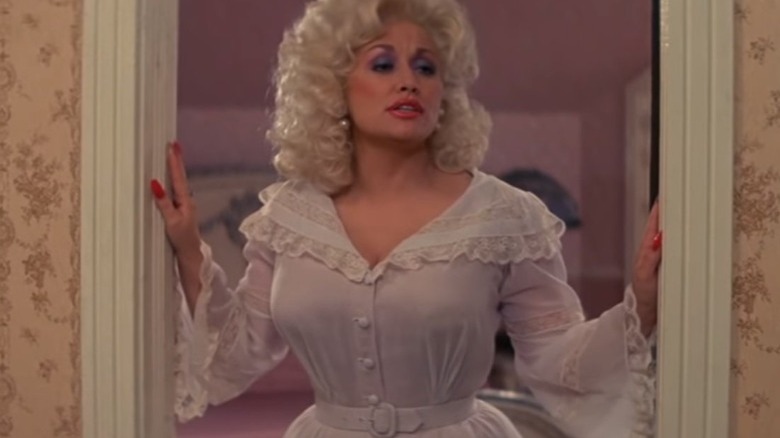 Universal Pictures
She's also, apparently, inspired in part by Dolly Parton. When asked about any real-life influences for her character, Snow says she and writer-director West spoke at length about Parton's unique charm and intellect when making the film. Here are some of her thoughts on the rhinestone cowgirl:
"She's smart enough to know how to read a room and utilize her intelligence and her body for her benefit. And she also knew that she was smarter than what people thought she was, and her superpower in a way was that people were going to underestimate her and she was going to overdeliver."
The actress goes on to say that as a fellow "blonde bombshell type," Bobby-Lynne could be easily pigeonholed, but that she maintains control over her own narrative just like Parton has across her enduring career. While Parton's singing career and Bobby-Lynne's acting career have some major differences, it's easy to see what she means. The character is the type of stylish, sexual woman that horror films of decades past have loved to misunderstand and punish, as if her confidence and overt femininity are transgressions that can only be remedied by violence.
"X," though, comments on the sometimes-contradictory relationship horror and porn both have with women without ever giving into either genre's more reductive impulses. Bobby-Lynne's time on the Texas farmland the film crew ends up at isn't a cakewalk, but the film doesn't link her pursuit by its slasher villain to any particular trait. Instead, the film's villain targets youthful sexuality as a whole, cutting down the members of the film crew as nearly identical symbols of flaunted vitality.
If you're still on the fence about whether or not the Parton comparison is a compliment (it is!), look no further than West's comments during a recent interview with /Film. He explained that he intended for the entire ensemble to be "charming" and "endearing," so that when the blood started flowing, viewers would be truly shocked. "Slasher movies often have uninteresting, unlikable characters who are just there for you to see their demise," West said, "and I wanted to put together an ensemble of people that you felt like were really friends and that you liked." And who's a better friend than country music queen Dolly Parton?
"X" is in theaters now.