Here's When You Can Watch Uncharted At Home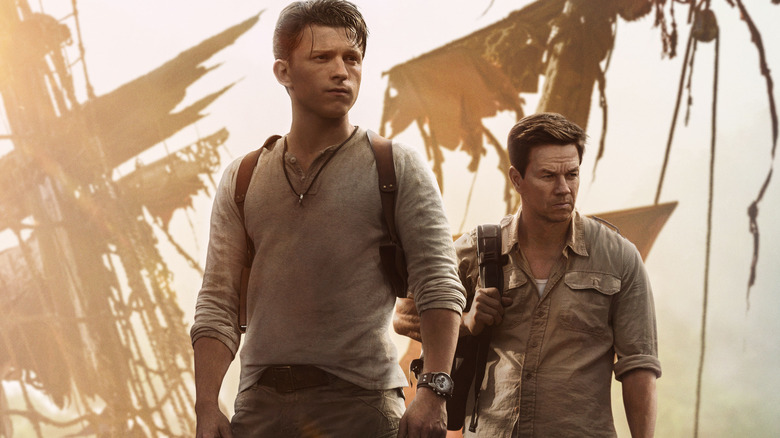 Sony Pictures
"Uncharted," the latest live-action hopeful to (attempt to) break the dreaded "video game movie curse," landed in theaters only a few months ago, but even that isn't stopping the film from becoming available to watch at home in the weeks ahead. Released on February 18, 2022, in the United States to a rather tepid critical response, the long-awaited video game adaptation perhaps didn't make quite the splash as fans may have anticipated after so many years. Famously, attempts to get "Uncharted" off the ground and onto the big screen date back to when hamburger salesman/co-star Mark Wahlberg was originally attached to the role of protagonist Nathan Drake, not his older (and mustachioed) mentor figure Victor "Sully" Sullivan. Almost a decade and a half later, however, that's exactly the role that Wahlberg ended up in, while the "Spider-Man" star Tom Holland took up the mantle of a younger version of adventurer and explorer extraordinaire, Nathan Drake.
So how well did the character's first official live-action movie fare? Well, /Film's Hoai-Tran Bui reviewed the film here, succinctly summarizing the disappointing blockbuster as:
"Uncharted" shambles along like a reanimated husk of better action-adventure movies before it, filled not with a soul but with jokes and funnies to make up for the fact that we've seen all this before. Like the "Tomb Raider" movies before it, and like every treasure-hunting action flick this side of "Indiana Jones," "Uncharted" is pretty par-for-the-course for an action-adventure film.
Even though the box office performance remained strong (by pandemic standards, natch) and even led to grand pronouncements by Sony Pictures CEO Tom Rothman about becoming "a new hit movie franchise," fans and viewers, in general, will make the final decision as far as that's concerned. Many who were looking forward to the film weren't necessarily able to head out and watch the theater-exclusive blockbuster, whether because of COVID concerns or other factors. In that light, the streaming/rental/home video release of "Uncharted" is likely to play a major factor in whether we do, in fact, see this nascent franchise spawn sequels in the years ahead. Luckily, we now have a firm date for the digital release of the Tom Holland and Mark Wahlberg-starring film. Whether you're watching the big-budget movie for the very first time or are revisiting it once again, viewers can expect to watch "Uncharted" from the comfort of their own homes very soon. Check out all the details below.
Uncharted comes to digital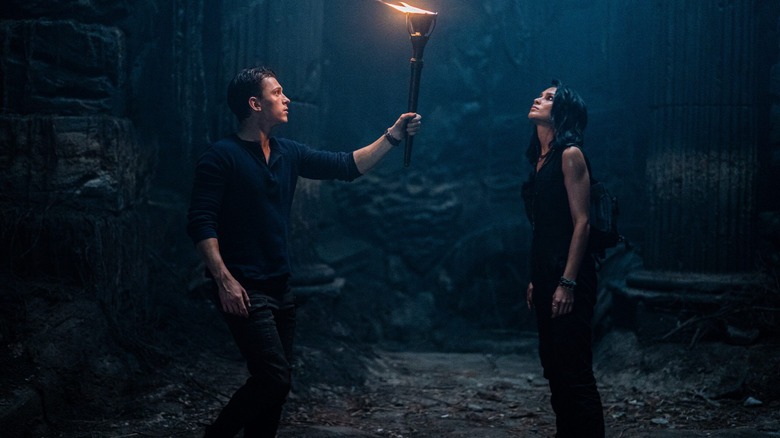 Sony Pictures
Mark it down on your calendars, folks. April 26, 2022, is the date when audiences at home will be able to watch "Uncharted" on digital. Prospective viewers will be able to rent or purchase the film through Amazon Prime Video, iTunes, and all the other usual suspects. For those who prefer physical media, the film will hit 4K Ultra-HD, Blu-ray, and DVD on May 10, 2022.
"Uncharted" stars Tom Holland as the popular video game character Nathan Drake, Mark Wahlberg as his long-suffering mentor Sully, Sophia Ali as ally Chloe Frazer, Antonio Banderas as the villainous Santiago Moncada, Steven Waddington as a heavily Scottish-accented adversary, Tati Gabrielle as mercenary Jo Braddock, and more. The film borrows loosely from several different aspects of various games in the "Uncharted" franchise, serving as an origin story for the young adventurer on a quest that transforms from a simple heist to a globe-spanning race against time to recover the long-lost treasure of Ferdinand Magellan.
Street-smart Nathan Drake (Tom Holland) is recruited by seasoned treasure hunter Victor "Sully" Sullivan (Mark Wahlberg) to recover a fortune amassed by Ferdinand Magellan and lost 500 years ago by the House of Moncada. What starts as a heist job for the duo becomes a globe-trotting, white-knuckle race to reach the prize before the ruthless Santiago Moncada (Antonio Banderas), who believes he and his family are the rightful heirs. If Nate and Sully can decipher the clues and solve one of the world's oldest mysteries, they stand to find $5 billion in treasure and perhaps even Nate's long-lost brother...but only if they can learn to work together.