Ron Howard Nearly Directed Inside Man Instead Of Spike Lee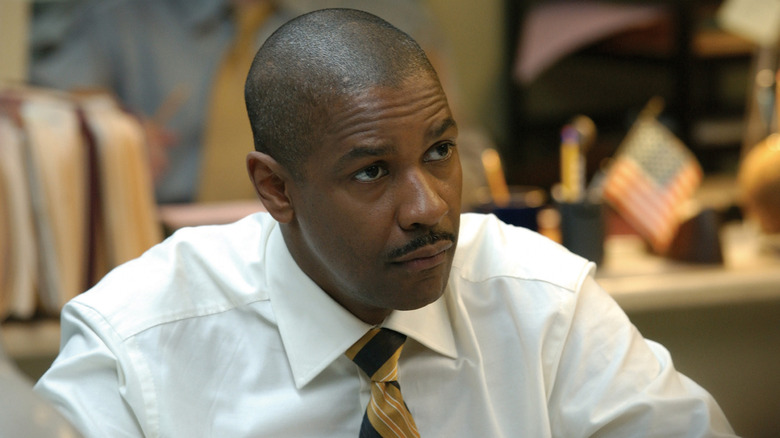 Universal Pictures
Ron Howard is a curious director. For all the Oscar love he got for films like "A Beautiful Mind," "Cinderella Man," and "Frost/Nixon," I don't see them as his best work. His sci-fi and fantasy movies ("Splash," "Cocoon," "Willow," "Solo: A Star Wars Story") tend to resonate with me far more than most of his awards-friendly true-story dramas, save for "Apollo 13" and "Rush." Even then, "Apollo 13" really hits its stride when it evolves into a thriller about NASA's capable technicians scrambling to deal with the fallout of the infamous failed lunar mission. Similarly, "Rush" is at its most engaging when it's focusing on skilled Formula One racers making split-second choices in high-pressure situations. (For what it's worth, "Rush" was also totally shut-out by the Academy.)
I bring this up as a pretext for talking about Howard's near-involvement with "Inside Man." Released in 2006, the Spike Lee-helmed crime flick centers on the various players in an intricate New York City bank heist. Denzel Washington, Clive Owen, Chiwetel Ejiofor, Jodie Foster, and Christopher Plummer star in the slick pot-boiler, which is all about people who are highly competent at their jobs (be it hostage negotiation or robbing banks) matching wits in a game with potential life-or-death stakes. That also makes it the kind of adult thriller that lies firmly in Howard's wheelhouse, when you look at it that way.
Enter Russell Crowe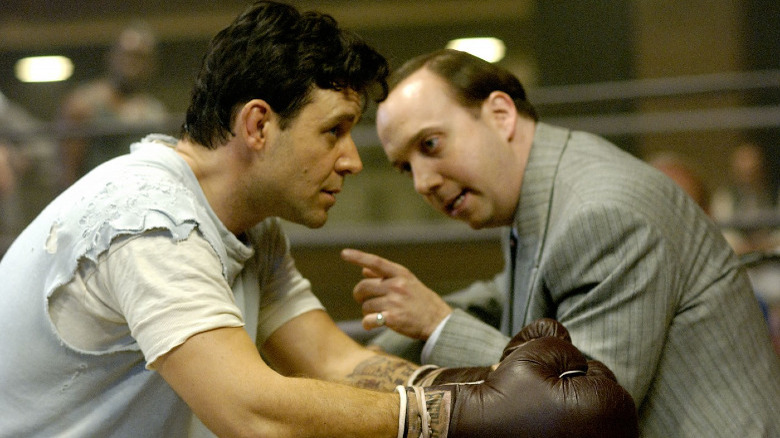 Universal Pictures
Why, then, did Howard ultimately pass on "Inside Man?" It was actually Lee who answered that question during an interview with Total Film (via GamesRadar+) in 2006:
"[Producer] Brian Grazer had this script by first time screenwriter Russell Gerwitz, and Ron Howard was going to direct it. Then Russell Crowe came to Ron Howard and said, 'Let's do this film Cinderella Man instead,' so Ron Howard left 'Inside Man.' Other directors came in, rewrote the script and messed it up, and someone slipped me a copy. I had a meeting with Brian about another project, and before I got up to leave the meeting, I said, 'By the way, I've read the script for Inside Man, I'd like to direct it.' He didn't even know I was aware of the script, so that's how the project came to be."
Lee would absolutely go on to make "Inside Man" his own. It has all the same qualities as other classic Spike Lee joints: The nods to touchstone U.S. genre films (Sidney Lumet's "Dog Day Afternoon" and "Serpico" being among the most obvious influences); Lee's signature double dolly shot and similarly virtuoso stylistic flourishes; his trusty "Mo' Better Blues," "Malcolm X," and "He Got Game" star Denzel Washington playing the lead; NYC being as colorful a character as any of the civilians taken hostage during the movie's bank robbery. For the many ways I can envision Howard doing a fine job with "Inside Man," there are few directors with cinematic voices as distinct as Lee's, and the film is better off for it.
I can also see why Howard chose to reunite with Crowe on the heels of their Oscar-winning "A Beautiful Mind." Yet, I feel that Howard's habit of gravitating to Oscar Bait like "Cinderella Man" hasn't always been to his benefit as an artist. At worst, it's led to him directing flat-out bad dramas like "Hillbilly Elegy." But even at best, it's typically resulted in him making sturdy yet (again, speaking just for me) not-all-that-memorable biopics. It's why I'm both intrigued and worried about his incoming Tham Luang cave rescue movie "Thirteen Lives" — a survival-thriller that could just as easily prove to be a riveting piece of "competency porn" in the vein of "Apollo 13" as it could come off feeling like a calculated bid to win some awards.