DMZ Featurettes Take You Behind The Scenes Of Rosario Dawson's HBO Max Series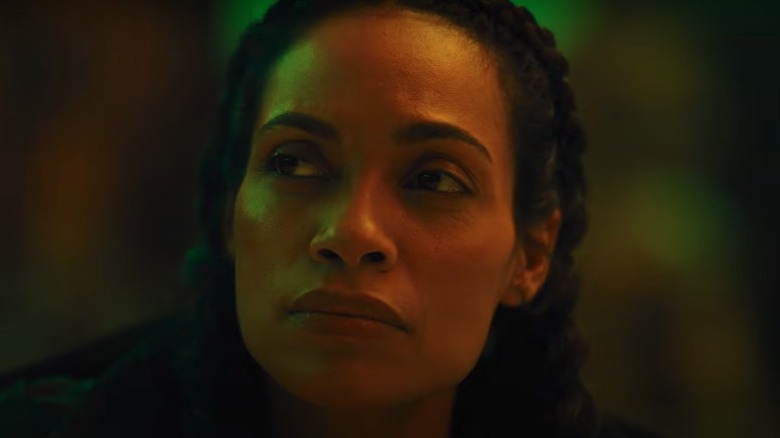 HBO
HBO has put out two new featurettes about "DMZ," starring Rosario Dawson and Benjamin Bratt. The miniseries premieres today on HBO Max and is based on the DC Comics title from its Vertigo imprint about the story of a fictional 21st-century civil war in the United States. I feel like I had to put in the word "fictional" here because there are so many indications that this might not continue to be fiction. I mean, I hope I'm wrong. Either way, despite the fact that this hits pretty close to home, it's fascinating and I can't wait to watch!
The civil war has split the U.S. into one side which is controlled by the military and the other side which is controlled by the Free States of America. The demilitarized zone, or DMZ, is the island of Manhattan. As someone who lived there for seven years and grew up on Long Island, some of the images of NYC are extremely jarring. 
Forget your standard horror movies and series — this is horror for me! 
Who's who in DMZ
In the first video, the cast gives us a look at their characters, with some really spectacular images of what's happened to Manhattan. Rosario Dawson (who I love in everything) plays the role of Alma, a mom who will stop at nothing to get her kid back out of the DMZ. Benjamin Bratt plays Parco Delgado, one of the big power players in the DMZ. Hoon Lee plays Wilson Lin, protector of Chinatown. The two of them are going up against each other to run things in this free for all. Freddy Miyares is Skel, someone you definitely don't want to cross. 
Not only are we getting some great actors here, but Ava DuVernay directed the pilot, with Ernest R. Dickerson helming the rest of the episodes. The showrunner for the miniseries is Roberto Patino, who also worked on "Westworld" and "Sons of Anarchy." Our own Jacob Hall chatted with Patino about how this story is set in the world of the comic from 2005 and not just a rehash of the original story. 
'You don't have to have read the graphic novel to enter into the DMZ'
The second featurette gives us a look at the world we're stepping into in "DMZ," which DuVernay tells us doesn't require you to have read the graphic novel. Dickerson talks about how living in NYC gave him a unique perspective on places he was changing. It's a very different NYC from the one we're familiar with, but what stays the same is powerful. Duvernay mentions that one of the things we'll see is how places that were inaccessible before are now open, with a shot of paintings from a museum, like a Van Gogh, as decoration in someone's home. I'm not sure why that got me more than anything else, but it does. 
Money is still a thing, but electricity or a working light bulb and running water mean more. 
"DMZ" is currently streaming on HBO Max.