Charlie Cox Hints At What Could Happen In A Potential Daredevil Season 4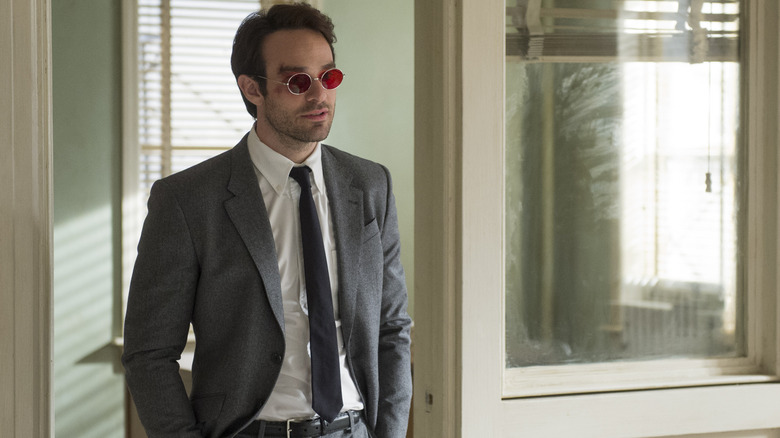 Marvel Studios
Marvel Studios hasn't revealed its plans for Charlie Cox's Daredevil beyond his very welcome cameo in last year's "Spider-Man: No Way Home." That being said, it seems highly likely that we haven't seen the last of the Man Without Fear in the Marvel Cinematic Universe. Now, Cox has weighed in on the topic, expressing some thoughts on what could happen (emphasis on could) should "Daredevil" season 4, or something of the like, come to pass.
The former Marvel Netflix shows recently made the jump to Disney+. This has only fueled speculation/hope that Cox and the gang will return for another season. Speaking at the 2022 Middle East Film and Comic-Con, Cox touched on the topic and explained that he doesn't feel it would make sense to pick up directly in the aftermath of "Daredevil" season 3:
"I don't think it makes sense to pick up where we left off ... In keeping with a lot of things in the MCU now, where there's this alternate reality thing going on, what they've done with Spider-Man, and the animation Spider-Verse, it's a good time to have this."
No doubt, Marvel is going all-in on the multiverse and that could pave the way for a revival of the series, albeit one that doesn't necessarily have to be anchored to the entirety of the Netflix-verse. Speaking further, Cox said something very intriguing to longtime fans of the character:
"A few years have passed. It's Daredevil but it's re-imagined, it's slightly different. Do you know what I texted my friends when I found out this was all happening? 'Born again'."
The significance of Born Again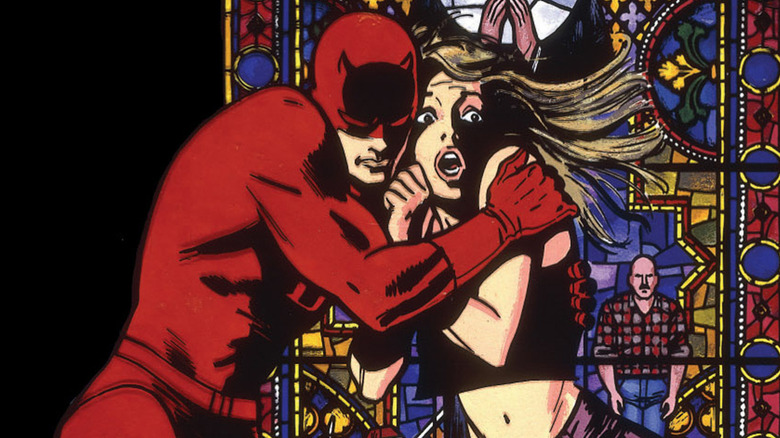 Marvel Comics
Those two, simple words are more than enough to bring a sense of excitement to those familiar with the source material in the pages of Marvel Comics. Written by the legendary Frank Miller, "Born Again" is considered to be the definitive "Daredevil" storyline. Miller and artist David Mazzucchelli brought the tale to life in 1986, originally published as "Daredevil" #227 through #231, with collected editions to follow later. A brief logline for the book reads as follows:
Karen Page, Matt Murdock's former lover, has traded away the Man Without Fear's secret identity for a drug fix. Now, Daredevil must find strength as the Kingpin of Crime wastes no time taking him down as low as a human can get.
The story is exceedingly dark, with Karen Page (played by Deborah Ann Woll in the show) a down-on-her-luck wannabe actress and drug addict, which Kingpin exploits to break down his arch-nemesis in slow, painful fashion. The pieces are certainly in play here, with Vincent D'Onofrio's Wilson Fisk appearing in "Hawkeye" last year. And yeah, we're betting he's still alive.
Now, Cox can hope all he wants about a "Born Again" adaptation, but this is all up to Kevin Feige and the brass at Marvel Studios. It's a matter of whether or not this fits into the studio's long-term plans, not just for this franchise, but the MCU overall. But this would be one heck of a way to properly welcome Matt Murdock back.
"Daredevil" is now streaming on Disney+.