Star Trek: Strange New Worlds: Get Your First Look At Paul Wesley As James T. Kirk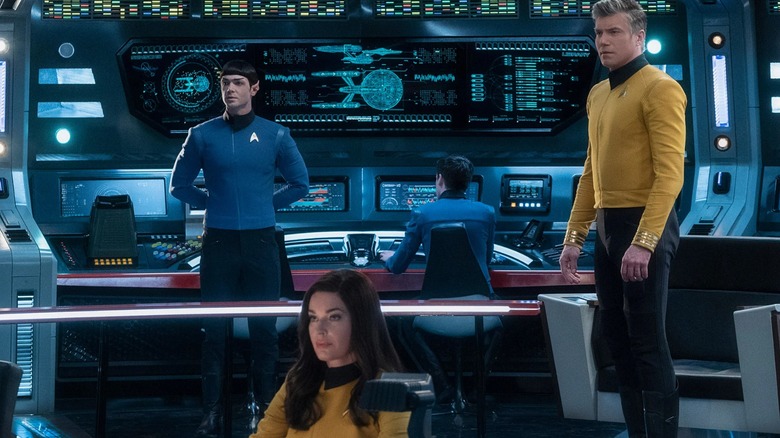 Paramount+
Well, "Star Trek" fans, it's time to brace ourselves for that excited-nervous feeling of meeting a new Captain Kirk yet again. Paramount has officially announced (via Collider) that "The Vampire Diaries" star Paul Wesley will be on board the U.S.S. Enterprise, taking over the role made famous by William Shatner in the new series "Star Trek: Strange New Worlds."
If that's not enough, Paramount also released an official first look photo of Wesley as Kirk, and I've got to say, it cuts an impressive figure. The character, who is reportedly not set to arrive until season 2 of the streaming series, sits in a chair aboard a spacecraft donning the iconic yellow-shirted uniform we know so well. Wesley wears an inquisitive expression that's neither as serious (or playful) as Chris Pine's Kirk could be, nor as campy as Shatner's, making it difficult to tell where his take on Kirk will land. Honestly, that makes this all the more intriguing.
Two Enterprise captains
It's worth noting that "Star Trek: Strange New Worlds" isn't actually billed as a show about Kirk, at least not at the start; rather, the series begins with Captain Christopher Pike (Anson Mount) at the helm of the Enterprise. Here's the synopsis for the series, which is set to debut its first season on Paramount+ on May 5, 2022:
"Star Trek: Strange New Worlds" is based on the years Captain Christopher Pike manned the helm of the U.S.S. Enterprise. The series will feature fan favorites from season two of "Star Trek: Discovery": Anson Mount as Captain Christopher Pike, Rebecca Romijn as Number One and Ethan Peck as Science Officer Spock. The series will follow Captain Pike, Science Officer Spock and Number One in the years before Captain Kirk boarded the U.S.S. Enterprise, as they explore new worlds around the galaxy.
It's inevitable that the show will eventually bump up against the timeline of "Star Trek: The Original Series," as the crew that was first introduced in an episode of "Star Trek: Discovery" already included Kirk's other half, Officer Spock (Peck). It's interesting that Paramount chose to share what could have been a season finale reveal ahead of the show's season 1 air date, but the company seems to know what they're doing. Paramount clearly has major plans for the franchise, as they renewed several "Trek" shows in January and even plan to move forward with a fourth film following the timeline established by J.J. Abrams' 2009 reboot.
"Star Trek: Strange New Worlds" will premiere its 10-episode first season on May 5, 2022, on Paramount+.