Everything We Know About Star Trek: Strange New Worlds So Far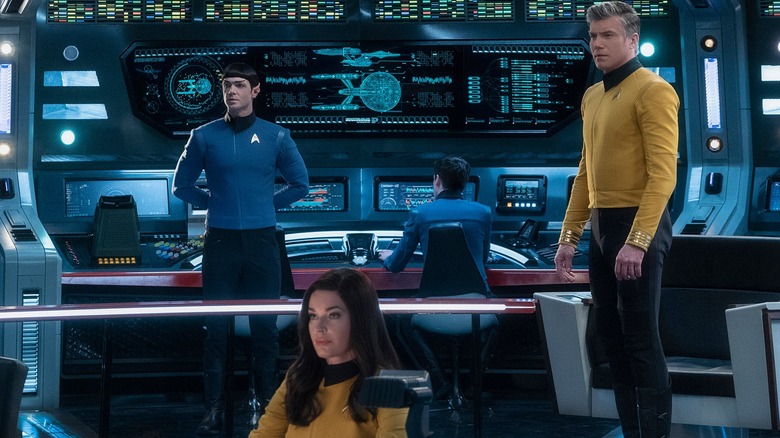 CBS Studios
Set phasers to hype and increase speed to maximum warp, because "Star Trek: Strange New Worlds" is getting closer and closer to premiering with each passing day and we couldn't be more excited to see it. Through its ups and downs, "Star Trek: Discovery" has successfully accomplished its mission of introducing fans to a whole new crew to fall in love with as we follow along on their journeys through space (and, in its most recent seasons, time).
What CBS and Paramount may not have anticipated, however, was just how quickly and vocally fans took to the supporting appearances of Anson Mount's Captain Christopher Pike, Ethan Peck's younger version of Spock (and adopted sibling of "Discovery" main character Michael Burnham), and Rebecca Rebecca Romijn's Number One in season 3. The love and support for the trio of actors embodying such "Trek" royalty has ultimately led to a spin-off show of their very own that is shaping up to be even more inclusive, proving that sometimes fandom can actually be a force for good.
When and Where to Watch Star Trek: Strange New Worlds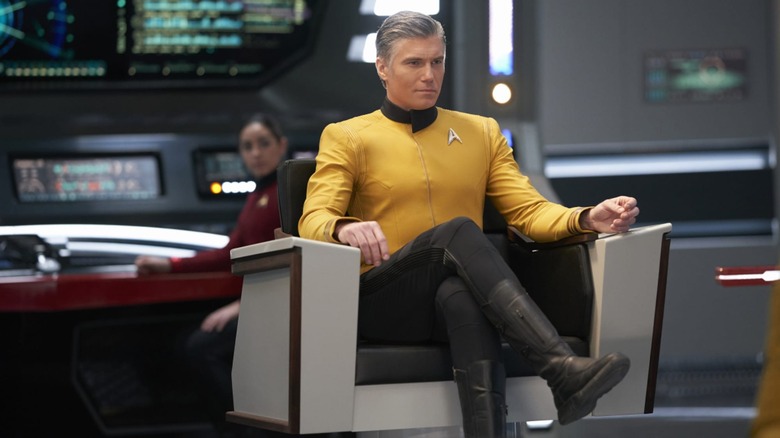 CBS Studios
As part of CBS and Paramount's focus on strengthening the "Trek" brand in this age of franchises and IP, "Strange New Worlds" is set to follow in the footsteps of recent new shows and release through the Paramount+ streaming service. Though no specific release date has been set to this point, we do know that production has officially wrapped on the first of (hopefully) many seasons. Anson Mount assured fans that we're in for a trailer ahead of the series premiere, which is scheduled for sometime in 2022. With anticipation high and the fourth season of "Discovery" set to arrive later this month, it's likely that CBS will carve out space to unveil "Strange New Worlds" in the second quarter or so of next year.
What We Think Star Trek: Strange New Worlds Will Be About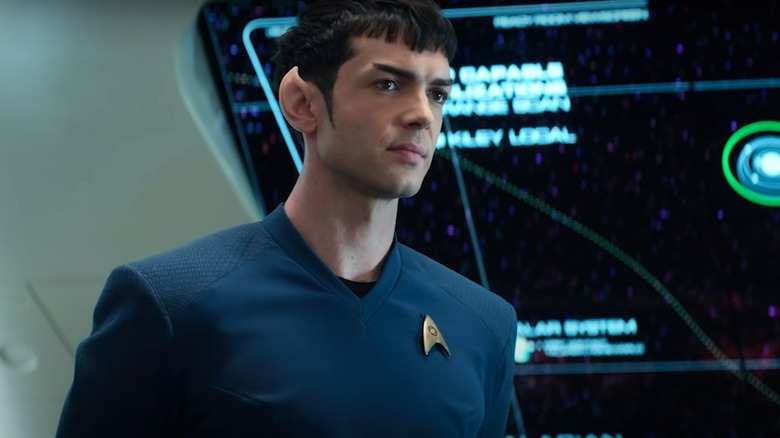 CBS Studios
"Strange New Worlds" promises to be something of a modernized throwback (if that makes sense) to the spirit of adventure first established through "The Original Series" back in the 1960s. The series has already been hinted to be more episodic than modern "Trek" has had a habit of adhering to, with creator Akiva Goldsman stating that:
"There's a great thing that episodic television does, and 'Star Trek' did it greater than most, which is to teach while, as my late wife would have said, sugaring the pill, not letting the audience know that what we're doing is telling a story with a moral. 'Star Trek' came, not incidentally, in the late '60s, at a time where we could really have used a lens on our behavior, our society, our hopes for the future and the present we were living in. It's not particularly different today, sadly."
Taking place before the events of "The Original Series" but after season 3 of "Discovery," "Strange New Worlds" has an intriguing window in the canon to chart its own course entirely and create all sorts of new adventures that doesn't necessarily need to have universe-spanning ramifications. Giving us new layers to this crew of both familiar and new faces could be just the change of pace that the franchise needs to remain fresh and relevant.
What We Know About the Star Trek: Strange New Worlds Cast and Crew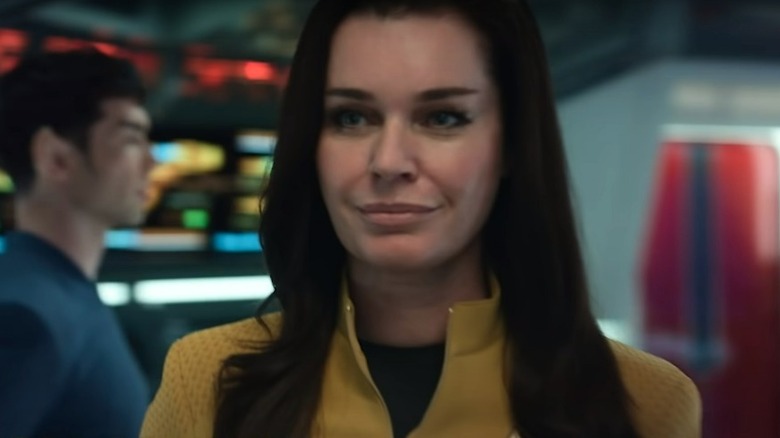 CBS Studios
As mentioned, the biggest draw for "Strange New Worlds" is the ensemble cast led by actors Anson Mount, Ethan Peck, and Rebecca Romijn. But that's not all in terms of familiar faces, as they'll be joined by Celia Rose Gooding as a young Nyota Uhura, Jess Bush as Nurse Christine Chapel, and Babs Olusanmokun as Dr. M'Benga, all of whom will be portraying characters who originated from "The Original Series." The rest of the cast includes Christina Chong as the mysteriously-named La'an Noonien-Singh, Bruce Horak as a member of the Andorian race, and Melissa Navia as Erica Ortegas. On the other side of the camera, Akiva Goldsman returns as creator after serving the same role on "Discovery," along with Alex Kurtzman and Jenny Lumet.