The Morning Watch: The Batman Anatomy Of A Scene, Free Guy Honest Trailer & More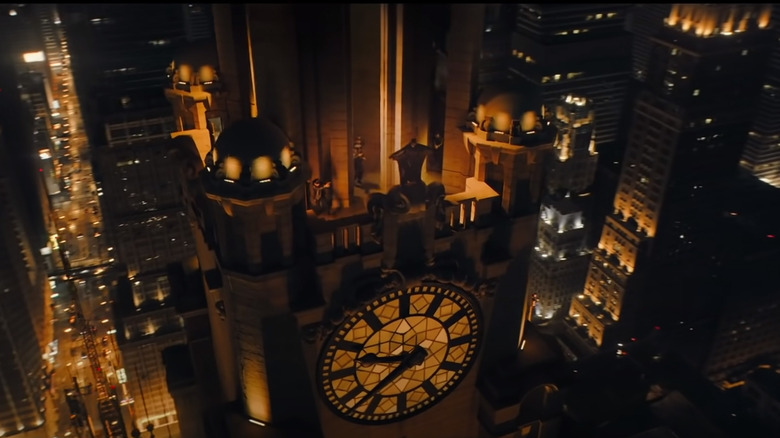 Warner Bros.
(The Morning Watch is a recurring feature that highlights a handful of noteworthy videos from around the web. They could be video essays, fan-made productions, featurettes, short films, hilarious sketches, or just anything that has to do with our favorite movies and TV shows.)
In this edition, director Matt Reeves breaks down the methods behind the madness of Robert Pattinson's daring wingsuit escape in "The Batman." Plus, the folks at Honest Trailers have plenty to say about Ryan Reynolds' family-friendly, video-game based comedy, "Free Guy." And finally, "Scream" star Courteney Cox sits down to take on the wings of death on the latest episode of the spicy interview series "Hot Ones."
Breaking down one of The Batman's best scenes
Director Matt Reeves had a fantastic cinematic take on the Caped Crusader, and in this "Anatomy of a Scene" video from The New York Times, the filmmaker explained the creative choices behind a scene where Batman and Jim Gordon (Jeffrey Wright) are trying to figure out how to get Batman out of police custody. In the end, Batman uses a hidden wingsuit to jump off of the skyscraper they're in, but it's a harrowing escape that doesn't have the collected coolness of previous Batmans. It was important to Reeves that this Batman was clearly in over his head and flying by the seat of his pants, and in order to communicate that, we get a number of quick perspective shots that show us what it's like to be the Dark Knight. The scene absolutely rules, both in the context of the film and on its own, and hearing Reeves' reasons for his directorial decisions is extremely enlightening. 
Watch the Honest Trailer for Free Guy
The "Honest Trailers" series at Screen Junkies sets out to tell their version of the brutally honest truth about movies, and their skewering of the video game-inspired comedy "Free Guy" is a belittling of brands that is, well, on-brand. This latest "Honest Trailer" makes fun of "Free Guy" while also admitting that there's a lot to love, even in the things we're laughing at. It's perfectly fine to point out that Ryan Reynolds just plays different versions of Ryan Reynolds in everything he's in, as long as you admit that there's a reason he can get away with doing that. (Seriously, did he sell his soul to the devil or something? No one is that charming, good-looking, and talented!)
Courteney Cox takes on hot wings and hotter questions
Last but certainly not least, actress Courteney Cox takes on the wings of death on the First We Feast series "Hot Ones" to promote her new Starz series, "Shining Vale." If you've never heard of "Hot Ones," it's the incredible interview series where celebrities eat 10 increasingly spicy hot wings while answering questions from host Sean Evans, who is also eating the flaming hot wings. Cox handles the wings like a champ, especially for someone who admits they don't eat much spicy food, and she gives some incredibly candid answers about her life and career. She's a fun guest, and one of the few I've ever seen get Evans flustered, so be sure to check this one out!