Shining Vale Review: Courteney Cox Headlines A Zany Horror Comedy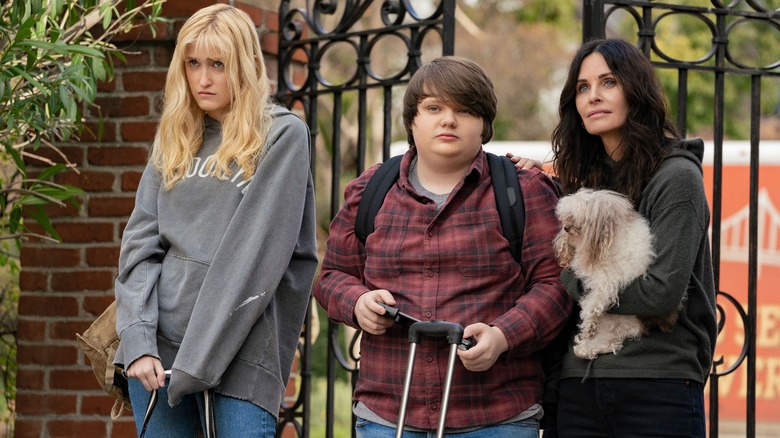 Starz
Starz's "Shining Vale" opens with an ominous statistic typed on screen: "Women are roughly twice as likely than men to suffer from depression." The serif, vaguely gothic font then types out a quick list of depression symptoms, before ending with a second, much less verifiable statistic: "Women are also roughly twice as likely to be possessed by a demon."
The new horror-comedy series from Jeff Astrof and Sharon Horgan tells us what it's about from the very first moment. The show follows Pat Phelps (Courteney Cox), an erstwhile erotica writer who moves into a creepy old manor with her family after an act of infidelity nearly blows up her marriage. Pat has been suffering from a decade-long case of writer's block, but it seems to evaporate when she settles into the house and meets a spirit called Rosemary (Mira Sorvino). From there, "Shining Vale" snowballs into a zany and macabre exploration of the intersections between inspiration and destruction.
It's a strange brew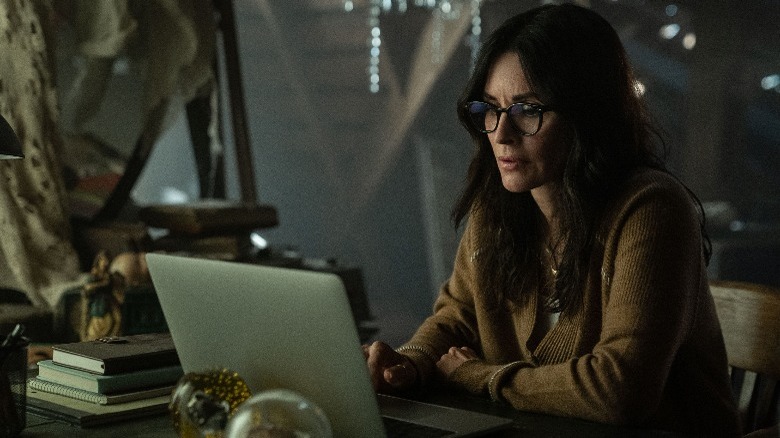 Starz
Greg Kinnear stars as Pat's husband, Terry, a businessman who's as haunted by the affair as Pat is by the house's specters. "PEN15" actor Dylan Gage plays the pair's son, Jake, a nervous kid whose only extracurricular activity is playing Minecraft. The series' obvious breakout is Gus Birney, the actress who hilariously embodied stylish widow Jane Humphrey in Apple TV+'s "Dickinson." Birney is a bona fide scene-stealer here as Gaynor, Terry and Pat's unapologetically thirsty daughter who goes undercover in the school chastity club to try to bag a boyfriend. Judith Light and Sherilyn Fenn also appear, though both are underused.
"Shining Vale" blends together into a bit of a strange brew, but it does feel like the natural brainchild of its two creators. One half of the show is a kooky, irreverent comedy that skews genre tropes, just like Astrof's previous true crime-lampooning series, "Trial and Error." The other half is an introspective yet cutting story about marriage, aging, and womanhood that's in line with Horgan's work on the always-honest sitcom "Catastrophe." The result is a one-of-a-kind series that's often messy but always entertaining.
The show has a weird and wicked sense of humor; sometimes, it trades in obvious punchlines, but other times, it mines its gothic trappings for extremely specific and morbid jokes. In the first episode, the family nearly wrecks their car on the way to the house, and after Pat and Terry panic at length about the possibility that they ran over a child, Jake finally looks up from his phone to ask, half-interested, "Wait, dad killed a little girl?"
"Shining Vale" also employs heavy-handed filmmaking techniques, seemingly on purpose. When scenes transition, they're signified with an intense musical cue and a smash cut to a title card listing the day of the week. Any sequence featuring supernatural elements is visually ratcheted up, with choppy editing and over-the-top cinematography that intensifies these moments so much that they become entirely unserious. All of this is fine and likely intentional, but it lends the series a sheen of campiness that makes finding the genuinely interesting themes at its heart a little bit harder.
The show meaningfully repurposes horror tropes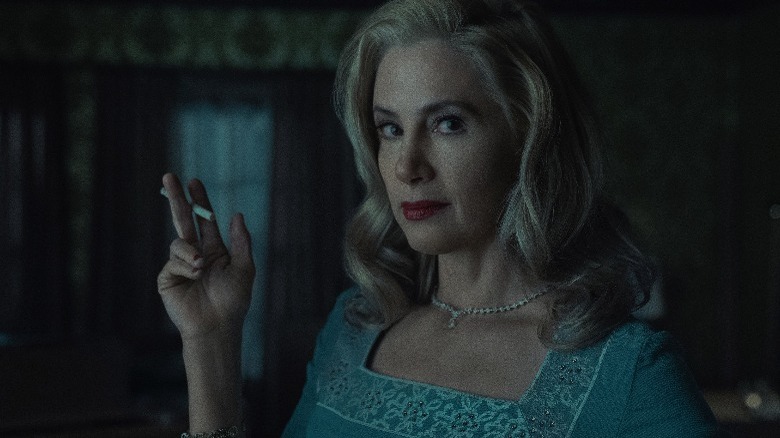 Starz
The show's best decision: letting the ghosts out of the bag early on. Pat tells her husband and therapist she thinks something's up with the house in the very first episode, and though no one seems to believe her, the show mines its most absurd humor from the fact that the family's new Connecticut home seems haunted as hell. Neighbors and strangers mumble warnings, and dire, often ignored messages turn up in odd places. In an intriguing subversion of the haunted house trope, Pat leans full force into the apparent haunting in order to stimulate her stagnant career. When a mysterious force starts typing a repeated message on her keyboard, for example, she isn't creeped out — she's just annoyed that it's not being more specific.
"Shining Vale" isn't often laugh-out-loud funny, but it is always interesting. The show parodies genre classics like "The Shining" and "The Omen," and makes direct references to even bleaker stories like "The Bell Jar" and "The Yellow Wallpaper." The emergence of Pat's ghostly friend happens to coincide with her being prescribed a whole host of medications by an overzealous psychologist. This gets to the heart of what makes the show worth watching: beneath its vaguely campy exterior, it's a rare female take on mental illness, addiction, and art.
Horgan and Astrof take elements of horror stories that have been casually thrown into movies made by men for years, like the "Honey, did you take your medicine?" trope, and tilt them completely on their head. Cox's tremendous turn in "Cougar Town" should have led to more offbeat comedy roles for the actress, but she luckily gets a chance to turn on the wit here alongside Sorvino. Together, Pat and Rosemary make a strange and watchable tag team, pulling the dark and buried parts of one another out to be examined in the light of day.
"Shining Vale" is stronger in its vision than its execution on several key fronts, but the show's likable cast, quirky genre inversions, and intriguing thematic throughlines still make its haunted house worth exploring.
"Shining Vale" premieres on Starz on March 6, 2022.