The Lighthouse Director's Next Movie Will Feature Even More Farts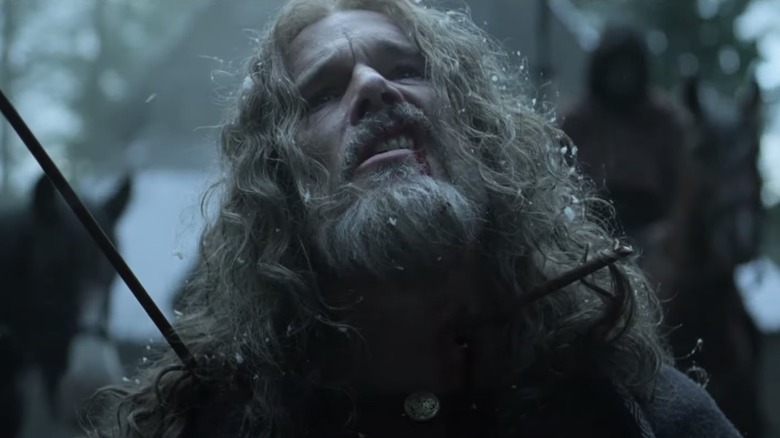 Focus Features
First of all, allow me to apologize to Ethan Hawke and his representatives before we go any further. While the content of this following article is 100% accurate, based on actual quotes and trustworthy reporting, and not misrepresented in the least, the "Before" trilogy and "Moon Knight" actor absolutely doesn't deserve the connotations involved in picking this very specifically-chosen movie still featuring his very expressive face and a headline that includes the word "farts" in it. Whatever implications that readers draw between the two variables above are my responsibility and mine alone, and for that, I feel mildly guilty.
With that important disclaimer out of the way, let's get to the reason why you're here: director Robert Eggers' latest movie and farts.
The filmmaker has been spending the last few years making quite a name for himself, first bursting onto the scene with 2015's acclaimed horror movie "The Witch" (alongside Anya Taylor-Joy and her star-in-the-making lead performance). His highly anticipated follow-up, "The Lighthouse," starred Robert Pattinson and Willem Dafoe in a black-and-white psychological thriller/horror movie about two lighthouse keepers left to survive on their own on a lonesome and isolated spit of land. The brilliant and weirdly engrossing film features hallucinated mermaids, bruised feelings over not enjoying one another's cooking, and, naturally, quite a few "goddamned farts." Between this and "Swiss Army Man," we've been blessed with quality cinema in recent years that happen to include the most basic, childish humor ever invented by humankind. If you haven't seen "The Lighthouse" yet, do yourself a favor and head on over to Amazon Prime Video or Kanopy to fix that egregious error in judgment.
Eggers' latest film, the Viking drama "The Northman," comes with just as many expectations — expectations that have risen even higher with the latest information revealed by Empire magazine in their newest issue. Particularly those pertaining to farts. Trust me when I'll say you'll want to keep reading to see all the details for yourself.
'We wanted this to be the Viking movie'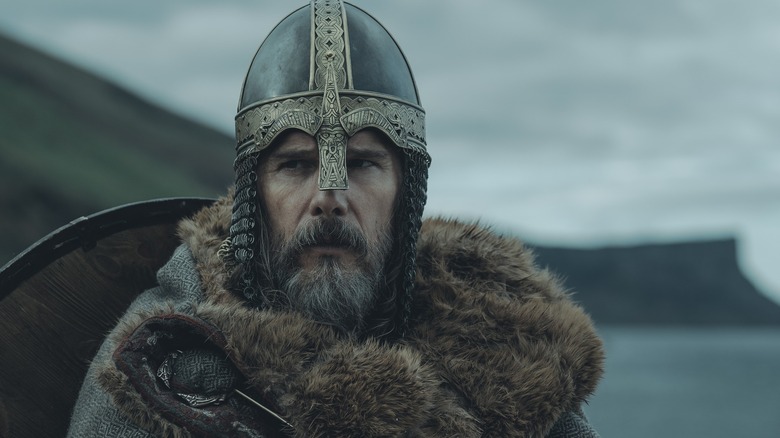 Focus Features
There, have a much more regal-looking picture of Ethan Hawke as King Aurvandil War Raven in "The Northman," free of any unsavory insinuations. Don't say I never did anything for you, Ethan!
That neatly segues into Empire Magazine's brief tease of "The Northman" and Eggers' very succinct description of what viewers can expect: "Dad is killed by uncle, takes the mom, kid needs to kill the uncle — there you go." Those characters will be portrayed by Hawke (the aforementioned dad), Claes Bang as Fjölnir (the murderous uncle), Nicole Kidman as Queen Gudrún (the mom), and Alexander Skarsgård as Amleth (the kid). Along the way, Amleth will also run into Willem Dafoe's Heimir the Fool and Anya Taylor-Joy's Olga, a "white witch" that Eggers is quick to describe as, "I don't want people expecting Storm from the X-Men." 
Got all that? Empire goes on to provide a very vague description of how the movie opens:
It begins with squawking ravens; within minutes there are men crawling about on all fours like dogs, burping and farting.
Between this and Eggers' previous comments about "a naked swordfight on a volcano," let's just say that the movie is pushing all the right marketing buttons so far. Later on in the article, we get a chance to hear from Hawke about his work on the film, saying that he was "flat-out floored by 'The Lighthouse.'"
"And ['The Northman'] is reaching for so much. It's like [Eggers] found an ancient Viking scroll in a cave off the coast of Norway or something. It's an amazing text. I've often complained, 'How come nobody even tries to make 'Apocalypse Now' any more?'"
The mystery of who exactly "dealt it" seems to remain just that (it's likely some random extras, so Mr. Hawke is off the hook ... for now), but "The Northman" clearly remains a must-see upon release. Until then, we'll just keep watching that trailer over and over again.
"The Northman" will release in theaters on April 22, 2022.