New Images From The Northman Show Ethan Hawke And Willem Dafoe In Full Viking Regalia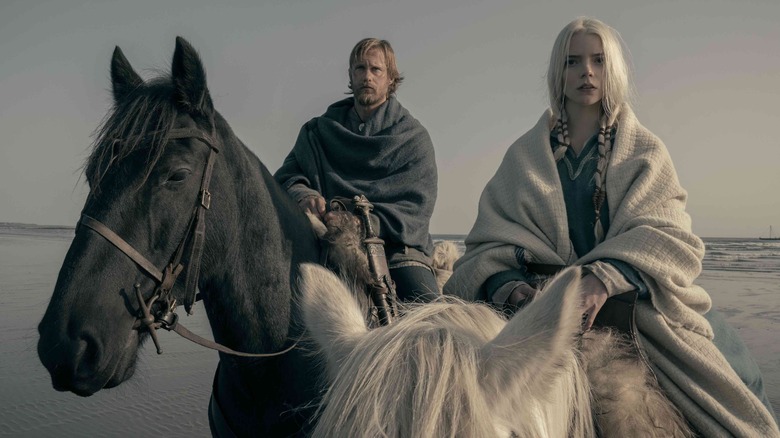 Focus Features
Look, I'm an awfully simple man. You tell me that filmmaker Robert Eggers is writing and directing a new movie about Vikings that promises to deliver a sweeping tale about revenge (and that the movie is also co-written by poet/novelist Sjón!), and I'm going to spend every waking moment in breathless anticipation until that movie releases in theaters. That's just science, people! "The Northman" will actually represent something of a departure for Eggers after his relatively small-scale horror/thrillers in previous years, 2015's "The Witch" and his largely one-location follow-up, "The Lighthouse." By comparison, everything we've seen from "The Northman" — including the fresh batch of images released earlier in February — paints a stunning portrait of beautiful (if formidable) Icelandic landscapes, incredibly detailed costuming, and a highly-charged vengeance story that should provide plenty of exciting new emotional ground for Eggers to cover.
In all honesty, we're still reeling from the fantastic trailer released at the very end of 2021 (or is that just me?), but we'll gladly take any and all new looks at the Viking saga that Eggers and the studio see fit to release. These latest images from "The Northman" come courtesy of Total Film, putting special emphasis on Alexander Skarsgård's Amleth, Ethan Hawke's King Aurvandil, and Willem Dafoe's jester Heimir the fool. The grimy, dirt-covered actors and the washed-out color palette are familiar staples of Nordic movies or shows attempting to tell new stories about this specific culture of people, but consider us even more excited to see how someone of Eggers' capabilities filters this aesthetic and tone through his distinctive lens. Check out the images, and also one heck of an interesting quote by the director, below!
"A naked swordfight on a volcano..."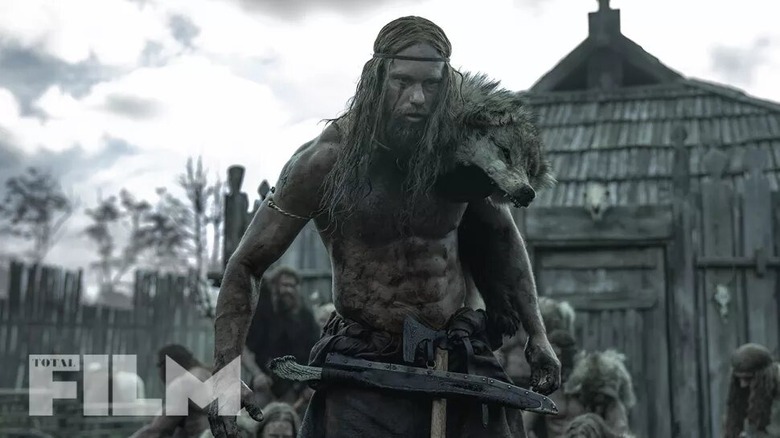 Focus Features/Total Film
Far be it from us to tell anyone how excited they ought to be about an upcoming movie ... so we'll just let the images and the director himself do all the talking. (Okay, you got me, I will absolutely be doing some of the talking myself, too). Total Film has the details on another three new stills from "The Northman," the first of which features Alexander Skarsgård looking like exactly the kind of guy who you wouldn't want to set off on a vengeance-driven rampage in response to the murder of his royal father. This picture practically screams out his repeated (and weirdly catchy) refrain of, "I will avenge you, father. I will save you, mother. I will kill you, Fjölnir," as shown in the trailer.
The next image puts the spotlight on King Aurvandil, portrayed by none other than Ethan Hawke. Between this, his role in Marvel's "Moon Knight" (despite famously dunking on superhero movies a little while back), and his upcoming turn in Rian Johnson's "Knives Out" sequel, I am totally here for the otherwise Very Serious Actor's sudden swerve into unabashed genre projects. Every performer should embrace the "Let's just have some fun" phase of their careers where they can dress up as supervillains and Vikings, if you ask me.
Last and certainly not least, there's Willem Dafoe's Heimir the fool. Coming off his carnival-related performance in Guillermo del Toro's "Nightmare Alley," Dafoe will be reuniting with Eggers after previously starring in "The Lighthouse" opposite Batman himself, Robert Pattinson. Dafoe's another immensely talented character actor who seems game to sign on to any interesting role that comes his way, from superhero movies like "Aquaman" to black-and-white arthouse pictures to Viking sagas. As for what drew Eggers to this project, the director had this to say:
"When I first thought, 'I want to make a Viking movie,' I knew three things. I knew it needs to take place mostly in Iceland, it needs to have a revenge story, and it needs to have a naked swordfight on a volcano..."
What more do you need? "The Northman" comes to theaters on April 22, 2022.