Puss In Boots: The Last Wish Trailer: DreamWorks Actually Made A New Shrek Spin-Off Exciting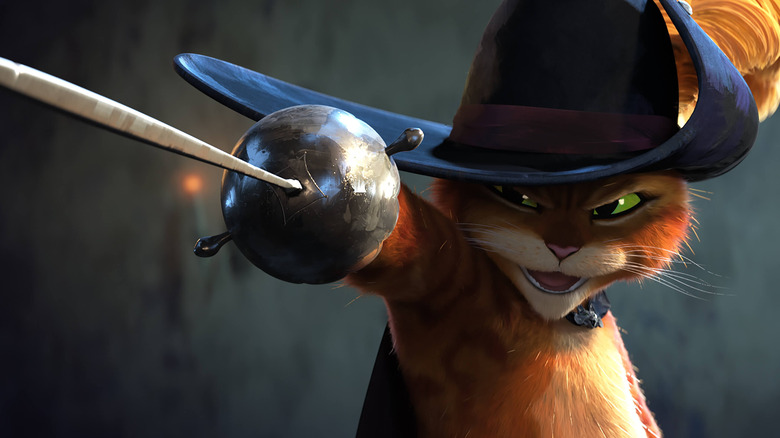 Universal
It is fascinating how DreamWorks Animation went from one of the most innovative and exciting animation studios in America to a franchise-churning machine that's mostly dedicated to sequels and spin-offs. For every "Prince of Egypt" and "Chicken Run," there's a "Shrek the Third" or a "The Boss Baby: Family Business" waiting around the corner. 
The culprit, of course, is "Shrek." You know, the film that competed for the Palme d'Or at Cannes and went on to win the very first Academy Award for Best Animated Feature ever. Three sequels and a spin-off later, how am I excited for a new entry in the "Shrek" cinematic universe? Well, because the trailer for "Puss in Boots: The Last Wish" looks fantastic. That's why.
The trailer for "Puss in Boots: The Last Wish" seems to pick up some time after the events of the first "Puss in Boots." No longer a pariah, the titular cat is considered a hero, acclaimed by the townspeople after he slays a giant. The problem is that this cat is prone to accidents — confident in his nine lives but unaware of how often he's died already.
Of course, the bill eventually comes due, and it seems Antonio Banderas' Puss has finally run out of lives. More than a decade after the first, Puss is facing one last threat — Goldilocks (Florence Pugh) and her Three Bears Crime Family (of course).

Just look at that animation
The first thing to say about this trailer is that it looks stunning. It still retains the visual aesthetic of most DreamWorks films so as to not distance itself too much from the "Shrek" movies. And yet, the film also shares the 2.5D visual style that has grown in popularity after "Into the Spider-Verse" and "Arcane," and will also be used in the upcoming DreamWorks film "The Bad Guys." 
Honestly, one of the biggest flaws in DreamWorks films of late is that they've really settled for a single visual style among all their films, like Disney, when the studio used to experiment a lot more with animation. Hopefully, this is a sign of things to come.
In the meantime, we have "Puss in Boots: The Last Wish" to look forward to, and its cast alone is reason to be excited. From Florence Pugh playing a crime boss, to "What We Do in the Shadows" star Harvey Guillén playing a mutt named Perro, to John Mulaney playing villain "Big" Jack Horner and "Narcos" star Wagner Moura playing the Big Bad Wolf. Additionally, the cast includes Olivia Colman, Ray Winstone, Samson Kayo, Anthony Mendez, and Da'Vine Joy Randolph.
"Puss In Boots: The Last Wish" is expected to hit theaters on September 23, 2022. Here's the synopsis of the film:
"Puss has burned through eight of his nine lives, though he lost count along the way. Getting those lives back will send Puss in Boots on his grandest quest yet.

Academy Award® nominee Antonio Banderas returns as the voice of the notorious PiB as he embarks on an epic journey into the Black Forest to find the mythical Wishing Star and restore his lost lives. But with only one life left, Puss will have to humble himself and ask for help from his former partner and nemesis: the captivating Kitty Soft Paws (Oscar® nominee Salma Hayek).

In their quest, Puss and Kitty will be aided—against their better judgment—by a ratty, chatty, relentlessly cheerful mutt, Perro (Harvey Guillén, What We Do in the Shadows). Together, our trio of heroes will have to stay one step ahead of Goldilocks (Oscar® nominee Florence Pugh, Black Widow) and the Three Bears Crime Family, "Big" Jack Horner (Emmy winner John Mulaney, Big Mouth) and terrifying bounty hunter, The Big Bad Wolf (Wagner Moura, Narcos)."