The Alternate Legally Blonde Ending We're Glad We Never Had To See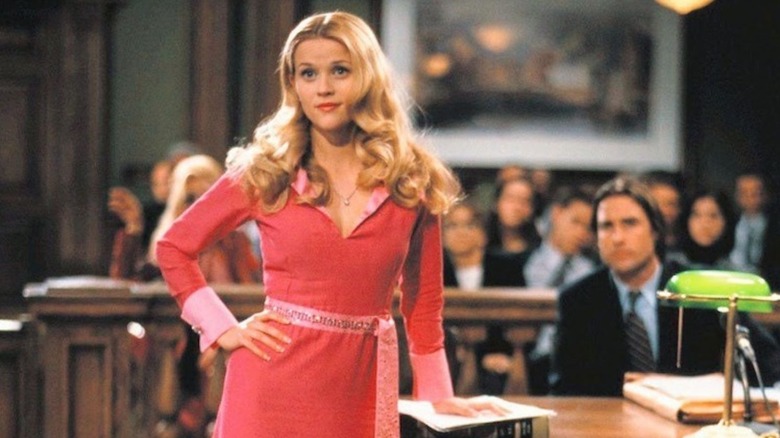 20th Century Fox
"Legally Blonde" is a memorable comedy thanks to its headstrong protagonist who refuses to surrender to the damaging "dumb blonde" stereotype and combines her enthusiasm for fashion and beauty to solve a murder and eventually kickstart a successful law career. 
It has been over 20 years since Elle Woods (Reese Witherspoon) left her post-grad sorority life and a future in fashion merchandising behind to join Harvard Law School in an attempt to reconcile with her ex-boyfriend, who didn't think she was serious enough in life. Three years after being accepted, Elle not only graduated top of her class — with her love for scented resumés and the color pink intact — but also ditched the same ex-boyfriend who began displaying an interest in her new status. 
While the movie's ending saw Elle give her valedictorian speech and reflect on her law school journey, in a moment that proved her hard work and determination had been successful, it wasn't the film's original ending. Screenwriter Karen McCullah originally wanted "Legally Blonde" to end with Elle and Emmett (Luke Wilson) sharing a kiss at the courthouse after she won the case along with an additional epilogue scene. While screening the film to test audiences, there were objections to the romantic ending, because "Legally Blonde" was never about Elle finding a boyfriend.
Elle was never valedictorian, and Vivian dyed her hair blonde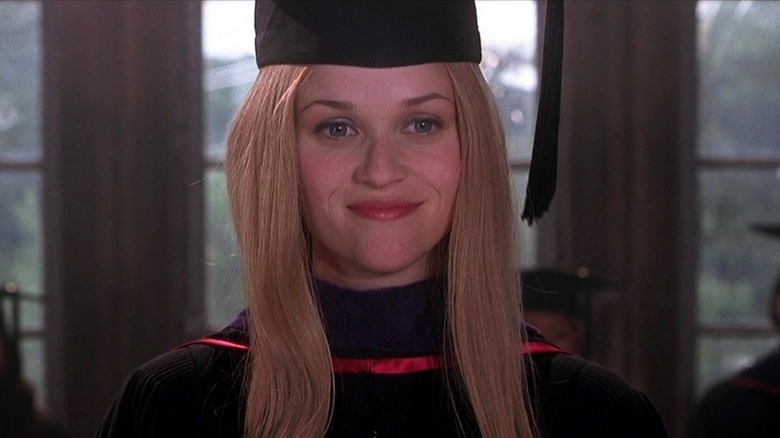 20th Century Fox
During a roundtable at the 2015 Vulture Festival, screenwriter Karen McCullah went over the original ending for "Legally Blonde" and how audiences believed it did not fit the narrative. The movie isn't exactly a romantic comedy, because it was never about Elle's romance with Warner (Matthew Davis) or Emmett. Although she may have been distracted by her ex-boyfriend at first, the film quickly dived into Elle's aspirations and perseverance throughout her law school journey. Ending the film without showcasing how Elle's goals had changed would've been a disservice to her character. McCullah recalled:
"It kind of ended right at the courthouse after she [Elle] won the case. She was on the courthouse steps and everyone was coming up and congratulating her and she had this big kiss with Luke Wilson."
"It was just kind of a weak ending. The kiss didn't feel right because it's not a rom-com — it wasn't about their relationship. So test audiences were saying, 'We want to see what happens—we want to see her succeed.' So that's why we rewrote for graduation."
Over two decades later, we're relieved that the audience realized a romantic ending would minimize Elle's achievements and everything she had worked for in law school. 
McCullah also noted that following Elle's big kiss with Emmett, the film featured an epilogue scene of sorts: A future Elle Woods and a newly-blonde Vivian Kensington (Selma Blair) started their own Blonde Legal Defense Club in law school.
With a third "Legally Blonde" movie on the way, it's pretty fascinating to see how the original film could've ended. Thankfully, we never had to see the alternate ending and can be happy knowing that Elle Woods is thriving as a lawyer somewhere. We'll get a glimpse of her latest adventures soon enough!