Superhero Bits: Alligator Loki Gets His Own Comic, Doctor Strange 2 Empire Magazine Covers & More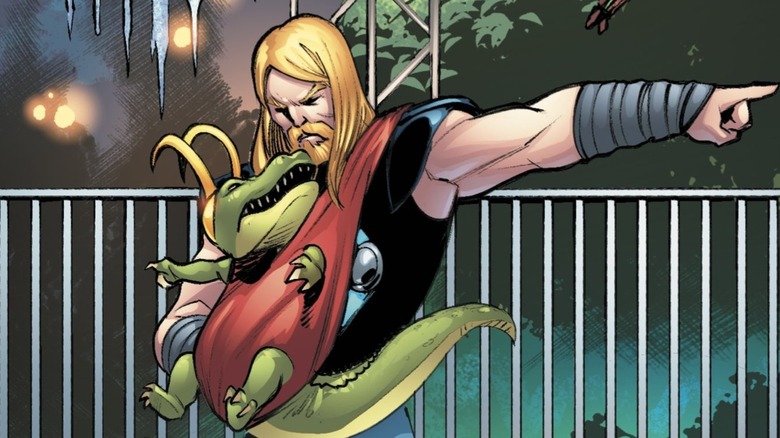 Marvel Comics
(Superhero Bits is a collection of stories, updates, and videos about anything and everything inspired by the comics of Marvel, DC, and more. For comic book movies, TV shows, merchandise, events, and whatever catches our eye, this is the place to find anything that falls through the cracks.)
In this edition of Superhero Bits:
Alligator Loki now has his very own comic.
"The Flash" new release date carries some historical significance.
New Electro concept art from "Spider-Man: No Way Home."
An encouraging "Spider-Man: Across the Spider-Verse" tease.
Teenage Mutant Ninja Turtles: The Cowabunga Collection trailer
Fans of the "Teenage Mutant Ninja Turtles" who are also PlayStation owners have something to look forward to. Sony has revealed the "Cowabunga Collection," which will bundle together 13 classic games featuring the heroes in a half-shell later this year. Perhaps most importantly, this does include the all-timer "Turtles In Time." No firm release date has been announced yet but the collection will be coming to the PS4 and PS5 in 2022, so be on the lookout.
WandaVision unused concept art
Can you believe the final episode of WandaVision aired almost exactly one year ago? Here's an alternate version I came up with during preproduction. Note: I like the final one you saw in the show the best out of all the versions I did so I'm happy 👍 #WandaVision #ScarletWitch pic.twitter.com/wIxRaRnFgb

— Andy Park (@andyparkart) March 10, 2022
"WandaVision" wrapped up its run on Disney+ a little over a year ago and, to celebrate the occasion, Marvel Studios Director of Visual Development Andy Park shared the above bit of concept art, which offers a look at an unused design for Elizabeth Olsen's fully-formed Scarlet Witch. In my humble opinion, it is pretty damn cool. Perhaps this look can be revisited in another project down the line?
Spider-Gwen premium format figure from Sideshow Collectibles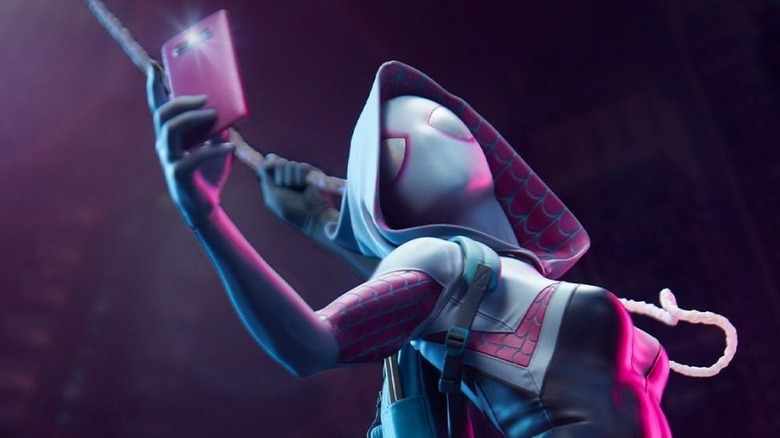 Sideshow Collectibles
Calling all Spider-Gwen fans with some money to spare! Sideshow Collectibles has revealed the above premium format figure based on the Marvel Comics hero. Gwen Stacy's alter-ego from the Marvel multiverse gained a great deal of mainstream popularity thanks to her appearance in "Spider-Man: Into the Spider-Verse" and now, she's got a very detailed collectible on the way. The figure measures 23.75 inches tall and 12 inches wide, and features her swinging over the New York City skyline. The figure retails for $600 and is set to ship between March and May of 2023. Those interested can find full details and pre-order information by clicking here.
Young Justice season 2 crash course video
For those who are looking for a refresher on "Young Justice" before season 4 makes its return to HBO Max, DC has released the above video that breaks down all of the important stuff that goes down in the show's second season. It is 40 minutes long, but that's a heck of a lot shorter than re-watching the entire season. It also might just be a fun little refresher for those who wish to revisit the much-beloved animated DC series.
Shameik Moore hypes up Spider-Man: Across the Spider-Verse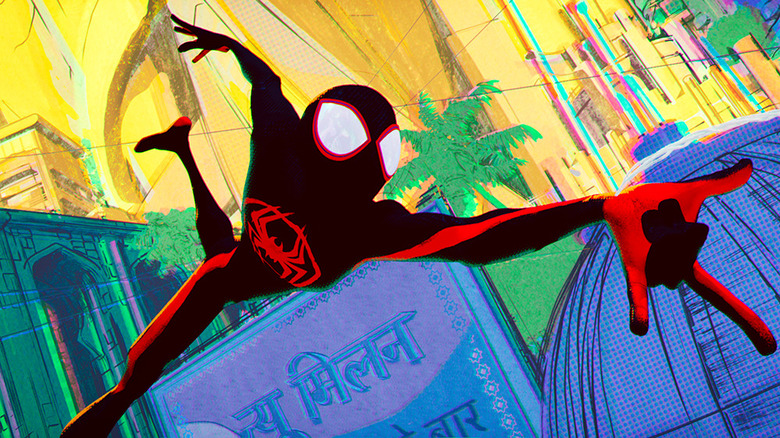 Sony Pictures
We are finally getting a follow-up to "Spider-Man: Into the Spider-Verse" this year in the form of "Spider-Man: Across the Spider-Verse (Part One)" which will, as the title implies, be merely the first of two sequels coming our way. Now, Shameik Moore, who is returning as Miles Morales in the animated adventure, has hyped up the sequel with a handful of choice words on Twitter.
Across The Spiderverse is INSANE 🙌🏾

— Shameik Moore (@shameikmoore) March 11, 2022
Based on the film's teaser trailer, insane does seem to be the right word for it. But the guy at the center of it all feels the need to emphasize that the movie in its entirety is worth describing as such in all caps. Right on. 
"Spider-Man: Across the Spider-Verse (Part One)" is currently set to hit theaters on October 7, 2022.
Alternate Electro concept art from Spider-Man: No Way Home
Artist Phil Saunders has revealed some new concept art that was cooked up for "Spider-Man: No Way Home." Specifically, this is another alternate look that was considered for Jamie Foxx, who reprised his role as Electro following his original turn in "The Amazing Spider-Man 2." This is, in some ways, a more comic-accurate look than what we got in the movie, though it's not too difficult to see why director Jon Watts went another way with it. Still, it offers a window into just how much goes into arriving at what we see on screen. But hey, at least he wasn't blue this time around.
Doctor Strange in the Multiverse of Madness Empire Magazine covers
As revealed in the above tweet, Empire Magazine has not one, but two new covers on the way that will be dedicated to "Doctor Strange in the Multiverse of Madness," one of the summer's most-anticipated movies. While much remains mysterious about what director Sam Raimi is going to bring us, these covers offer much to dissect, as the images contain a lot of potential stuff for fans to read into. So feel free to spend a whole lot of time going over them with a fine-toothed comb, should you feel so compelled. 
"Doctor Strange in the Multiverse of Madness" is set to hit theaters on May 6, 2022.
The Flash movie will now release on the anniversary of Batman '89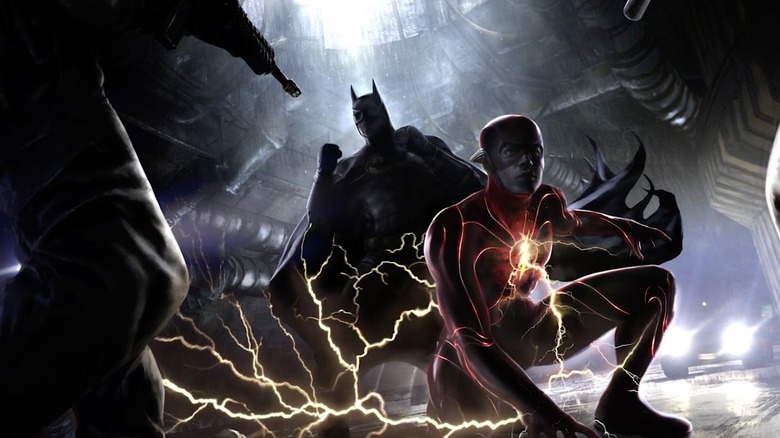 Warner Bros.
Warner Bros. recently shuffled its release calendar, delaying "Aquaman and the Lost Kingdom" and "The Flash" into 2023. While the move means fans have to wait even longer to see Michael Keaton return as Batman thanks to the DC multiverse opening its doors, the new release date of June 23, 2023, does carry some significance. As noted by Comicbook.com, Tim Burton's "Batman" also hit theaters on June 23 back in 1989, marking Keaton's debut as the beloved hero. That means his return will come exactly 34 years to the day, should the new release date stick. So that's kind of neat if we must look for a silver lining in having to wait another seven months for this movie to happen.
Alligator Loki now has his own comic
Lastly, a breakout star from last year's "Loki" series has taken the spotlight in his very own comic book series from Marvel. The publisher has announced "Alligator Loki" as a new Infinity Comic series that will be released exclusively on the Marvel Unlimited app, with the first issue available to read now. A logline for the series reads as follows:
For his entire life Thor has only known one brother, Loki. Known to all as conniving, sneaky, and cunning! But a new Loki is ready to take his place. He may be smaller, he may be cuter, and ... an alligator?! But don't be deceived, Alligator Loki is just as wily as his human counterpart, and he is ready to cause trouble.
The 12-issue series will release a new issue every Friday. Those interested in checking out "Alligator Loki" #1 can do so by clicking here.