The 12 Greatest Robert Pattinson Movies Ranked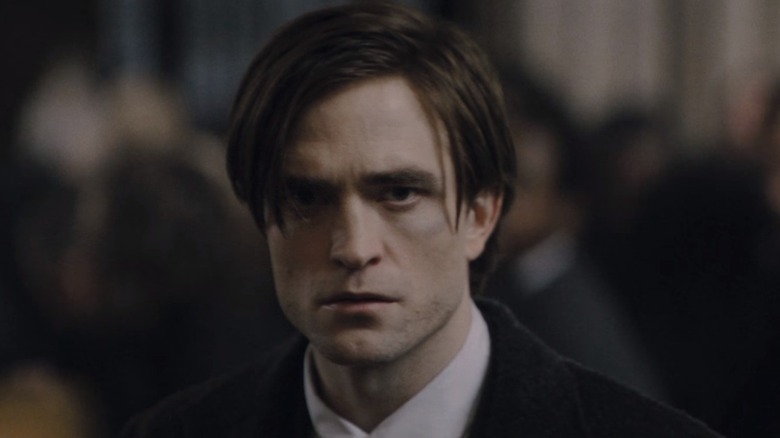 Warner Bros.
Robert Pattinson is the latest actor to step into the role of Batman. Although we've only gotten a brief taste of Pattinson in the role, he certainly has the potential to be one of the greatest Caped Crusaders in the franchise's history. With his debut performance in "The Batman," Pattinson develops a unique interpretation of the iconic character. His version of Bruce Wayne has grown secluded in the public eye and remains haunted by his parents' deaths. Although he's in his second year as a crime fighter, Pattinson's Batman hasn't yet learned the difference between vengeance and justice.
Although "The Batman" is a box office sensation, Pattinson hasn't been in a lot of blockbusters lately. Although he became a global star thanks to his recurring role as the vampire Edward Cullen in "The Twilight Saga," Pattinson has mostly appeared in independent films in the decade since the young adult franchise wrapped up with "The Twilight Saga: Breaking Dawn — Part 2." While his performance in the series was largely criticized, Pattinson has expressed his displeasure with the entire "Twilight" experience on multiple occasions. He once famously joked that he "stopped mentally progressing" around the time he started working on the vampire saga.
Pattinson is an exciting actor who takes risks with his performances. He's worked with both legendary filmmakers and up-and-coming auteurs. It will be exciting to see him appear in both "The Batman" sequels and smaller projects. Here are the 12 greatest Robert Pattinson movies, ranked.
12. Harry Potter and the Goblet of Fire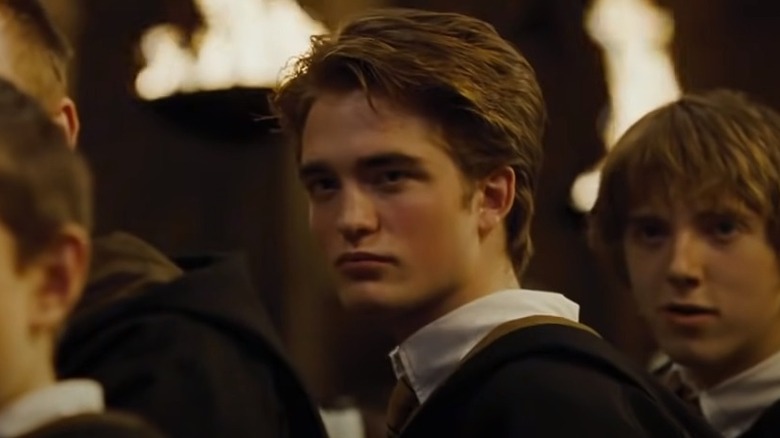 Warner Bros.
Although he gained a following thanks to the "Twilight" franchise, Pattinson also appeared in another popular young adult fantasy franchise. It was one of the first roles of his career. The "Harry Potter" series took a darker direction in the fourth film, "Harry Potter and the Goblet of Fire." In the first entry in the saga to be rated PG-13, the Wizarding World is threatened by the return of the Dark Lord Voldemort (Ralph Fiennes).
The death of Pattinson's character, Cedric Diggory, is the first time Harry (Daniel Radcliffe) experiences the loss of someone close to him since his parents were killed. Pattinson makes the character's tragic fate even more heartbreaking with his charismatic performance. Although Cedric and Harry are set up as rivals in the Triwizard Tournament, Cedric admires "the Boy Who Lived." He's one of Harry's only peers who treats him like an actual person and not a celebrity.
11. Cosmopolis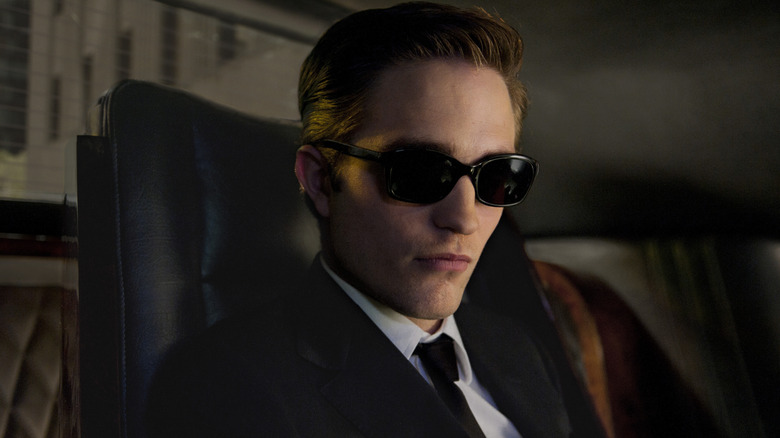 Entertainment One
In one of his first post-"Twilight" roles, Robert Pattinson shed his movie star image to play a fascinating anti-hero. It was his first collaboration with David Cronenberg, and Pattinson proved that he could carry an entire film. Cronenberg's satirical thriller, "Cosmopolis," follows a day in the life of a young billionaire, who rides in his limousine as a resistance group overtakes New York City. Pattinson faced the challenge of making an unlikeable character worth investing in.
Eric Parker is a spoiled economic speculator. He cares much more about his appearance than any personal relationships. Eric travels across Manhattan to visit his favorite barber. Outside his limousine, anti-capitalist rioters create chaos in the streets. A visit by the president of the United States causes a traffic crisis, and Eric is caught in the middle of a violent conflict between protestors and cops. Cronenberg uses Eric's disregard for the surrounding events to satirize the ignorance of the upper class.
10. High Life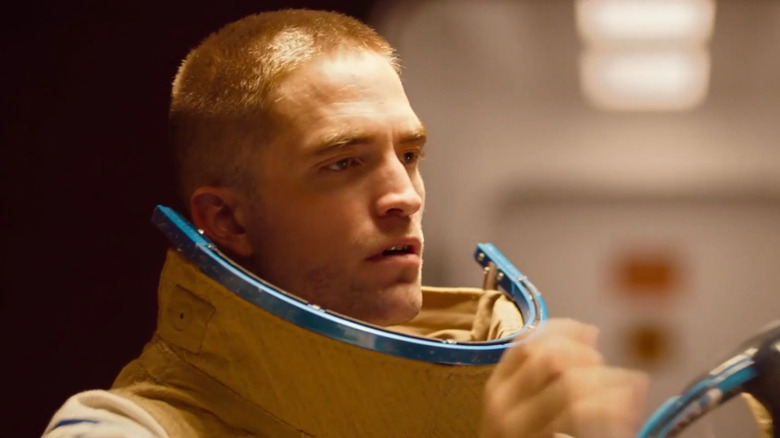 A24
Claire Denis' experimental science fiction film "High Life" requires multiple viewings to fully understand. The space opera follows a non-linear timeline and does not indicate when it changes settings. While some cinephiles may enjoy dissecting the story for clues, any film that is this confusing needs interesting characters to draw viewers in. Robert Pattinson provides this human connection. He shows the plight of an empathetic, struggling father.
In the distant future, a group of criminals is dispatched on a doomed mission to find an energy source in a black hole. While Monte (Pattinson) was convicted of murder, he does not bond with any of the other prisoners. Monte is shocked by the crew's descent into madness and helps to protect the women on board from being assaulted. After an affair with science officer Dibs (Juliette Binoche), Monte discovers that he has a daughter (Jessie Ross). He struggles to raise her as they reach their dangerous destination.
9. Maps to the Stars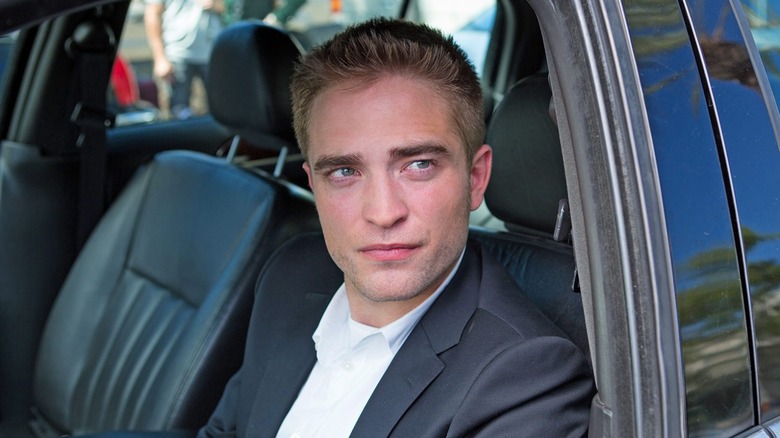 Entertainment One
David Cronenberg explored the shocking behind-the-scenes behavior of a prominent Hollywood family in his underrated satirical film "Maps to the Stars." It is unsurprising that "Maps to the Stars" is one of the more divisive films of Cronenberg's career. Nearly every character is completely unlikeable, and the story is devoid of any hope. Amidst the sordid material, the excellent ensemble cast explores how such horrible people become so influential. Pattinson's character has an interesting perspective that is distinct from the rest of the cast. He plays a working-class man who desires fame and success more than anything.
"Maps to the Stars" follows the exploits of the Weiss family as it attempts to rebound after a series of negative news stories. The child star Benjie Weiss (Evan Bird) was recently released from rehab for his drug addiction. Benjie has trouble readjusting and focusing on his career, and he violently lashes out towards another actor during filming. Benjie's father, former television actor Dr. Stafford Weiss (John Cusack), doesn't have time to look after him. He's busy worrying about his daughter, Agatha (Mia Wasikowska), who has returned to Los Angeles to reconnect with the rest of the family.
Agatha recognizes her family's cruelty thanks to her interaction with limo driver Jerome Fontana (Robert Pattinson). Jerome wants to break into the industry, but he's never given a chance to succeed because he does not come from a privileged background. Jerome's failures make the Weiss family's behavior even more reprehensible.
8. The King
Netflix
Robert Pattinson often takes risks with the roles he takes. His eccentric performance as the scheming French dictator, the Dauphin, in David Michod's Shakespearean epic "The King" could easily have fallen flat. The film focuses on the trials that a young leader goes through as he adjusts to the realities of war. Any comic relief could have been distracting. However, Pattinson creates an unusual character who is both hilarious and detestable. Pattinson adds a unique energy to a film in which the rest of the cast is grim and serious the entire time.
Based on Shakespeare's " Henry IV, Part 1," "Henry IV, Part 2," and "Henry V," "The King" is set during the war between England and France in the 15th century. Prince Hal of Wales (Timothée Chalamet) is more interested in partying with his mentor John Falstaff (Joel Edgerton) than he is being a ruler. However, Hal is forced to assume the throne of England when his father, Henry V (Ben Mendelsohn), suddenly passes away. Hal's guards thwart an assassination attempt shortly after his coronation. They discover that the assassin was sent by King Charles VI of France (Thibault de Montalembert).
Already seeking vengeance on the Dauphin, who embarrassed him with an insulting gift during his coronation, Hal decides to declare war on France. Pattinson chews the scenery as the haughty prince. While he spends most of his time thinking of creative insults, the Dauphin is still a remorseless military leader.
7. The Batman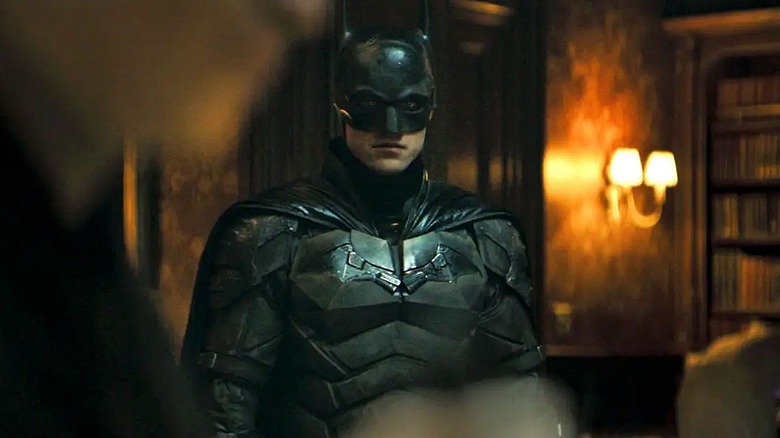 Warner Bros.
While time will tell if Pattinson's portrayal of the Dark Knight of Gotham stands, his first appearance indicates that he has the potential to be one of the greatest actors to ever wear the batsuit. Even if viewers have grown tired of the endless reboots, "The Batman" is a unique entry in the series that's sure to win over even the most jaded fans. Writer-director Matt Reeves does not tell the same origin story that audiences know by heart. "The Batman" takes place during Bruce Wayne's second year as the masked vigilante. While he's feared by the city's criminal population, Batman has not yet developed his moral code.
Batman has already formed a partnership with Commissioner Jim Gordon (Jeffrey Wright), but the rest of the Gotham City Police Department doesn't trust him. Several prominent members of the Gotham infrastructure are murdered by a masked assassin known only as "The Riddler" (Paul Dano), who leaves clues at each crime scene for the Batman. Batman discovers a connection between one of The Riddler's victims and the criminal hangout known as "The Iceberg Lounge," where the mob boss Carmine Falconi (John Turturro) and his enforcer the Penguin (Colin Farrell) operate. Batman meets the jewel thief Selina Kyle (Zoe Kravitz), and they team up to track down the Riddler.
"The Batman" feels like a 1970s noir film, and Selina is the femme fatale in this tragic romance. It will be interesting to see how her relationship develops with Batman in the subsequent sequels.
6. The Rover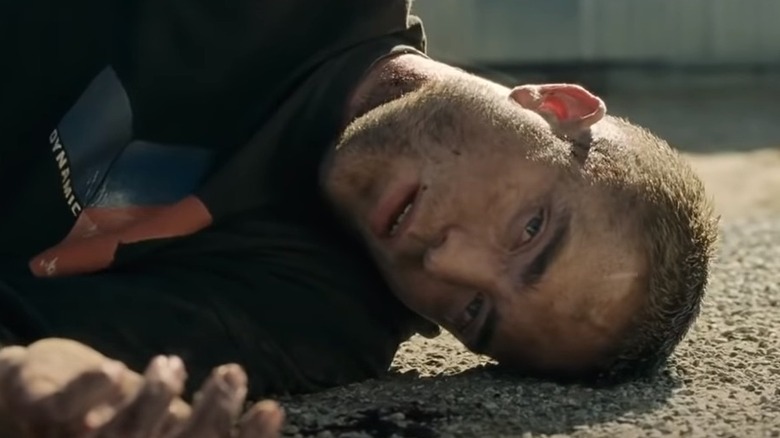 Roadshow Films
David Michod's post-apocalyptic Australian science fiction Western "The Rover" feels like a natural descendant of the "Mad Max" franchise. Like George Miller's legendary series, "The Rover" explores desperate characters that contend for resources in a desolate wasteland. Although the setting is very similar to "Mad Max," "The Rover" distinguishes itself through its compelling characters. The film weaves in tragic backstories for both its heroes and villains.
"The Rover" is set a decade after a global economic crisis causes civilization to collapse. Military veteran Eric (Guy Pearce) lives alone and has become completely self-dependent. Eric lost both his home and family in the early days of the crisis, and he's not interested in forming any new friendships. Eric's survival is threatened when a group of criminals, led by Henry, played by Scoot McNairy, steal his car after a violent brawl. Although Henry escapes, Eric manages to capture his intellectually disabled younger brother, Reynolds (Pattinson). Eric forces Reynolds to help track down his stolen vehicle and learns of the years of abuse that he suffered at his brother's hands.
"The Rover" is devoid of sentimental moments, and Eric doesn't indicate that he has any sympathy for Reynolds. Pattinson still makes him a tragic figure. Reynolds idolizes his brother, and he's convinced that Henry is out there looking for him. Reynolds believes that he'll be able to deceive Eric, but it's clear that the former soldier is the one in charge.
5. Tenet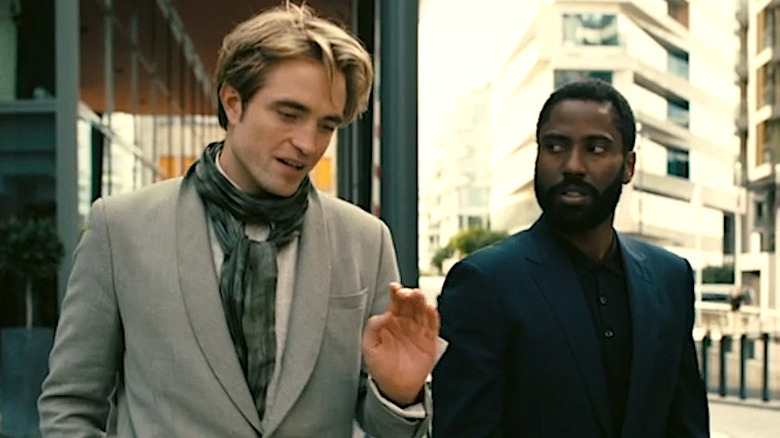 Warner Bros.
Critics of Christopher Nolan like to suggest that his films are emotionally unengaging and are so focused on high-concept plot twists that they lose focus on the characters. This is the case with Nolan's most recent film, 2020's "Tenet." This mind-bending science fiction thriller explores the concept of time inversion. It involves a confusing international plot by an insane Russian supervillain to amend a natural disaster. It's a film that is jam-packed with ideas, and the actors are forced to deliver heavy amounts of exposition in nearly every scene. Still, Pattinson creates an endearing character, even if he admitted that he didn't understand the plot.
"Tenet" follows an American secret agent known only as "The Protagonist" (John David Washington), who is willing to sacrifice his life before he lets secret information slip into enemy hands. The Protagonist is selected for a secret assignment to investigate Andrei Sator (Kenneth Branagh), a Russian dictator who can communicate with the future. The Protagonist is paired up with Neil (Pattinson), a British spy who helps him track mysterious bullets to Mumbai. Neil helps explain the confusing intersecting timelines to both the Protagonist and the audience. He later reveals his true mission in one of the film's most shocking plot twists.
"Tenet" is often a joyless film, and Pattinson seems like he's the only one who is having any fun. His chemistry with Washington makes the final scenes more emotional than they have any right to be.
4. Life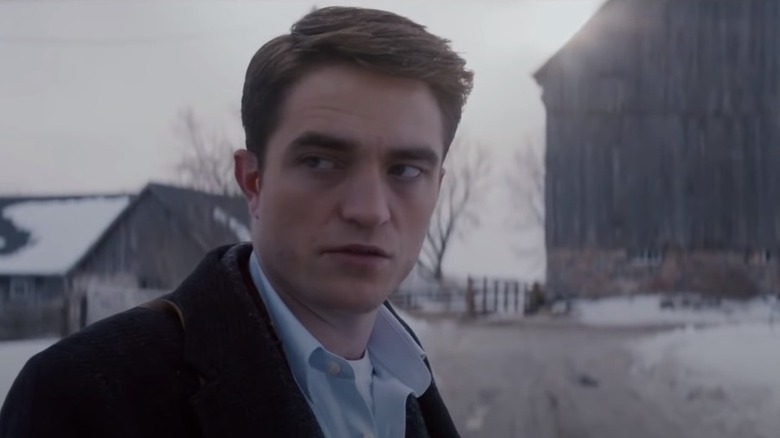 Cinedigm
Anton Corbijn's 2015 biopic "Life" is one of the most underrated films of the past decade, and it's a shame that more cinephiles haven't checked out Pattinson's excellent performance. The sensitive drama explores the enigma of James Dean, drawing back the curtain on one of the most famous actors in Hollywood history. There's a subtly ominous quality to the story. As audiences are well aware, Dean was killed in a car accident at the age of 24. While he only starred in three films, "Rebel Without A Cause," "Giant," and "East of Eden," Dean still became an iconic figure who embodied the defiant spirit of 1950s Hollywood.
"Life" takes place during the last few months of Dean's (Dane DeHaan) life, as he adjusts to his growing star power. LIFE Magazine photographer Dennis Stock (Pattinson) is assigned to take publicity photos of Dean before he goes on a national press tour to promote his performance in "East of Eden." Dean is resistant to the media attention, but he discovers that Stock isn't just another prying journalist. Stock is interested in taking experimental photos, and he and Dean bond over their mutual disillusionment with the sensationalists in their respective industries. Both Stock and Dean want to pursue great art, and they can't understand why general audiences only seem interested in gossip.
The iconic photos Stock took of Dean standing solemnly in Times Square are remembered to this day, and the film shows how the famous shoot was organized.
3. The Lost City of Z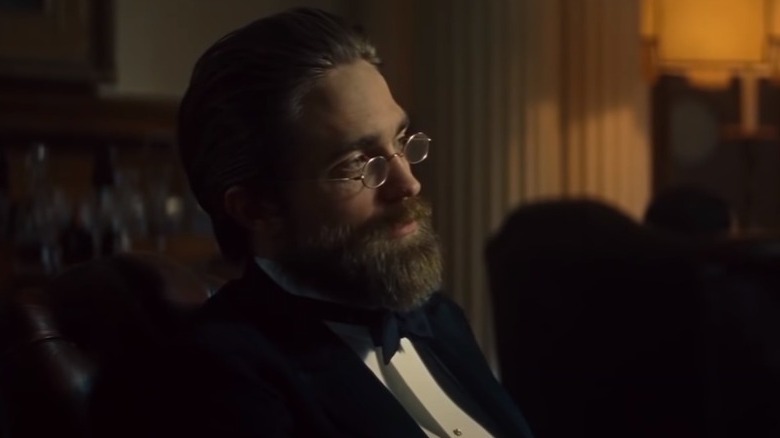 Amazon Studios
Although he's one of the most famous actors working today, Robert Pattinson can still disappear within an ensemble. He is completely unrecognizable in James Gray's historical epic, "The Lost City of Z." It is admirable that Pattinson doesn't attempt to steal the spotlight from the film's star, Charlie Hunnam. He delivers a restrained performance that supports but doesn't detract from Hunnam's character arc.
"The Lost City of Z" was inspired by the true story of explorer Percy Fawcett, who disappeared in the Amazon jungle during a doomed expedition. Fawcett (Hunnam) is a former British military officer who dreams of discovering a mythical city that's rumored to hold an ancient treasure. Fawcett is dispatched by London's Royal Geographical Society on a survey mission into the rainforest. Geographical expert Corporal Henry Costin (Pattinson) is assigned to be his guide.
Costin joins Fawcett on several follow-up expeditions over the years. They bond over their shared dissatisfaction with their government employers, who are more interested in stealing the forest's natural resources than they are making a historical discovery. Neither Fawcett nor Costin seeks personal glory or financial gain from their work. Both men are invested in unraveling the secrets of the mysterious area.
Pattinson explores Costin's inherent interest in his work. He and Hunnam have excellent chemistry and show how the two explorers develop a professional friendship throughout their careers. Pattinson also shows Costin's concern when Fawcett grows too obsessive.
2. The Lighthouse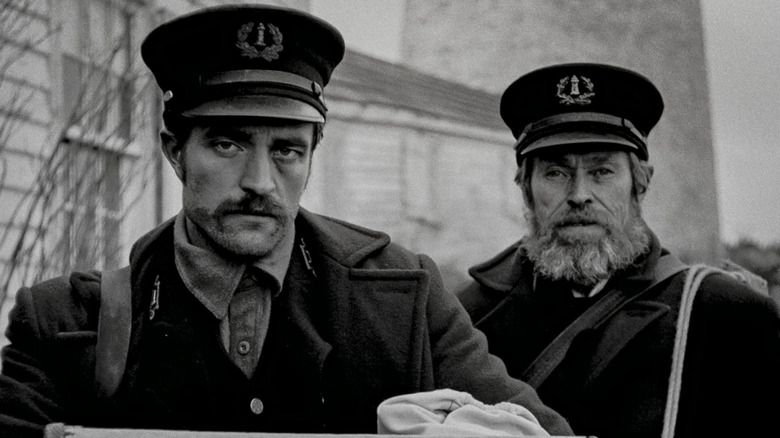 A24
Robert Eggers' 2019 arthouse horror film "The Lighthouse" is a true acting showcase. Outside of a few brief instances, the film only features two actors: Robert Pattinson and Willem Dafoe. Any film that asks the viewer to invest their time in just two characters requires the performances to be top-notch. Thankfully, Pattinson and Dafoe have excellent chemistry. It is no easy task to work alongside Dafoe, who is one of the most consistently inventive actors of the past few decades. Pattinson proved he was up to the challenge and showed why he's a classic example of a "character actor in a leading man's body." Both Pattinson and Dafoe capture the feeling of slowly slipping into insanity.
"The Lighthouse" takes place in the 1890s, where solemn men seek employment on the coasts of New England. Contract worker Ephraim Winslow (Pattinson) takes a job as a lighthouse keeper on a deserted shore where he must work alongside Thomas Wake (Dafoe). Wake is incredibly demanding and forces Winslow to do menial tasks. Winslow doesn't mind doing grunt labor, but he grows infuriated by Wake's ignorance and his obnoxious comments. Winslow begins to suspect that nothing on the island is what it seems when he notices strange, fantastical creatures that instantly disappear. He suspects that Wake is hiding the island's secret from him.
Pattinson captures Winslow's anxiety as he falls into madness. The film's ambiguous ending has sparked many interpretations, and Pattinson subtly hints at the different possibilities.
1. Good Time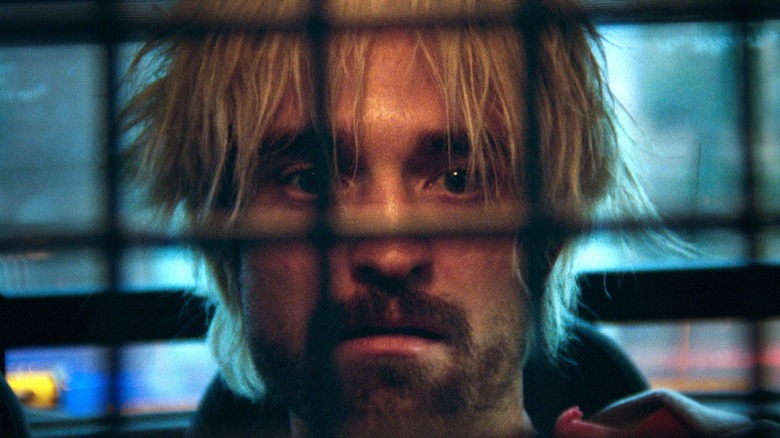 A24
It wouldn't be out of the question to compare "Good Time" to the great crime films of the 1970s. The Safdie Brothers' relentless heist thriller is reminiscent of classics like "Dog Day Afternoon," "Taxi Driver," and "Marathon Man." Robert Pattinson delivers a lead performance that is worthy of Al Pacino, Robert De Niro, or Dustin Hoffman. He's able to make a completely unlikable character compelling. While his character is never apologetic for his actions, it's impossible to take your eyes off of him.
"Good Time" is set in the criminal underbelly of New York City, where disadvantaged workers are forced to become criminals to make ends meet. Connie Nikas (Pattinson) is a reckless bank robber who realizes he needs a partner for his planned heist. Connie breaks his intellectually-disabled brother, Nick (Benny Safdie), out of his court-ordered therapy session to rob a bank. The operation goes wrong, as Nick doesn't have the mental capacity to follow his brother's plan. Connie is forced to leave him behind. While he escapes, Connie realizes that he doesn't have enough money to pay for Nick's bail. To free his brother, Connie sets out on a wild night of criminal escapades, wreaking havoc throughout the city.
The Safdies create a gritty, fast-paced thriller that gets so intense that it is anxiety-inducing. Connie is casually cruel, but Pattinson shows that deep down, he's regretful of how ignorant he's been of his brother's condition.