Chris Pine Reveals How The Star Trek 4 Cast Reacted To The Movie's Announcement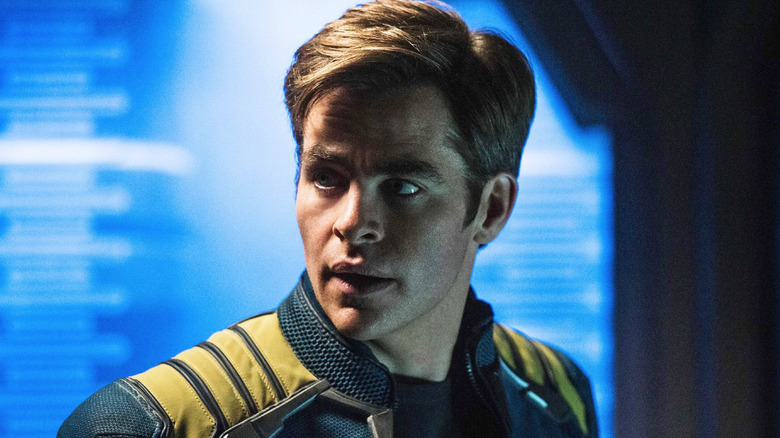 Paramount Pictures
Taking a leaf out of Disney's playbook, Paramount used its investor day on February 15, 2022, to announce a whole slew of films and series coming exclusively to Paramount+, along with a handful of movies intended for theatrical release. However, its gambit didn't work and even caused the company's stock to drop over worries about the logistics of its plans to, in essence, spend its way into profitability. Adding to the awkwardness, Paramount had J.J. Abrams reveal the long-awaited fourth "Star Trek" film set in the Kelvin Timeline is once again moving forward, with "the original cast" set to return — an announcement that came as surprising news to many, not least of all the cast themselves.
Chris Pine, who played James T. Kirk in the Abrams-directed 2009 "Star Trek" movie reboot and its sequels, discussed the incident in an interview with Variety. "I think everybody was like, 'Did you hear about this?' [Laughs]," he said when asked how he and his co-stars reacted. "We're usually the last people to find out, but I do know we're all excited. Whenever they want to send us a script, we're ready for it."
'I don't trust anybody, but I'm excited'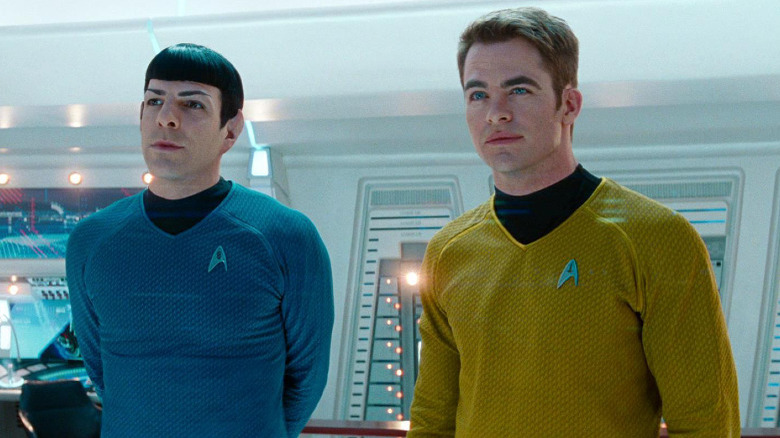 Paramount Pictures
As the Trekkies of the world are no doubt aware, Paramount initially set out to work on a fourth movie set in the Kelvin timeline shortly before the third film, "Star Trek Beyond," hit theaters in 2016. The original plan was to bring back Chis Hemsworth as James Kirk's father, George Kirk, who had perished in the prologue to Abrams' "Star Trek." Progress slowed after "Beyond" underperformed at the box office, but the movie showed new signs of life when S.J. Clarkson ("Jessica Jones") signed on to direct in 2018. In the end, though, that iteration of "Star Trek 4" fell apart after Pine and Hemsworth ended their talks, with the "Thor" actor later claiming it had less to do with salary (as was reported at the time) and more to do with him being unhappy with the script.
After considering ideas for different "Star Trek" movies from Quentin Tarantino and Noah Hawley, Paramount got the ball rolling on a new iteration of "Star Trek 4." The film has "WandaVision" alum Matt Shakman directing a script by Josh Friedman ("Terminator: Dark Fate") and Cameron Squires ("WandaVision"), based on an earlier draft by Lindsey Beer ("The Magic Order") and Geneva Robertson-Dworet ("Captain Marvel"). Pine, for his part, told Variety he has yet to see the script for himself, adding that he's wary but hopeful the movie will come together this time:
"I don't trust anybody, but I'm excited. I love the story. I love 'Star Trek.' I love my people."
"Star Trek 4" (official title TBA) is scheduled to reach theaters on December 22, 2023.