Shorter Release Windows Are Spelling Big Trouble For Indie Theater Chains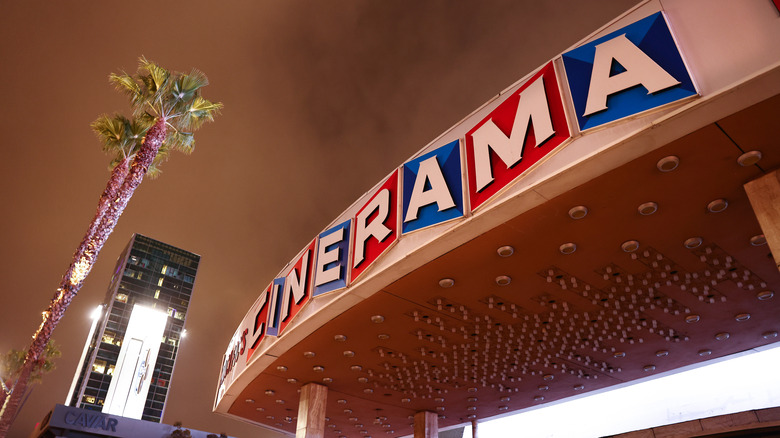 Mario Tama/Getty Images
There's been a lot of talk lately about streaming and its effect on the theatrical landscape, and not just during the pandemic. One matter that hasn't gotten as much attention involves indie movie theater chains, many of which used to screen films at a lower ticket price after they had done the bulk of their damage at the box office, and right before they hit the home market. Growing up in the 1990s, my parents used to take my siblings and me to see movies at these "Dollar Houses" all the time. I can still clearly recall watching films like "Hocus Pocus," "Ever After," and "Jack" (I didn't say they were all winners!) at these venues, along with the first R-rated movie I ever saw in a theater, "Air Force One." Mind you, that was far from the first R-rated film I had ever seen, but it was still a memorable outing for me as a kid.
I continued to frequent "Dollar Houses" as a college student and young adult. Heck, the entire class for a university course I took on the Classic Maya Period of the Mayan Empire made a field trip to one to see "Apocalypto." (It is ... not a historically accurate film, let's leave it at that.) Honestly, the only reason I stopped going to these theaters years later was that the locations nearest to where I live were renovated and began to exclusively show new releases at regular ticket prices only. That's only become increasingly common amidst the pandemic, as many indie theater chains find themselves grappling with shortened release windows and day-and-date rollouts for movies that, once upon a time, would have debuted as theatrical exclusives.
'We were a communal experience that everyone could afford'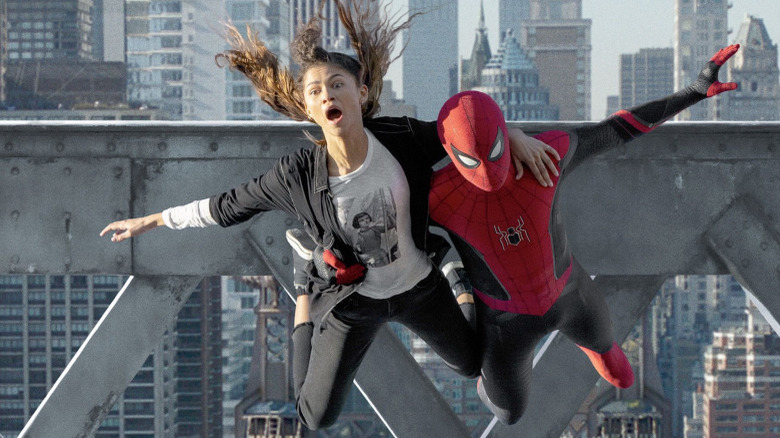 Sony Pictures
The Hollywood Reporter spoke to a number of indie theater presidents about the effects of the pandemic and shorter movie release windows on their businesses. While these "Dollar Houses" have long provided a middle ground for those who enjoy seeing films on the big screen with a crowd but can't afford full ticket prices on a regular basis (or, in select cases, simply feel a movie doesn't seem promising enough to merit the full price of admission, and fairly so), that option is rapidly starting to go away:
"It's surprising how quickly second-run has been decimated and habits have changed," laments Regency Theatres president Lyndon Golin, whose company still operates discount theaters in Ventura and Moreno Valley, in addition to 21 first-run locations. "We were a communal experience that everyone could afford."
THR goes on to list Pacific Theatres, Arclight Cinemas, Studio Movie Grill, Alamo Drafthouse Cinema, and Laemmle Theatres in Los Angeles as indie movie theater chains that have either permanently closed, filed for Chapter 11 bankruptcy, or been forced to sell their properties and recapitalize since 2020. In order to stay afloat, many chains have taken to screening films that are already available on the home market, albeit no longer at reduced ticket prices in some cases. They've also started focusing on movies that are either more commercial or appeal to younger age brackets, leaving less room for titles that skew older or have more niche appeal.
The short of it? Where I was once able to see everything from kid-friendly Disney-backed box office flops to original R-rated adult fare at "Dollar Houses" when I was younger, those venues are increasingly focusing on showing massive hits like "Spider-Man: No Way Home" and "The Batman," and at the same price of admission as your average Cinemark or AMC theater. I won't pretend like I have an easy solution for the situation, either, nor have I forgotten that there are far bigger problems in the film industry right now (to say nothing of the world at large). 
But I still reserve the right to feel a little sad about it.