The Marvelous Mrs. Maisel Season 5 Promises More Toe-Tapping Tunes From Mizer & Moore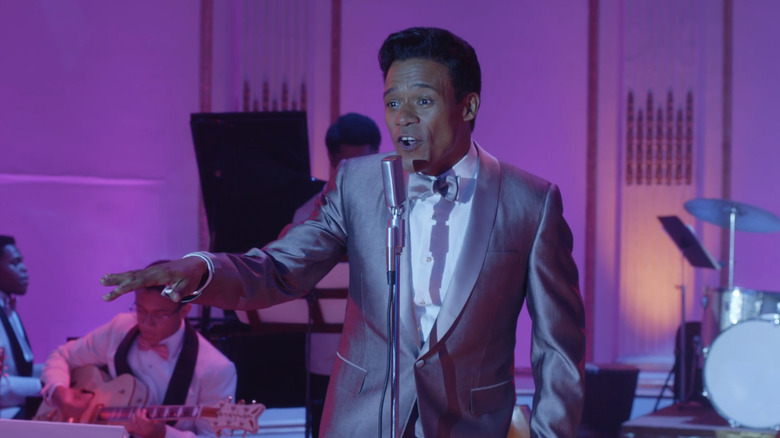 Prime Video
With an atmosphere decorated by dazzling showtunes and iconic era-appropriate standards, "The Marvelous Mrs. Maisel" has always touted a high batting average when it comes to memorable musical moments (and Emmy wins for musical supervision). But that didn't stop the series from stepping up to the plate for another irresistible injection of personality: original music.
The third season of "Maisel" added songwriting/composing duo Thomas Mizer and Curtis Moore to its esteemed ranks. Together, the musical team has added new tunes ranging from Broadway ensemble numbers to jazzy '60s hits. They made a perfect fit for the show's third season when Midge spent months touring the country as an opening act for Shy Baldwin (Leroy McClain), a '50s crooner whose style is something of a mix between Johnny Mathis and Sam Cooke. But even with Midge kicking off Shy's tour, there's been plenty of space for original music to fill the world of Maisel — including a Broadway number that will haunt Abe's theatre critic era and a wedding number sung by a young Harry Belafonte (as played by Josh A. Dawson). So even though Shy's latest appearance seems to close the chapter on his story, there's no reason the Amy Sherman-Palladino-created series can't continue giving us a ton of originals to bop along to — right?
Encore! What's in store for season 5?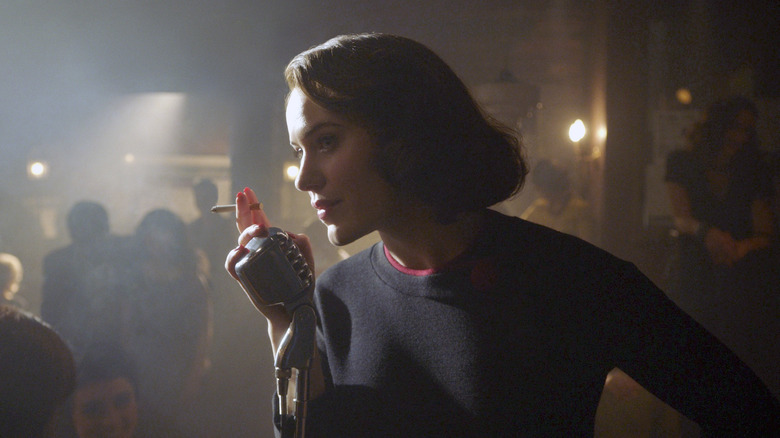 Prime Video
No need to wait there on the edge of your seat, we already have an answer and it's very much good news! /Film has a full interview with songwriters Thomas Mizer and Curtis Moore coming soon, in which they reveal: "There will be music. And there's a lot of it." The duo even went on to hint at some unexpected tracks that await in the final season:
Curtis Moore: I can't tell you what they are, but the assignments we've been getting for season 5, which is what we're doing literally right now, have been out of this world and so hilarious that we're just like, "Oh, that is not at all what I thought we'd be doing." So it's always an interesting challenge and one that we love doing. Everything does feel like it's totally different.

Thomas Mizer: I think if you had asked us what we'd be doing in our career, the last thing we probably ever would've suspected is that we'd be writing some '60s stripper numbers, but we had to do some of those this season too, so who knows what's next.
We can speculate to tomorrow and back but ultimately, they make a solid point — the original music of "Maisel" always has a way of sneaking up on us. Who would've thought, back in season 1, that we might get a fictional singing sensation like Shy Baldwin — smooth and charismatic with a stage presence to die for? And even last season, no one expected Midge to end up in an illegal club where '60s stripper numbers are abundant! There's no telling which direction "Maisel" may swerve in next, though Mizer and Moore did hint at one possibility.
Thomas Mizer: Amy and Dan are musical people. I mean, Dan has the biggest music collection and has such knowledge of such interesting random bands from the '60s that he just, he knows. And Amy is a Broadway baby. I mean, she was a dancer, she loves Broadway, and so they're always going to think in musical terms. I've always said that Maisel was a stealth musical, when you look at the bones ... I don't know if Rachel [Brosnahan] can sing, but if we could get some of the lead cast to sing, that would be pretty amazing.

Curtis Moore: We're going to push for that for next season, which is sweet.
Perhaps it's the colorful costumes, the unending reservoir of energy or the fact that its main character relishes every opportunity to hop onstage, but indeed, "The Marvelous Mrs. Maisel" has the spirit of an energetic musical. So why not take its polished production to the next level and go full-on musical era? I too have no proof that Rachel Brosnahan can sing (though that's never stopped actors before) but Alex Borstein can absolutely sing and I'd sell my firstborn to see Susie Myerson perform on a stage! The problem, of course, is that it would take a million dollars cash or some serious brain trauma for Susie to actually partake in some song and dance action ... but I'll still hold out hope.
Season 4 of "The Marvelous Mrs. Maisel" is now streaming on Amazon Prime Video.