What The I Am Legend Monsters Originally Looked Like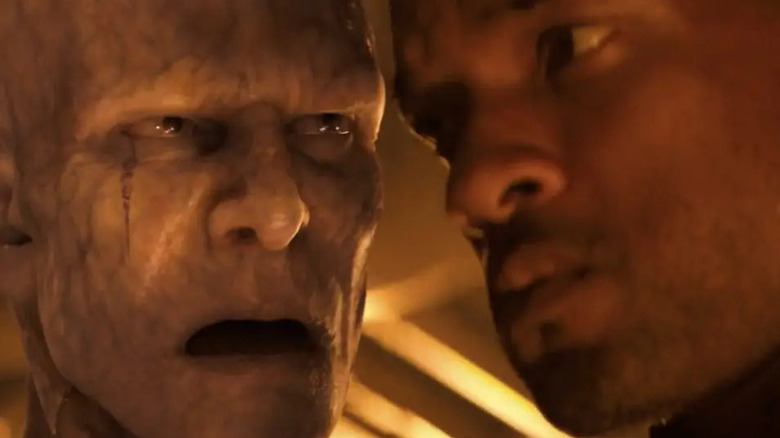 Warner Bros.
"I Am Legend" made a killing at the box office upon its release in 2007, pulling in nearly $600 million with its loose adaptation of Richard Matheson's 1954 novel. The story, ostensibly of a virologist navigating the world after a pandemic has turned most of humanity into a race of blood-feasting mutants, is less about vampires or viral outbreaks than it is about loneliness, and nothing demonstrates this better than the uncanny, feral monsters antagonizing star Will Smith.
While the film performed well (though not well enough, by Smith's standards), the motion-captured CGI monsters, known as Darkseekers, are one of the most complained-about elements of "I Am Legend." Though the director cites amped-up hormonal production and constant hyperventilation as reasons to go the computer-generated VFX route, the glossy humanoids were just too artificial-looking to counterbalance Smith's incredibly haunted performance.
It could have been different. Just one week into shooting, director Francis Lawrence was shown work-ups of actors wearing prosthetic pieces, but didn't buy into the look and went CGI instead. But a decade prior, another "I Am Legend" was brewing, this time with proper practical effects.
Monster Mash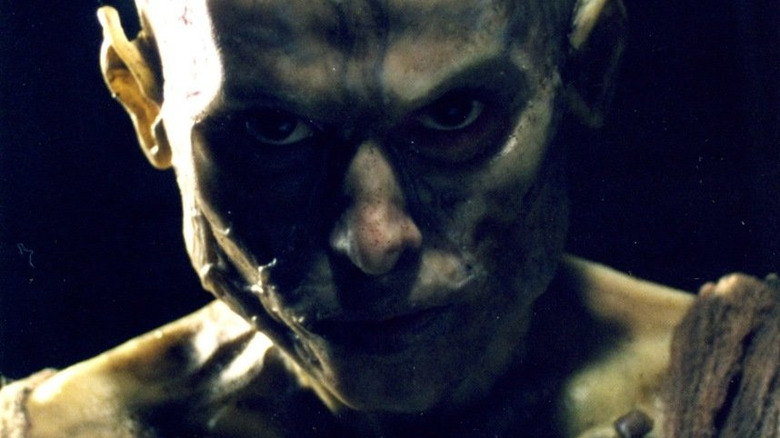 Amalgamated Dynamics, Inc
Yes, there was a proposed version of "I Am Legend" floating around in 1997, with "The Last Duel" director Ridley Scott attached and a post-"Eraser" Arnold Schwarzenegger set to star. Darkseekers were called "hemocytes" in Mark Protosevich's script and brought to life by a formidable team of fx artists including frequent Scott collaborator Alec Gillis, who did creature fx work for several films in the "Alien" franchise and would go on to work on "Alien Resurrection" when the "I Am Legend" project fell through. The hemocytes' look in 1997, Gillis writes, was influenced by Ridley Scott's appreciation of 17th-century wax effigies.
Gillis posted the details on his Instagram account:
Ridley Scott's version of I AM LEGEND was to have starred Arnold Schwarzenegger and featured 'hemocytes' realized as makeup characters. I think we did our design exploratory in about 1997 ( is that right @h2originals ?) Ridley was influenced by wax figures from the 17th century. We did a test on a single female subject to show her in a few stages of emaciation. The appliance pieces were sculpted by @ryankennethpeterson and Steve Koch and applied by @Tom_woodruffjr , myself and Barry Koper. Shortly after we shot the test at ADI Warner's decided not to make the movie. The budget was coming in 10 mil higher than desired. It all got shelved until the Francis Lawrence/ Will Smith version years later. We did get an interview on that version but there was next to no interest in makeup fx. Contribbing sculptors were @schellsculpturestudio and Jeff Boccaccio. Tech work helmed by @h2originals. Paint by Mike Larrabee.
These emaciated hemocytes are impressively textured, with desiccated skin, facial bone prosthetics, and diseased veins that the computers of the time just couldn't emulate seamlessly. In fact, it could be argued that these makeups have aged better than the film's creatures. It's a shame, as computer-generated imagery was otherwise deployed beautifully to create the eerie illusion of a human-less New York City in broad daylight.
Every little thing gonna be alright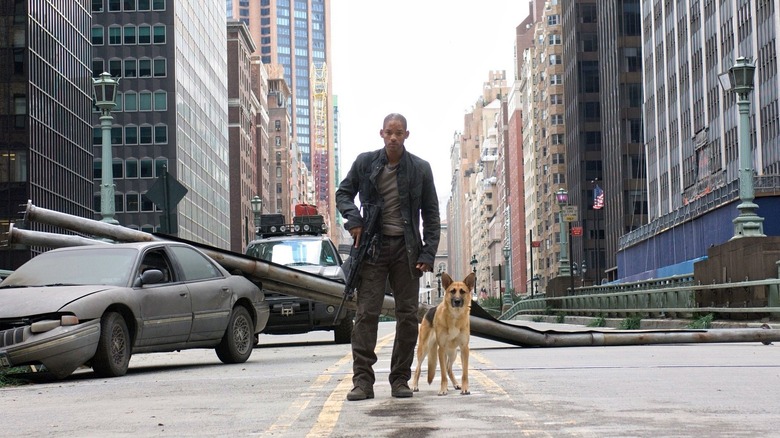 Warner Bros.
It's a strange and fascinating exercise to consider how the movie might have been impacted had Gillis and company at Amalgamated Dynamics been given the clearance to let loose with the latex. Under the watchful eye of Ridley Scott, production designer Arthur Max looked through countless photos of starvation subjects to get the right "wasted away" look. They still would have been speedy creatures; in "The Greatest Sci-Fi Movies Never Made," conceptual illustrator Tani Kunitake says that Scott "didn't want them lumbering around like 'Night of the Living Dead.' He wanted them extremely fast, so they were running around like agile mummies." That said, the script, once rewritten by Scott and John Logan, was "unrelenting" and didn't have its lead character speak for nearly an hour, prompting Warner Bros. to call Protosevich back to give the story another pass. So while the creatures would have undoubtedly looked better, the tone would have been much darker — not that that's a bad thing in a story about the last mortal alive.
Making movies is a balancing act, and 1997 was a time when visual fx technology was advancing fast, which the science fiction of the year reflects. Paul Verhoeven's "Starship Troopers" used CGI for its big bug baddies, while Paul W. S. Anderson's "Event Horizon" instead made liberal use of prosthetics for the various Eldritch horrors that befall its deep-space crew. In times like these, the tech doesn't always align with a director's vision, and Scott's was ultimately too rich for the studio's wallet. 
But it's fun to imagine what could have been, even more so with the news that an "I Am Legend" sequel is in the works with Akiva Goldsman returning to write the script. Michael B. Jordan is said to be attached to the film alongside the return of Will Smith, which might be surprising to those who haven't seen the 2007 film's alternate ending. Maybe they'll let the dog live this time.