Peacock's Comedy-Thriller Series The Resort Has Good Taste, Adds Nick Offerman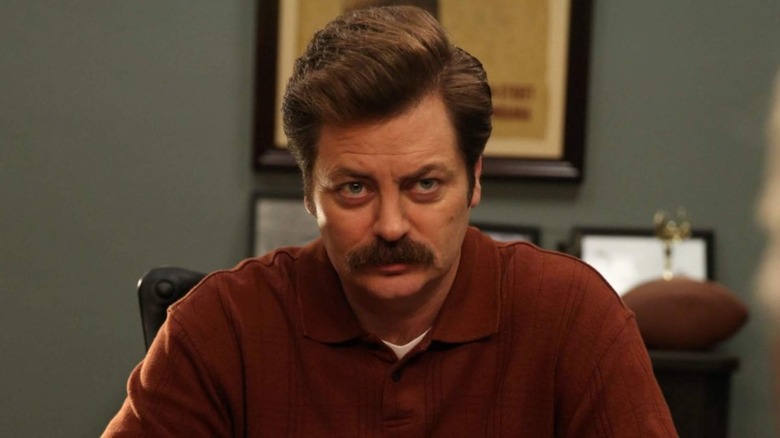 NBC
Peacock has a new and very strange show coming out called "The Resort," and the casting people are clearly brilliant. Nick Offerman ("Parks and Recreation," "Pam & Tommy") is set to join the slew of previously announced cast members. I'm sure you already love him, but I'd like to remind you that his cameo as a woodworker in "The Good Place" made an already wonderful series finale just that much better. 
Offerman will join William Jackson Harper ("The Good Place") and Cristin Milioti ("Palm Springs") as well as Skyler Gisondo, Luis Gerardo Méndez, Nina Bloomgarden, and Gabriela Cartol in lead roles. Recurring guest stars include Ben Sinclair, Parvesh Cheena, Debby Ryan, Dylan Baker, Michael Hitchcock, and Becky Ann Baker.
The series is explained as, "a multi-generational exploration of love, marriage, and family vacations, set amidst one of the Mayan Riviera's most bizarre unsolved mysteries," and it's currently filming in Puerto Rico.
That's not all. Keep reading and help me figure this all out, because it's a lot.
The disappointment of time?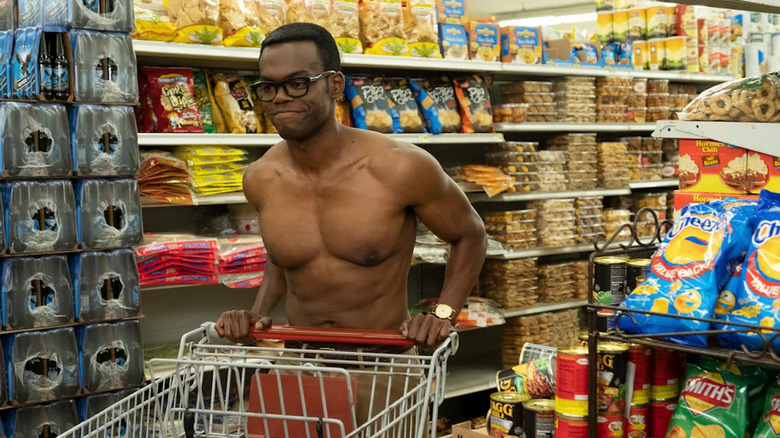 NBC
The synopsis for "The Resort" is very weird, and I like it very much:
A multi-generational, coming-of-age love story disguised as a fast-paced mystery about the disappointment of time. An anniversary trip puts a marriage to the test when the couple finds themselves embroiled in one of the Mayan Riviera's most bizarre unsolved mysteries that took place fifteen years prior.
That is a whole lot of genres in two sentences. Coming-of-age, love story, mystery ... and "the disappointment of time." I don't understand this one bit, and now I have to watch it. "The disappointment of time" sounds like something Ron Swanson would say while drinking. 
I don't need to understand much with a cast like this, and the idea of William Jackson Harper and Nick Offerman together on the screen is one that delights me to no end. (They didn't share a scene in "The Good Place.") The series is produced by UCP, a division of Universal Studio Group. Andy Siara will write and executive produce. Sam Esmail and Chad Hamilton will executive produce. Allison Miller will executive produce and write, with Sarah Matte as co-executive producer. Ben Sinclair will direct and executive produce episodes 1-4. 
How many genres can you fit into one show?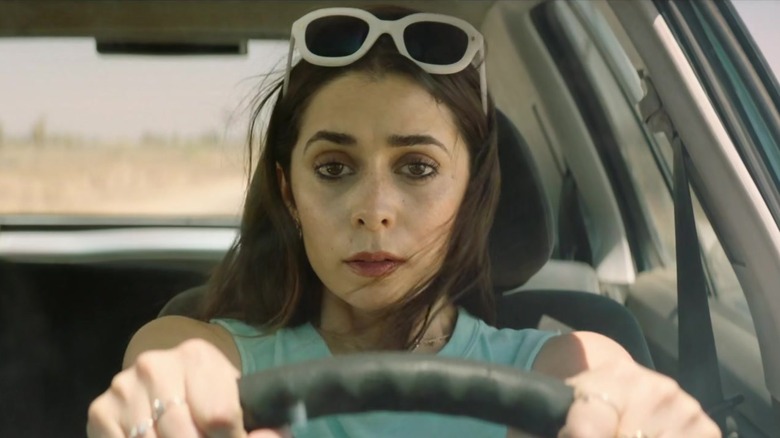 Hulu
Milioti will play Emma, a high school teacher at a plateau in her monotonous marriage with Noah. They're celebrating their 10th wedding anniversary when they're pulled into this mystery together. Offerman will play Murray Thompson, Violet's (Nina Bloomgarden) father. William Jackson Harper is Noah, also a teacher who is "perfectly content floating through the mundane reality of his existence," which is one of the weirder character descriptions I've ever read. 
Gisondo is Sam, on vacation with his parents and girlfriend in 2007 at the Oceana Vista Resort with Méndez playing Baltasar Frías, the head of security at the Oceana Vista Resort in 2007. So wait, are these characters in flashbacks, or is this time travel? I mean, why not time travel, right?
Bloomgarden will play Violet Thompson, vacationing with her father and his girlfriend at the resort. Cartol will play Luna, the concierge at Emma and Noah's resort. I feel like I need a flow chart, but hey, I watch Marvel and Star Wars shows, so I'm used to doing homework for TV. 
Sinclair will play Alex, a resort owner, Cheena will play Ted who's on vacation with his husband, also named Ted. Ryan will play Sam's girlfriend Hannah, Baker will play Sam's dad Carl, Hitchcock will play the other Ted, and Baker will play Sam's mom Jan. 
Now, go have a Lagavulin in Offerman's honor, but also to make some sense of this weirdly wonderful announcement.