Spirited First Look: Will Ferrell And Ryan Reynolds Retell A Christmas Carol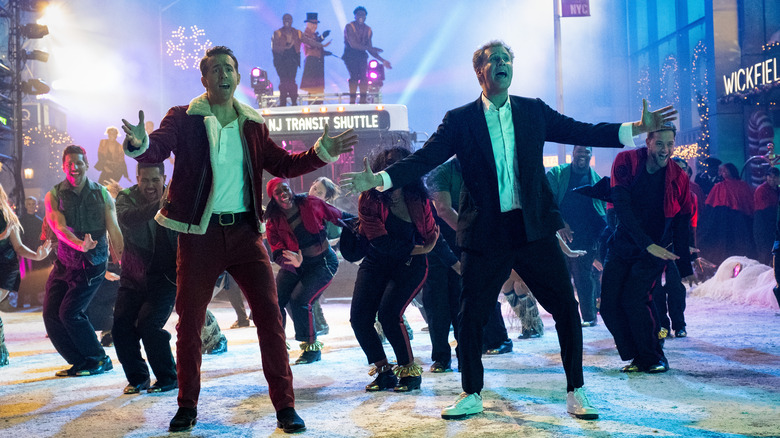 Apple TV+
After a low-key viral marketing campaign featuring Ryan Reynolds and Will Ferrell duetting Mika's "Grace Kelly" on TikTok, we've finally got our first look at their musical project "Spirited," a retelling of Charles Dickens' "A Christmas Carol" for Apple TV+. The classic story is being reimagined for a modern audience, featuring music from Benj Pasek and Justin Paul (known professionally as Pasek and Paul), the duo behind the music of "Dear Evan Hansen," "The Greatest Showman," "La La Land." Produced by Maximum Effort and Gloria Sanchez Productions, "Spirited" comes from Sean Anders and John Morris, the team behind films like "She's Out of My League," "Daddy's Home," "We're the Millers," and "Instant Family." Christmas may be nine months away, but Apple TV+ has given us our first glimpse at "Spirited," and things are looking really, really musical theater-y.
"Late to the Grace Kelly trend but way early for our movie musical," Reynolds captioned the TikTok previously released video. The film was wrapped back in October of 2021, but "Spirited" is due out on Apple TV+ sometime during the winter holiday season after the streaming provider won the rights in a bidding war against Netflix, Warner Bros. and Paramount. This is the first movie bringing together Will Ferrell and Ryan Reynolds since the 1999 teen comedy "Dick," where the two didn't really cross paths. Joining the duo is Academy award-winner and national treasure, Octavia Spencer. 
It's beginning to look a lot like theater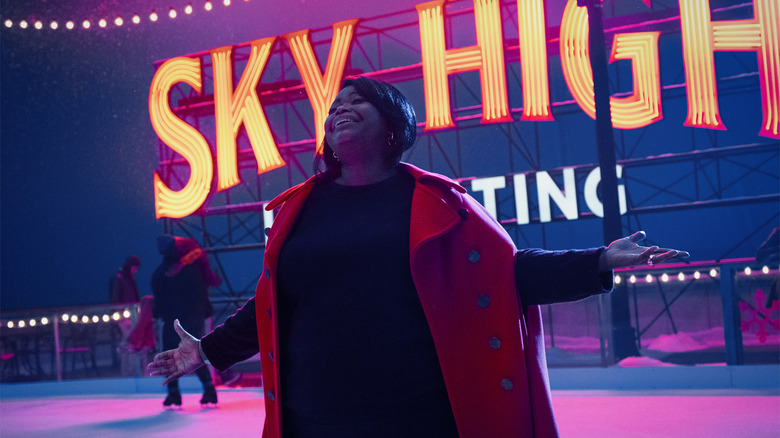 Apple TV+
Based on the looks of the "Spirited" promotional images we've seen, Reynolds wasn't kidding when he took to Instagram and said he was "not sure [he'd] have been ready to say yes to a film this challenging even three years ago." Singing and dancing is one thing, but the images look similar to when people shoot live theatrical productions a la "Hamilton," which leads me to believe "Spirited" didn't get the "fix it in post" treatment by a long shot. Then again, there's chance that could be part of the film's style. 
Another photos has Reynolds and Ferrell in a bed together, so perhaps the musical numbers are dream sequences that look theatrical within the standard cinematic look of the rest of the story. Maybe the whole dang movie is going to feel like watching the annual Christmas musicals put on by your local community theater but with Hollywood A-listers cast in the production. 
Before Pasek and Paul blew up and became two of the go-to composers for movie musicals, they were also the people who successfully gave life to the musical version of "A Christmas Story," complete with a kick-line of dancers dressed like leg lamps. The theatrical look may be odd for people used to the more traditional style of movie musicals, but the fusion of Pasek & Paul and Anders & Morris and Ferrell & Reynolds seems like a winning combination to pull it off.