Giancarlo Esposito Sticking With AMC For His Next TV Series, Will Star In The Driver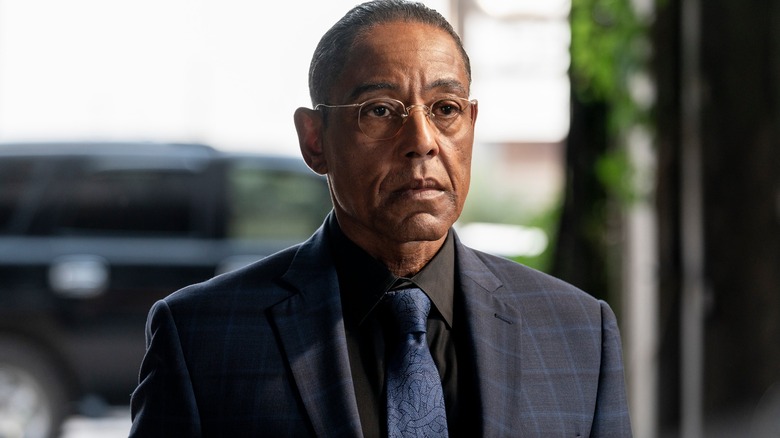 AMC
One way or another, AMC is staying in the Giancarlo Esposito business for as long as it possibly can. The actor famously portrayed drug kingpin Gustavo Fring throughout several seasons of "Breaking Bad," instilling the character with an almost preternatural sense of sinister calm and control. The unforgettable villain was brought back for the prequel/spin-off series "Better Call Saul," giving viewers even more of an inside look at the character's humble beginnings, with a fast-food business serving as a front for his illicit activities. With "Better Call Saul" drawing to a grand close with its sixth and final season later this year, Esposito's chilling performance as Gus Fring is also coming to an end.
Not to fear, however! Giancarlo Esposito will remain on the AMC airwaves even after "Better Call Saul" airs in its entirety. The network announced earlier today (via EW) that the Emmy-nominated actor has boarded a new drama series titled "The Driver." AMC has given the series the green light for a 6-episode inaugural season that will see Esposito serve as the main lead. This only adds to Esposito's busy schedule, of course, as he has already starred in Disney's "The Mandalorian" as the villainous Moff Gideon and also the villainous corporate CEO Stan Edgar in Amazon's "The Boys." Luckily, that little streak of typecasting comes to an end here, as his character in "The Driver" is described as an "everyman" taxi driver named Vince "whose life is forever changed when he crosses paths with a New Orleans-based Zimbabwean gangster who is known to exploit undocumented immigrants at various southern ports in the U.S."
"The Driver" showrunner Theo Travers (known for writing and producing "Billions") released a statement, saying:
"I couldn't be more excited to help bring this show to life. I've been a fan of Giancarlo's work since Spike Lee's 'Do The Right Thing.' It's a true honor to have the chance to collaborate with him in this way. 'The Driver' is a high-voltage, dark identity quest for an everyman trying to find renewed purpose in his life. We're rooting for Vince as he goes down this WILD and nihilistic route to discover who he once was, and in many ways still is, because it gets him out of a stuck place. That's where a lot of us feel we are right now, which makes this series so timely for today."
Giancarlo Esposito gets behind the wheel of 'The Driver'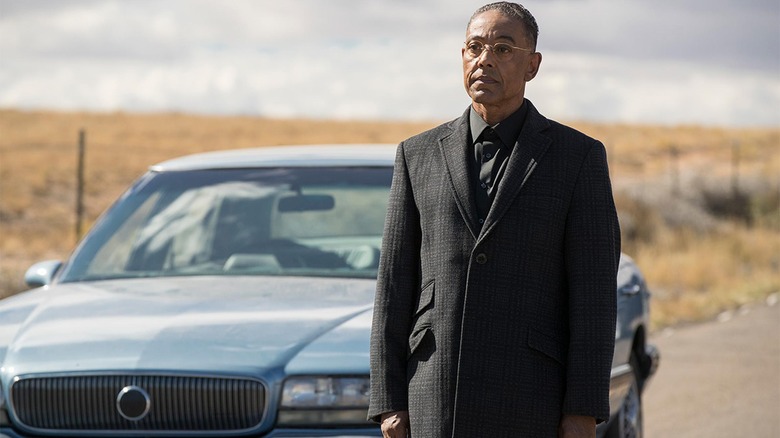 AMC
As brilliant as he is in "Breaking Bad" and "Better Call Saul," Giancarlo Esposito has always displayed a far greater range than just his villain roles. As Theo Travers mentions in his statement, a much younger Esposito is fantastic in Spike Lee's "Do the Right Thing" and has even added voice roles to his vast career with Disney's "The Jungle Book" remake in 2016, "DuckTales," and HBO Max's animated "Harley Quinn" series. Now, we'll get to see the talented actor lead his own series with "The Driver," which is actually based on a British crime drama of the same title that first aired in 2014. Co-creator of the original series Danny Brocklehurst ("Safe") and Sunu Gonera ("Snowfall") have been tasked with bringing a new version of the story to audiences on AMC.
We've apparently caught the network at a very busy time of the year for them. In addition to airing the final season of "Better Call Saul" in two separate installments in 2022 and now the news of "The Driver," we most recently heard the news that AMC had given the go-ahead for yet another "The Walking Dead" spin-off series. There seems to be something for everyone in the coming months and years ahead, though we're probably most invested in seeing how "Better Call Saul" arrives at its (likely tragic, or at least bittersweet) conclusion. The sixth season of "Better Call Saul" will premier on AMC on April 18, 2022. "The Driver," meanwhile, will air on AMC and AMC Plus sometime in 2023.